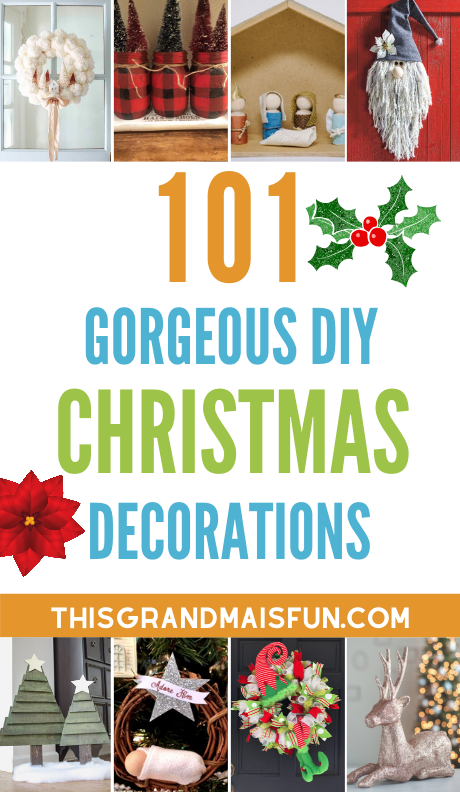 Its the most wonderful time of year again, which means its time to deck the halls with boughs of holly! If you need some fresh ideas, check out our list of 101 gorgeous DIY Christmas decorations!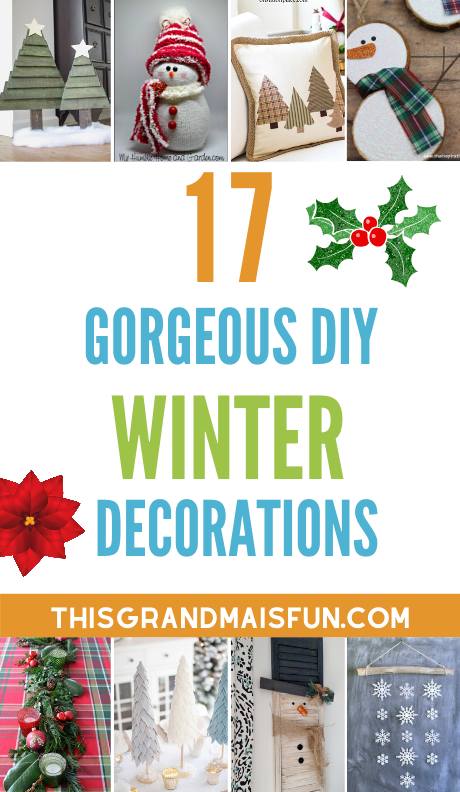 A beautiful sight, were happy tonight, walking in a winter wonderland!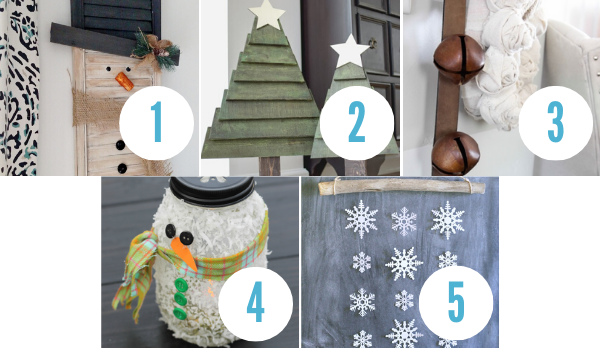 1. Shutter Snowman Shutters are so fun to decorate, and we love this idea for shutters from Lets Create Events.
2.Pallet Christmas Trees Our Home Made Easy
3. Jingle Bell Strap I hope one day to wake up to the sound of sleigh bells dashing through the snow. Until then, I will just give this bell strap from The Wood Grain Cottage a good shake!
4. Snowman Luminarie Ginger Snap Craftss luminaries not only are a cute decoration, but are a fun kids craft too!
5. Snowflake Wall Hanging We love this simple, rustic decoration from The Crafted Sparrow.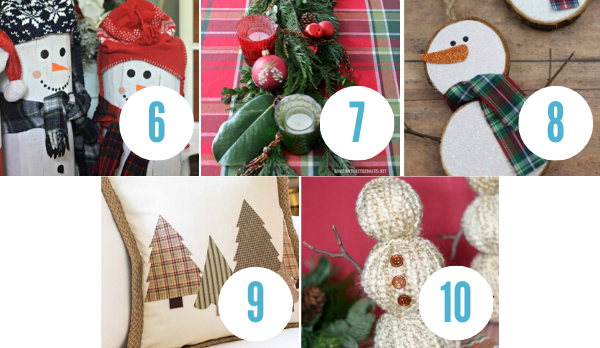 6. Painted Snowman Logs If you want to make a snowman, but not necessarily be in the snow, youll love Hip 2 Saves snowman logs!
7. Evergreen Table Runner Center Piece Add some beautiful, vibrant color to your home with Home Is Where the Boat Iss table runner.
8. Easy Rustic Snowman Ornament Easy? Count me in! Find this diy at The Inspiration Edit.
9. No Sew Christmas Tree Pillow Thats right! No sew! Youll love On Sutton Places tutorial!
10. Yarn Wrapped Snowman We love the simplicity in Frugal Mom, Eh!s snowmen.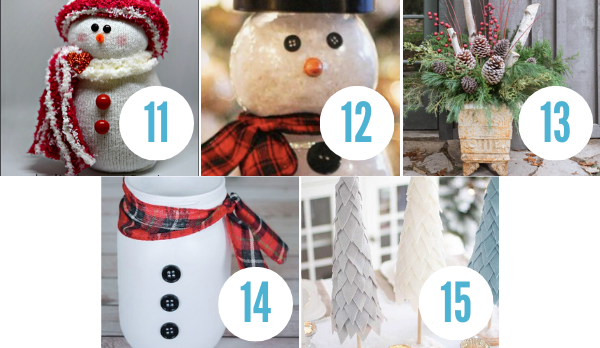 11. Sock Snowman You can make this cuddly snowman at My Humble Home and Garden.
12. Fishbowl Snowman Oh So Lovely!s snowman likes warm hugs!
13. Evergreen Outdoor Planters These planters from Threads & Blooms will add a vibrant, green freshness in the middle of all the snowy white.
14. Mason Jar Snowman We love mason jar crafts (as youll soon see!) and think this craft from PJs and Paint is a fun addition to Christmas time!
15. Fleece Cone Christmas Tree Dont these look so fancy?! Make them yourself with this tutorial from Happy Happy Nester.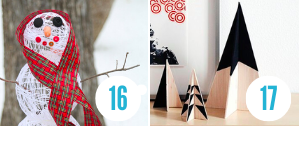 16. Sugar String Snowmen For anyone looking for a show stopper thats secretly really easy to make, try out Kids Activitiess snowman!
17. Modern Wooden Christmas Tree Set If you like more of a modern look, than try out Curblys diy trees!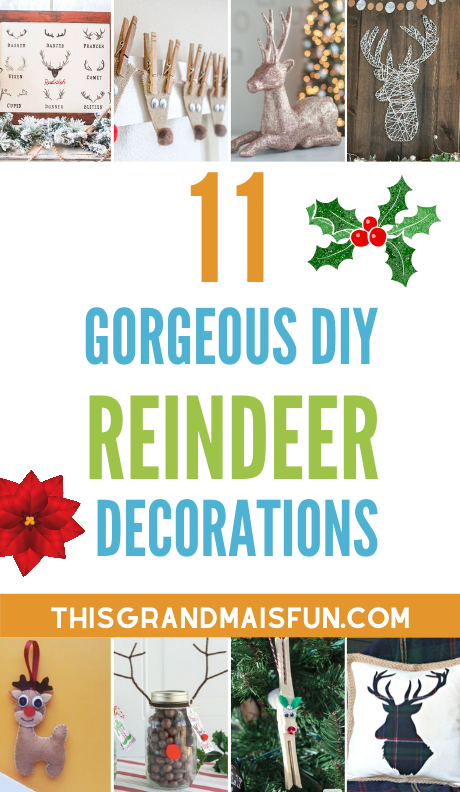 You know Dasher, and Dancer, and Prancer, and Vixen.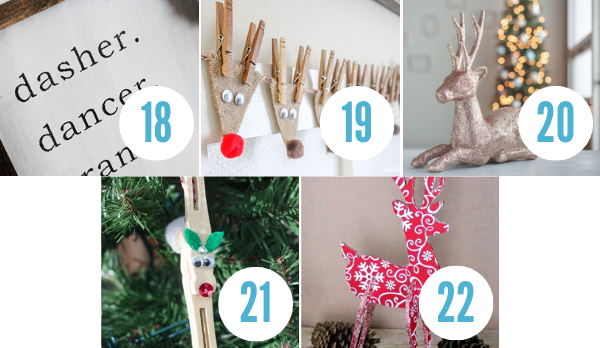 18. Farmhouse Reindeer Name Sign For those of us who have a hard time remembering all the different reindeer names, The Girl Creative has the perfect sign for you!
19. Burlap Reindeer Garland How cute are these reindeer from Create Craft Love?!
20. Rose Gold Glitter Reindeer In case you dont think your reindeer is magical enough, add some glitter with KA Styless tutorial!
21. Clothespin Reindeer Ornament Looking for an easy craft to do with the kids? Try our reindeer clothespin ornaments!
22. 3D Reindeer I have always wanted to know how to make these reindeer decoration! I see them everywhere! Thanks, The Crafty Blog Stalker!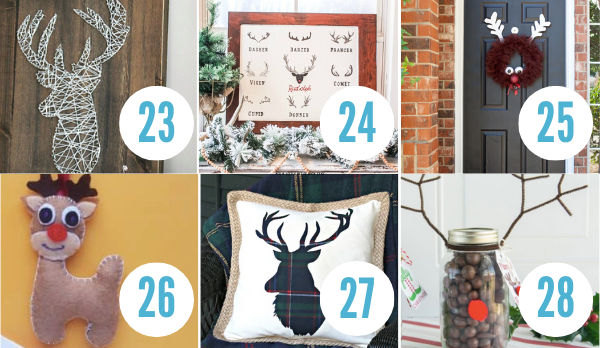 23. String Art Reindeer For those who are obsessed with string art (like me!), youll love Clean and Scentsibles tutorial!
24. Reindeer Christmas Sign We love the antlers on One Thousand Oaks Home Decors sign!
25. Rudolph the Reindeer Tulle Wreath This wreath is for all you Rudolph fans out there! Check it out at Baby Rabies.
26. Felt Reindeer Ornament This ornament from Big Family Blessings is fun to make for the whole family!
27. Reindeer Pillow Since most of us wont be cuddling with reindeer any time soon, heres the perfect substitute from Our Southern Home!
28. Reindeer Christmas Mason Jar Polkadot Chairs makes a great gift for friends and neighbors!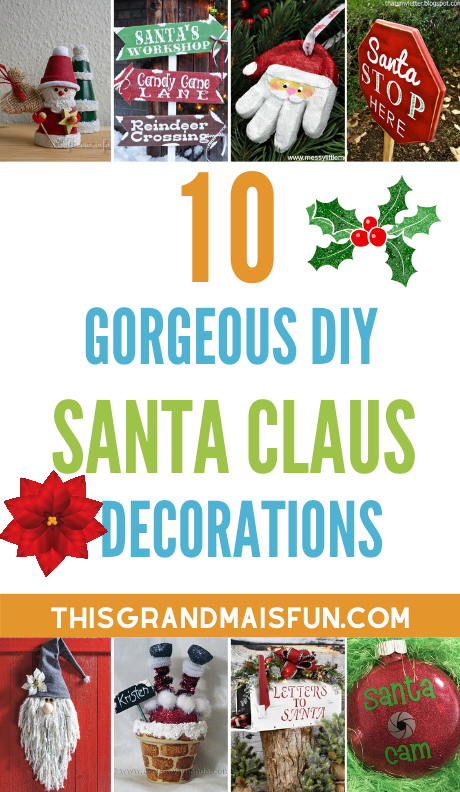 You better watch out, you better not cry. You better not pout, Im telling you why. Santa Claus is coming to town!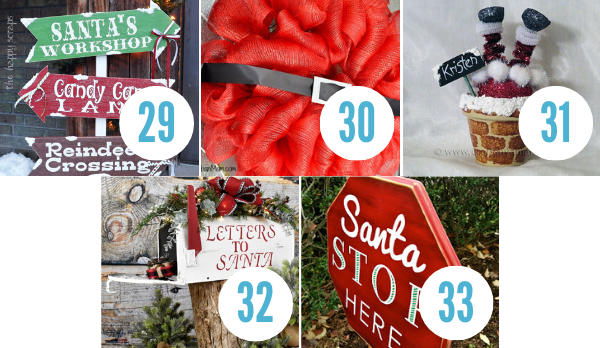 29. Front Porch North Pole Arrow In case you need directions to the North Pole, heres this helpful sign from The Happy Scraps!
30. Santa Belt Wreath Who would Santa be without his iconic belt? Find this craft at Suburban Mom.
31. Santa Chimney Mishap I mean, it has to happen some times, right? Big man, little chimney. Good thing hes magic! Check out the tutorial at Crafts by Amanda.
32. Rustic Christmas Santa Mailbox Its so beautiful, Im tempted to use this mailbox from TeeDiddlyDee all year long! Would that be weird?
33. Santa Stop Here Sign Put your worried childs mind at ease with this sign from Jaime Costiglio. Theres no way Santas missing this house!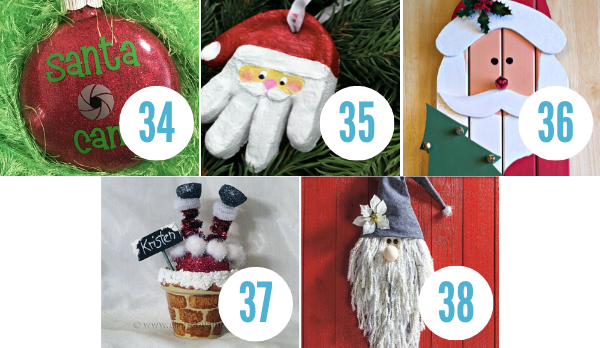 34. Santa Cam Ornament I know my kids will definitely be checking for real footage from A Little Moores ornament!
35. Santa Salt Dough Handprint Ornament Messy Little Monsters Santa craft is both a keepsake and an ornament rolled into one!
36. Santa Claus Wall Hanging Brighten up the room with this cute decoration from Always the Holidays.
37. Clay Pot Santa This simple decoration from Craft Ideas is so well disguised, I didnt even realize they were clay pots!
38. Foam Santa Face This decorationf from A Girl and A Glue Gun is not only beautiful, but its actually pretty easy to make.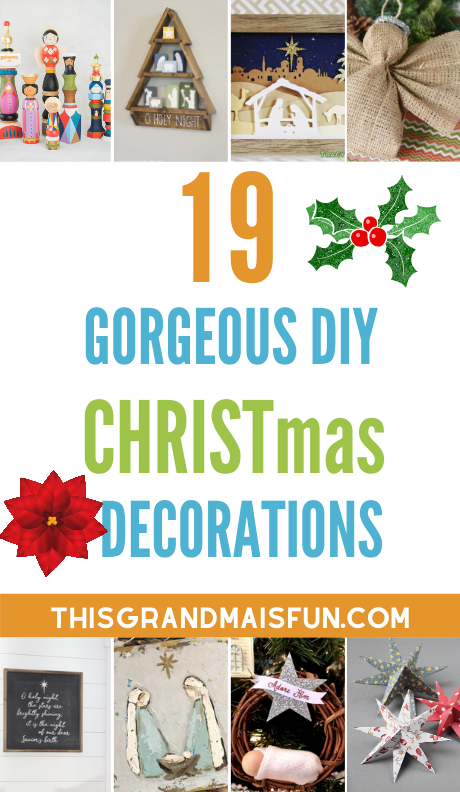 O come let us adore Him, Christ the Lord!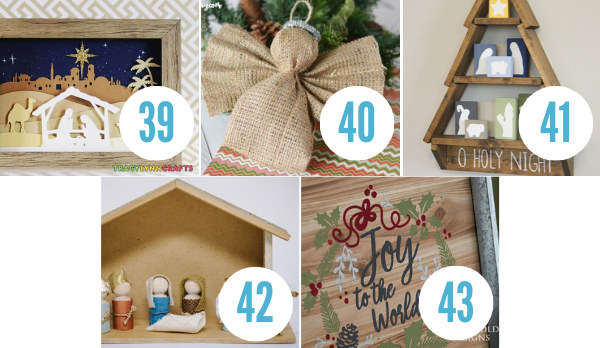 39. Shadowbox Nativity Scene Make this gorgeous nativity at Tracy Lynn Crafts.
40. Easy Burlap Angel Ornament Burlap always adds such a nice, homey touch, dont ya think? Learn to make these cute angels at Gym Craft Laundry.
41. Nativity Blocks with Tree Shelf Ive always loved the hands-on nativities that children can touch and feel. I think it really brings the true meaning of Christmas to life. Make It & Love Its block nativity fits the bill perfectly!
42. Peg Doll Nativity Laura Radnieckis nativity set is full of sweet simplicity.
43. Joy to the World Wood Sign Joy to the World is one of my favorite Christmas songs. Hazel + Gold Designss sign is a pefect way to share its message!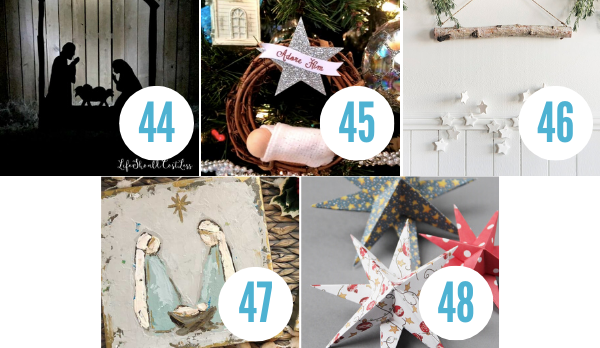 44. Silhouette Nativity Recreate that sacred night for all to see with Life Should Cost Lesss nativity.
45. Adore Him Ornament Renovated Faiths ornament is a perfect little reminder of the Reason for the season!
46. Tiny Star Wall Hanging One thing I love about Delineate Your Dwellings decoration is that you can use it for Christmas, or your can keep it up year round!
47. Nativity Painting If youve ever wanted to paint your very own masterpiece, check out Melissa Lewis Arts nativity tutorial!
48. 3D Paper Star Wow your guests with Gathering Beautys stars!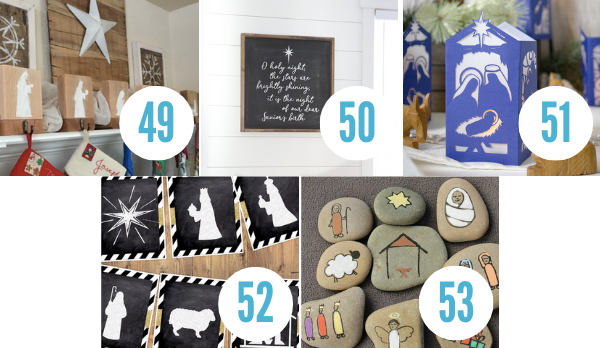 49. Nativity Stocking Hangers A nativity that also doubles as stocking holders. What a great idea! Find it at My Love 2 Create.
50. O Holy Night Sign Learn how to create this simple, rustic sign at The Idea Room.
51. Nativity Paper Lantern Create a cozy glow with Designs By Miss Mandees lanterns.
52. Printable Nativity Banner Thats right! A printable nativity! It doesnt get easier than that! Go to Paper Trail Design to find it.
53. Nativity Story Stones Your kids will love helping you create this nativity from Rainy Day Mum.
54. Wise Men Still Seek Him Gold Foil Print I love this Christmas reminder from Kristen Duke Photography.
55. Mid-Century Heirloom Nativity Isnt this nativity gorgeous?! A classic that can be used for generations! Learn how to make it at The House that Lars Built.
56. No Sew Felt Nativity Finger Puppets These puppets from Everyday Jenny are perfect for little hands to play with!
57. Rustic Light-Up Christmas Sign This sign from The American Patriette is the perfect way to light the holidays!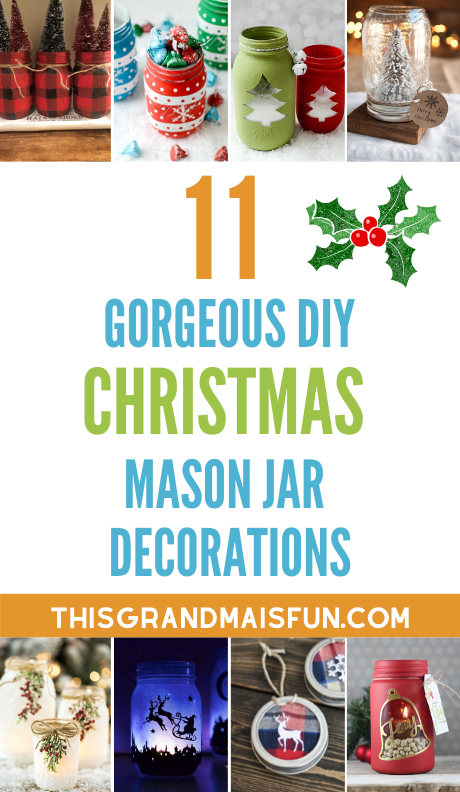 There are so many things you can do with mason jars, especially at Christmas time! Yeah, I know. I couldnt think of any Christmas jingles about mason jars.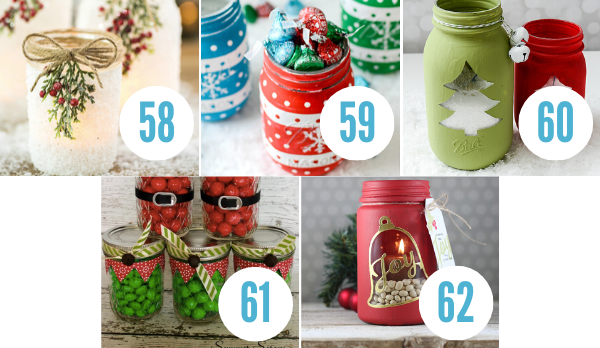 58. Snowy Mason Jars These jars from A Pumpkin and A Princess cast a cheery glow, perfect for snowy, cold days.
59. Christmas Sweater Mason Jars Nothing quite as cheery as a Christmas sweater and some hot cocoa. Get the Christmas sweater vibes with It All Started with Paints mason jars.
60. Christmas Tree Cut Out Mason Jars These mason jars from Mason Jar Crafts Love will make the perfect addition to any fireplace mantel.
61. Elf Jar Craft These cute treat jars from Food, Crafts, and Family make a fun gift or decoration.
62. Stenciled Mason Jar Candle Holder Spread the joy with these fun jars from Soapbox Creations.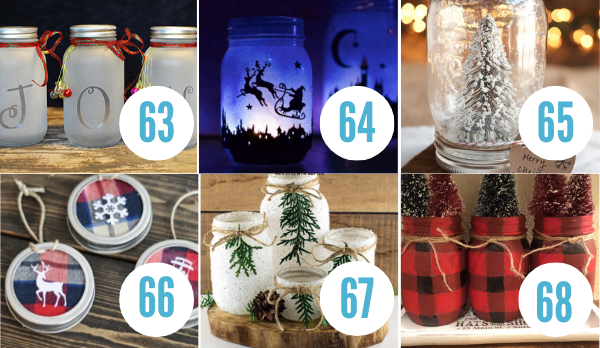 63. Holiday Luminaria The soft glow fromThe Budget Decorators luminaries create a cozy, warm atmosphere.
64. Magical Christmas Lanterns Adventure in a Boxs mason jars are filled with Christmas magic!
65. DIY Anthropologie Mason Jar Snow Globes Create your own winter wonderland with Simple Craves & Olive Oils snow globes.
66. Mason Jar Lid Ornaments Mason jars are so wonderful, even their lids make beautiful decorations, like these ornaments from Clean and Scentsible!
67. Quick and Easy Snowy Mason Jar Create a rustic atmosphere with Homestead Acress homey jars.
68. Buffalo Check Mason Jars Can we all vote to make red and black buffalo check a year round thing? Find these jars at Fresh Vintage by Lisa S.
There are so many beautiful ideas for wreaths, I wish I could make them all!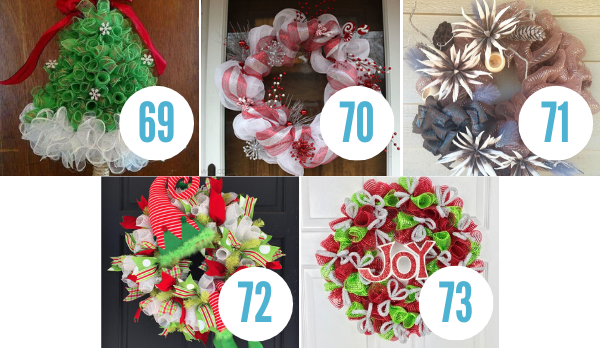 69. DIY Deco Mesh Tree Wreath DIY Cutenesss wreath is the perfect festive addition to your door.
70. Candy Cane Wreath What would Christmas be without peppermint and candy canes? Check out this sweet wreath at Big Bears Wife!
71. Floral Winter Wreath Brighten up winter with The Wreath Depots floral wreath.
72. Elf with Striped Hat & Legs Wreath Greet guests with this cheery wreath from Trendy Tree.
73. Christmas DIY Wreath This wreath from Home Talk is filled to the brim with jolly Christmas colors!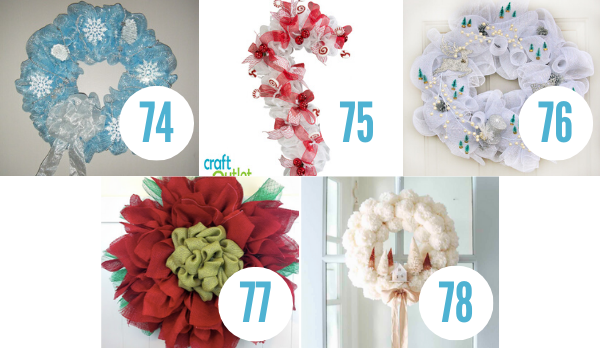 74. Winter Wonderland Wreath Oh, the weather outside is frightful, but this wreath from Yarn Over and Bake is sure delightful!
75. Candy Cane Wreath Thats right, we have not one, but two candy cane wreaths! This one from Craft Outlet is shaped like a giant candy cane.
76. Winter Mesh Wreath Just looking at this wreath from Darice makes me want to sit by a fire with some hot cocoa!
77. Burlap & Mesh Poinsettia Wreath One thing I love about Shambrays poinsettia wreath is that you can do the same thing with different colors to make a sunflower wreath in the summer. How cute is that?
78. Winter Pom-Pom Wreath DIY Modern Glams wreath looks like its covered in snowballs. Warm, fluffy snowballs. if only that were a thing.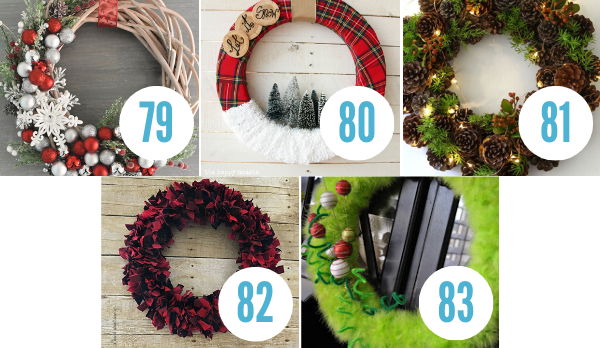 79. Christmas Ornament Wreath Christmas ornaments are not only wonderful on the tree, but also in other decor, like Crazy Little Projectss wreath!
80. Let It Snow Christmas Wreath If youre ready for snow, youll love The Happy Housies wreath!
81. Pinecone Wreath One of the best parts about winter decorating is definitely the pinecones! Find this beauty at Remodelaholic.
82. Easy Christmas Rag Wreath Who knew cute wreaths could be so easy? Learn how to make this one at Vintage Paint and More.
83. Grinchy Wreath If you love this classic Christmas story, youll love this wreath from Country Mom Party Goddess.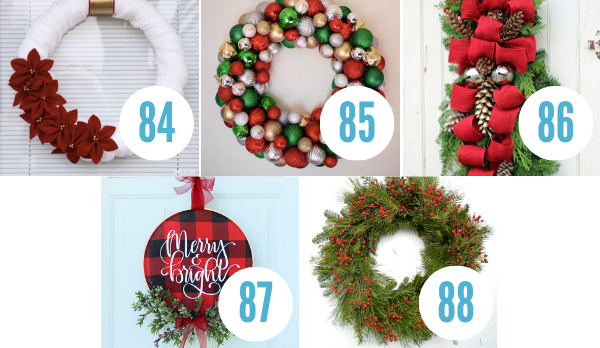 84. Poinsettia Wreath The red flowers on the white make the colors pop on Scratch & Scritchs elegant wreath.
85. Ornament Wreath Teaspoon of Noses ornament wreath is bursting with festive ornaments!
86. Christmas Swag Wreath I never knew what a swag wreath was until I saw Fynes Designss. Pretty and simple.
87. Christmas Buffalo Check Hoop Wreath I love how unique and different Domestically Creatives hoop wreath is.
88. Fresh Evergreen Wreath Bring the winter forest home with An Extraordinary Days evergreen wreath.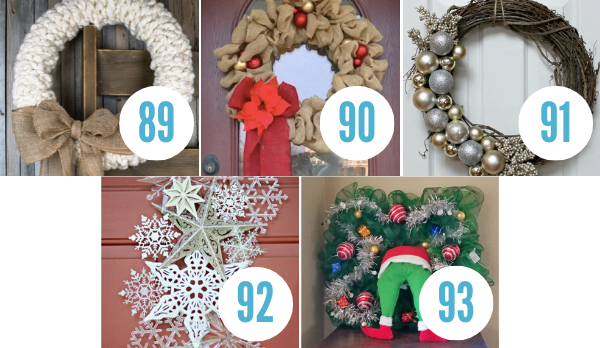 89. Rustic Wreath Is it weird that I want to snuggle with this wreath from Little Yellow Wheelbarrow?
90. Burlap Christmas Wreath What is it about burlap that makes it such a wonderful decoration? I mean, how cute is this wreath from Whats Ur Home Story? Its the burlap. It is the answer to everything.
91. Grapevine Ornament Wreath We love the colors that Mommy Suite uses in this ornament wreath.
92. Dollar Store Snowflake Door Hanger Thats right! This door hanger from Staying Home Sawyer is made from dollar store items. Cute and thrifty!
93. Grinch Wreath Which Grinch movie was your favorite? I have to admit, the newest animated one from Illumination was pretty good. My kids loved it anyway. They loved it so much, in fact, they would go crazy over this wreath from Leap of Faith Crafting.
94. Buffalo Plaid Wreath Thats right. More buffalo check. You can never have enough buffalo check! Especially when you can make cute wreaths like this one from This Is Our Bliss!
95. Snowman Wreath Make your own Frosty the Snowman with Southern Charm Wreathss tutorial.
96. Winter Snowball Wreath Dont worry! These snowballs from Addicted 2 Decorating wont melt away!
97. Winter Loop Yarn You will not believe how easy it is to make this elegant wreath from The Navage Patch.
98. Tulle Snowman Wreath 365 Funs snowman is a perfect project for a cold winter day.

99. Holly Berry DIY Ribbon Christmas Wreath This berry wreath from Polkadot Chair has me feeling merry and bright!
100. Christmas Ribbon Wreath This simple tutorial from Shelterness makes a beautiful wreath!
101. Drop Cloth Wreath This wreath from Thistle Wood Farms is elegant and only requires a few items to make!
The post 101 Gorgeous DIY Christmas Decorations appeared first on TGIF - This Grandma is Fun.