Dollar Tree gift ideas for mom that will honor her, and show her just how much you've appreciated her over the years.
Look – we'd all like to spend hundreds of dollars on Mom to attempt to show her how much we love and appreciate her. But it's just not in many of our budgets.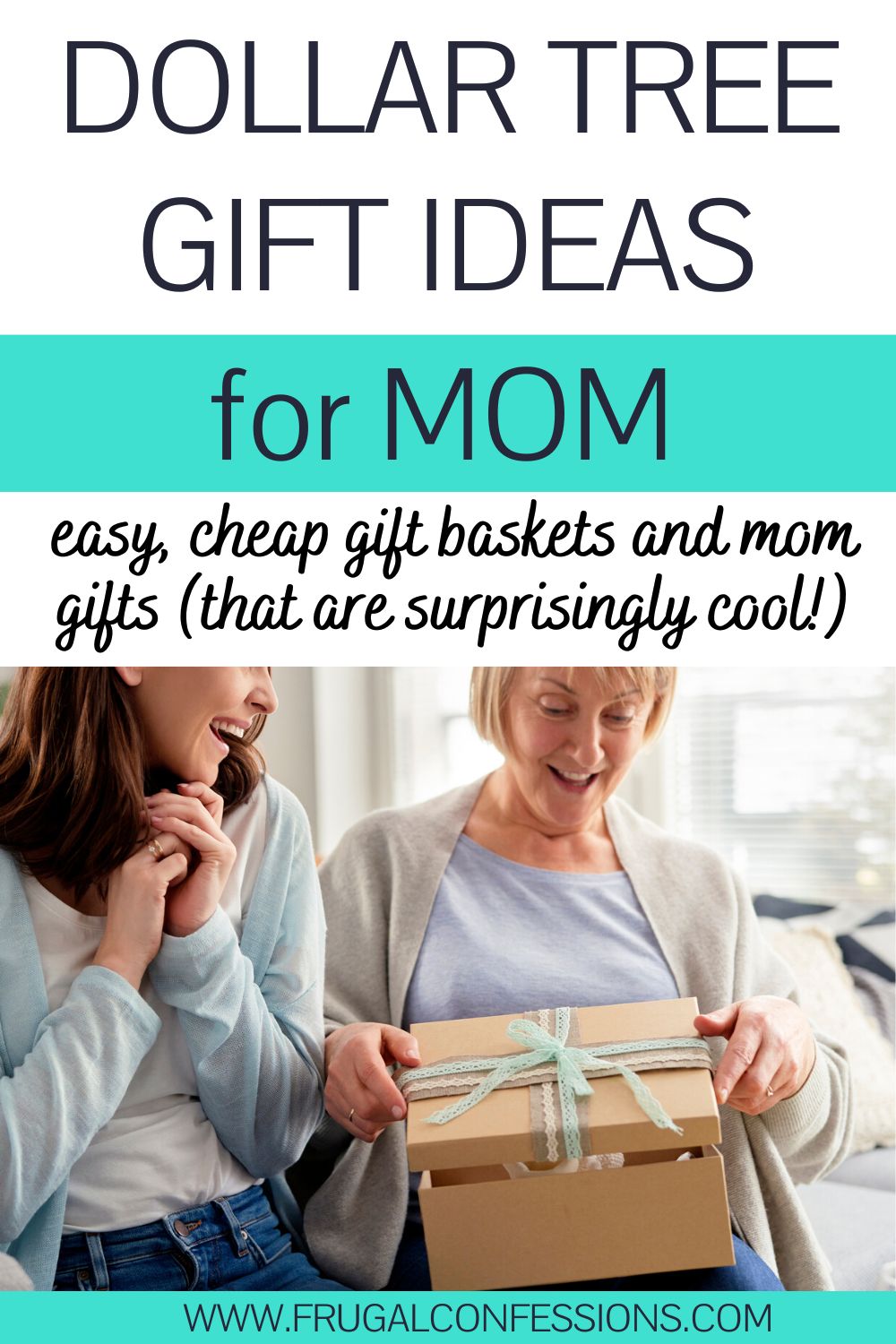 That's why I've created these Dollar Tree gift ideas for Mom – for you to show your mother how much thought you've put into her (which, as a mom, I can tell you means the world to us).
Let's get started
Dollar Tree Gifts for Mom
Stumped about what to get Mom for Mother's Day? For her birthday?
What about for Christmas?
These are very low budget Dollar Tree gift ideas that show mom just how much you appreciate her.
1. Hummingbird Feeder + Nectar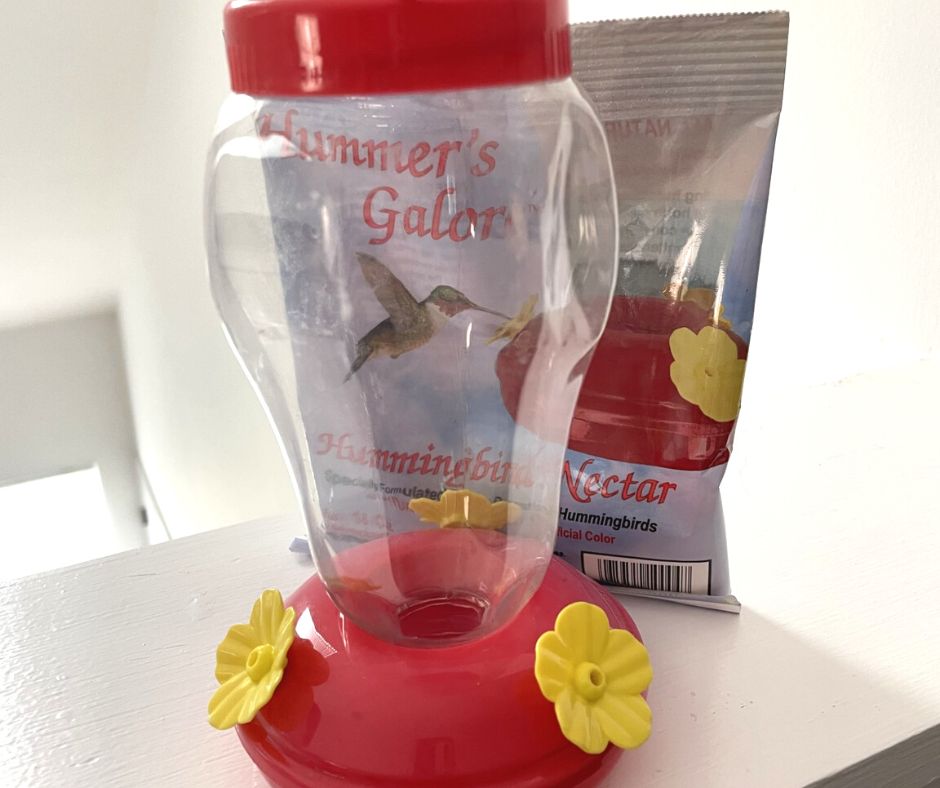 My own mother loves attracting birds to her backyard (and so do I).
This hummingbird feeder (which sells for much more elsewhere) and hummingbird nectar are perfect for that.
Total Cost: $2.50 (plus tax)
2. 100% Essential Warming Oils + Oil Warmer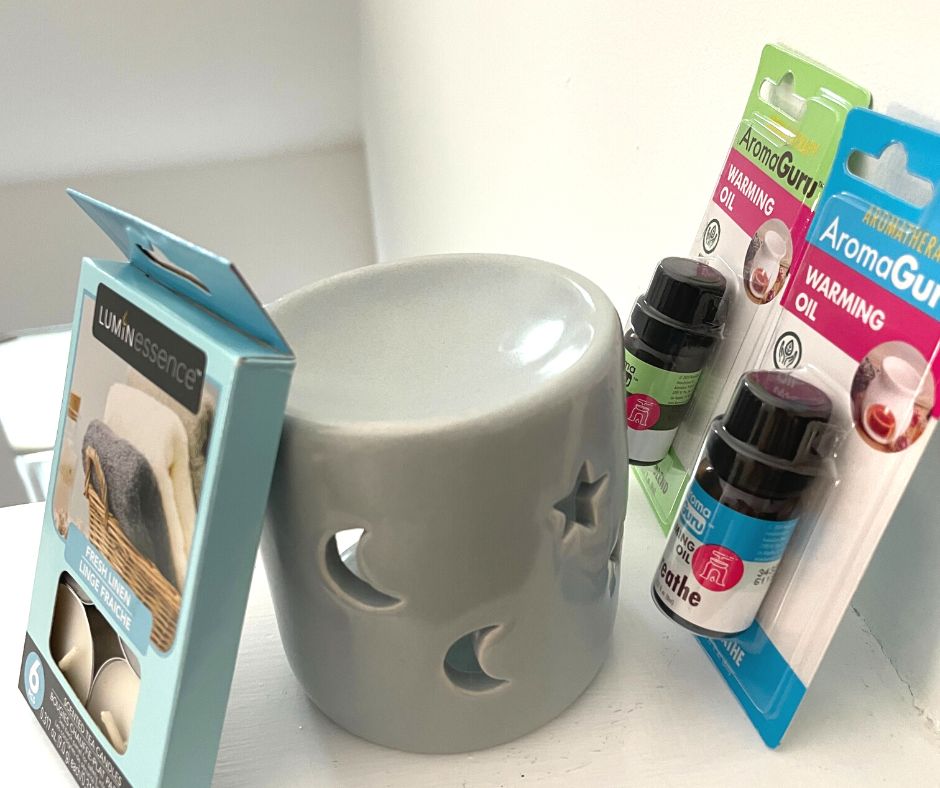 You can find a cute warmer, like this one with moon and stars cutout, and gift them these 100% pure essential oil warming oils plus some votive candles.
Total Cost: $3.75 (plus tax)
3. Stylish Travel Essentials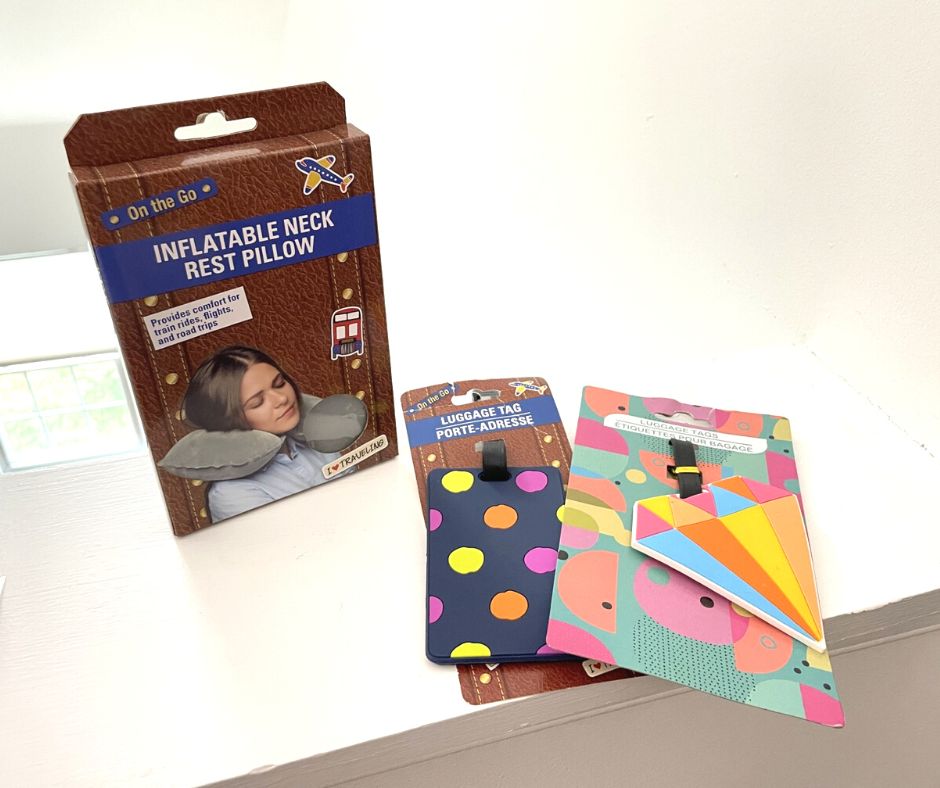 The Dollar Tree has come out with some super-stylish travel essentials you could gift your mom for an upcoming trip, OR, if she travels in general.
You can find:
Colorful, TSA-approved containers for liquids
Luggage tags she can easily identify at baggage claim
Inflatable neck pillow
Total Cost: $5.00 (plus tax)
4. Body Masks Pack
There are tons of masks now for lots of different body parts.
You could buy the following, and put a bow around them for Mom:
Foot mask
Hand mask
Face mask
Belly mask (yep – these exist!)
Total Cost: $5.00 (plus tax)
5. Set of Ceramic Car Coasters
You can pick up a set of fun car coasters that fit into the bottom of your Mom's drink holders.
These are helpful because they absorb spills and wetness from drinks (plus then Mom doesn't have to periodically clean up gunk in the bottom of her drink holders).
Total Cost: $2.50 (plus tax)
6. Reusable Snack Bags
I was blown away when our Dollar Tree started selling really cute, reusable snack backs.
Get your mother her own set.
Total Cost: $2.50 (plus tax)
Dollar Tree Mother's Day Gift Basket Ideas
Got just a few more dollars to spend (literally)? Great – go for one of these Dollar Tree Mother's Day basket ideas.
Hint: they work anytime of year – your mother's birthday, Christmas, etc.
1. Gourmet Chocolate Gift Tin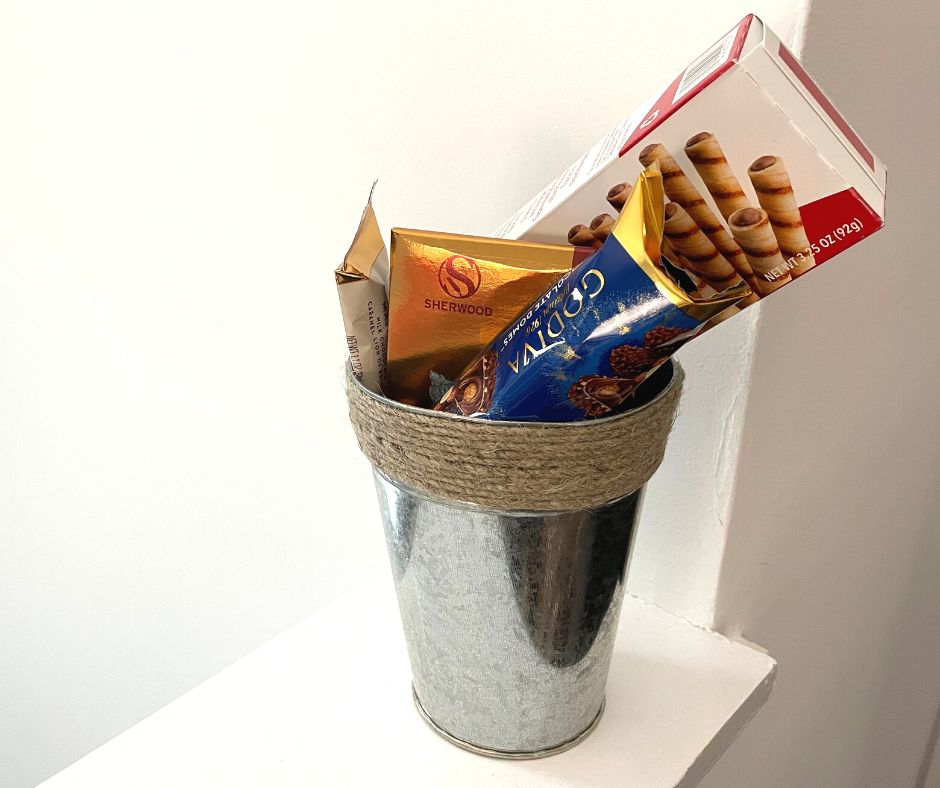 Nothing but the best for your Mom, right?
Dollar Tree actually sells some gourmet chocolates (they just come in smaller packages).
You can purchase several packages to make a whole gift.
In this one, I used:
Decorative metal tin
Milk Chocolate Caramel Truffles
Pirouline Chocolate Hazelnut Crème Filled Wafers
Godiva Chocolate Domes
Godiva Masterpieces
Total Cost: $6.25 (plus tax)
2. Flavored Water Drink Set
I'm sure your Mom could use a flavored water drink as a late-afternoon pick-me-up most days.
And you can help provide that for her.
You can find these BPA-free water bottles in many different colors, not just pink – then pair it with a reusable travel straw (I put it in the inside), plus some flavored drink pouches.
And voilà! You've got a gift to make any mom smile.
3. Bible Journaling Gift Set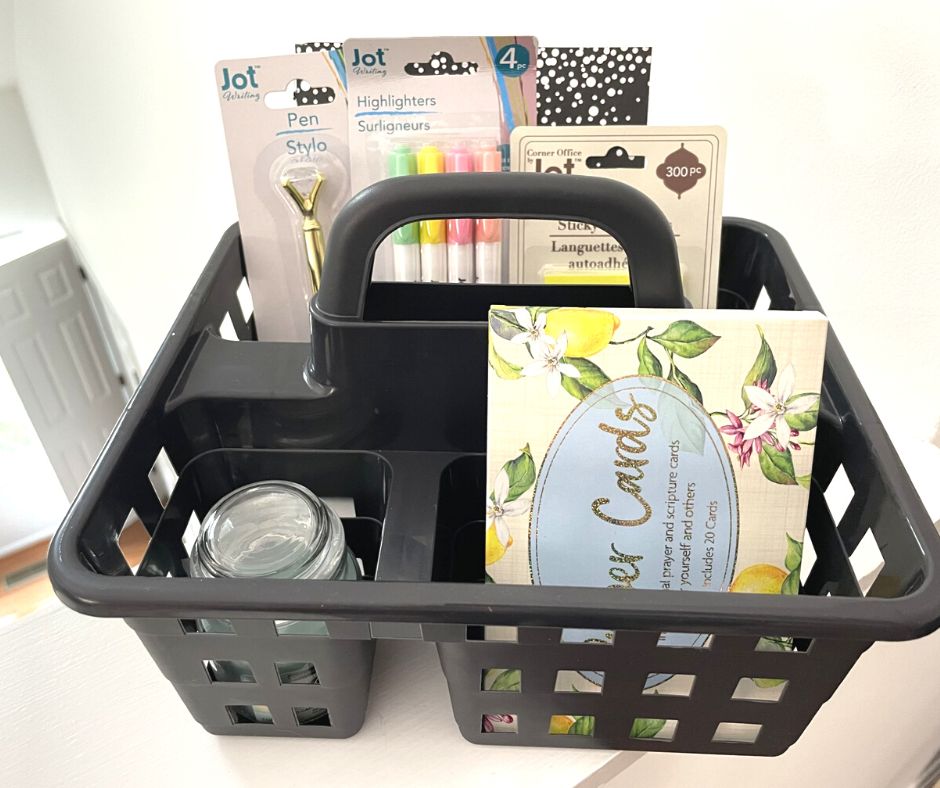 I took a free class at my church last summer, where I learned a highlighting bible study method.
And let me tell you – it really opened things up for me.
Maybe your mother has just dabbled in the bible, or maybe they carry one with them everywhere (probably, they're somewhere in-between, like me).
No matter where they fall on their bible-study journey, I can assure you that introducing this bible highlighting method + the tools to use it will help them.
Not to mention, they'll see how much you care.
Here's what you want to get:  
Shower caddy to hold everything
Candle to set the intention and help create some sacred space
Prayer cards
Pen
Highlighter colors to use with bible study guide
Colorful sticky notes
Bible journal for note-taking
This free color-coded printable for the highlighter bible study method (needs to be color printed, plus you can laminate it from supplies at the Dollar Tree)
Laminated sheet
Bible (optional – these are sold at Dollar Tree, and it could be a good idea in case your mother is hesitant to highlight her own copy)
This is my favorite dollar tree Mother's Day gift basket ideas.
Total Cost: $11.25 (plus tax)
Psst: doing a bible study together is another great + cheap mother-daughter day activity.
4. Salad Lover's Gift Set
Lots of Moms like salads (I know I do!) OR, would LIKE to like salads…and you're going to help her with that.
The Dollar Tree has some sweet salad supplies that you can include in an overall gift package.
Here's why I chose:
Salad container with dressing container inside
Crispy Onions package (these are to sooooooo yummy – they will make an excellent salad topper)
Crispy Jalapenos (again, excellent salad topper)
Dry Roasted and Salted Edamame
Hand her the gift basket, and tell her you're about to uplevel her salad experience!
Total cost: $5.00 (plus tax)
5. Foot Tin Basket
Grab one of these cute new tins at the Dollar Tree, and fill it with a few foot-pedi supplies your mom can easily use.
I put the following in mine:
Foot exfoliating mask
Fun pair of socks
Gold Bond healing cream
Pedicure grater
Total Cost: $6.25 (plus tax)
6. Hygge Gift Box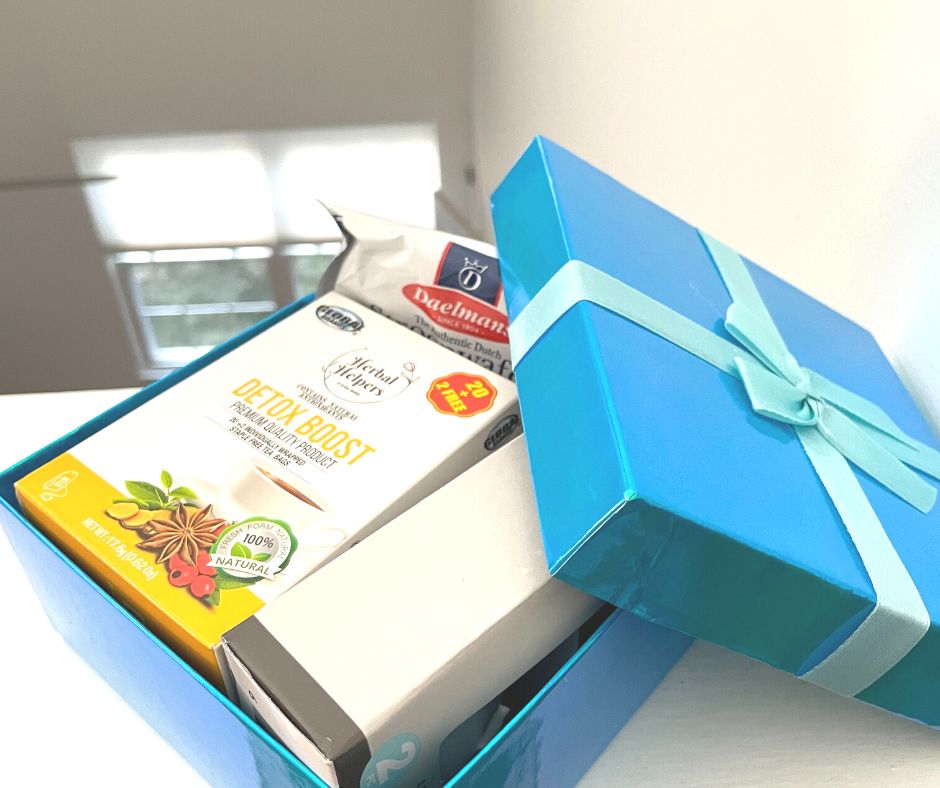 A Hygge basket is all about putting together items that will bring a feeling of coziness and comfort to your Mom.
I've included the following in mine:
Floating candles
Stroopwafels (these are seriously one of the best cookies ever – you put one over a cup of hot tea, hot coffee, or hot chocolate, then the caramel on the inside melts – I couldn't believe I found my favorite brand of them at my local Dollar Tree!)
Detox Boost herbal tea
Pretty gift box (the lid doesn't exactly close on this one…but it's close enough😊)
Total Cost: $5.00 (plus tax)
7. Betty Crocker + My Favorite Spatula
No lie – this teal-colored spatula from Dollar Tree's kitchen section has changed my kitchen.
They sell them for quite a bit more in other stores, so I never had an interest before. But then I saw them there, and thought "why not try it for $1.25?"
Total Cost: $5.00 (plus tax)
8. Smartphone Accessories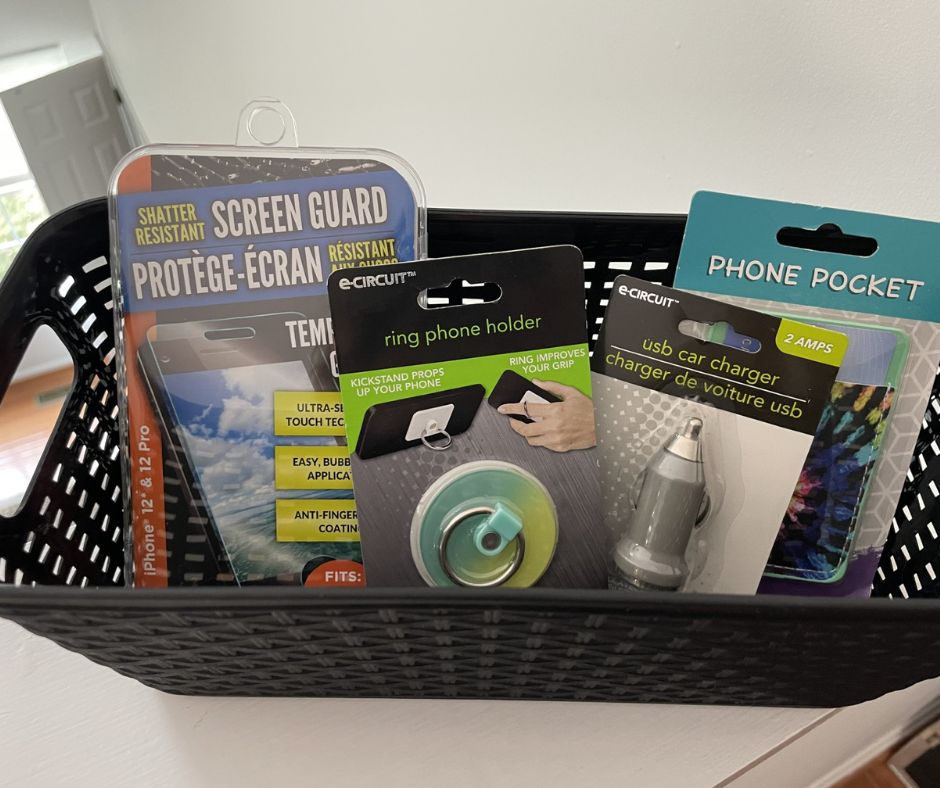 Does your mom have a smartphone?
The Dollar Tree sells some seriously great smartphone accessories that will make it easier for her to use it (plus that look really cool, too).
You can include:
USB car charger (if she doesn't have a USB port in her car – my car doesn't)
Tempered glass screen guard
Stylus pen
Pocket holder
Black basket (hint: your mom can keep this basket by their charger, put the cord through the hand hole, and then use it as a charging basket to keep cords tidy!)
Total Cost: $6.25 (plus tax)
Honoring your mother on the next gift-buying occasion for her now seems totally doable, right? I hope I've inspired you with these Dollar Tree gift ideas for mom – and that they help your own mother feel special on her day.
The post 14 Dollar Tree Gift Ideas for Mom (She'll Never Forget) appeared first on Frugal Confessions - How to Save Money.