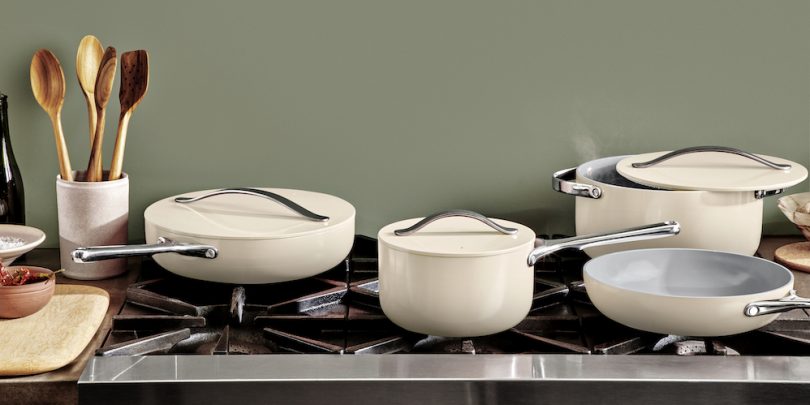 Nothing means more during this time of the year than friends and family coming together to catch up over good food and even better company. While dining out is always the easier option, theres something about a home cooked meal made from scratch by people you love that just tastes a zillion times better. Just in time for the holidays, new direct-to-consumer cookware brand Caraway founded by Jordan Nathan wants to make your home cooking adventures easier during the next couple of months and all the years to come with its all-in-one, non-toxic, non-stick ceramic cookware set.
Designed by Box Clever (the same people who created the now ubiquitous Away luggage), the cookware set is beautifully made and carefully thought through. You might think Oh, cookware is cookware but the design is truly in the details. The set features rolled pan pouring edges (which means your food wont stick in transfer), flat interlocking lid design that looks sleek when you put pot and lid together, and ergonomic handles with dedicated finger rests.
From burner on to burner off, Caraway has it all figured out for you. The handles work double duty as spoon rests so you dont have to buy extra accessories (or wish you did have them on hand in the middle of cooking). After the meal is complete, storage couldnt be more simple; the cookware set comes with a unique pan rack and lids storage system so you can get out of the kitchen quickly to enjoy your company (or put your feet up from a night of hosting). Above all, the most important detail is that the cookware line is free of all the terrible chemicals like PTFE (commonly known as Teflon) because of its ceramic, non-stick coating. After all the time you spent in the kitchen, the last thing you want to worry about is toxic chemicals leeching into your food.
We were still curious about Caraway and the design process so we spoke to Jordan, as well as Bret Recor, founder and creative director of Box Clever, to learn more.
How did the idea to disrupt the cookware industry come about?
Jordan Nathan (JN): In early 2018, I accidentally left a teflon coated pan on my burner for close to 45min (when I received a call that distracted me from cooking). After 45 minutes, my apartment was filled with fumes and I felt light headed and nauseous. To be safe, I called the poison control hotline where the individual on the other end suggested I was likely exposed to Teflon poisoning. I was a bit freaked as you can imagine that something I used every night and touched my food was potentially dangerous.
I am not a professional chef, and the chances I would accidentally overheat or scratch my pan again were high, so I decided to search for non-toxic cookware that was safe to use in my home. Upon further research, I noticed that PTFE (Teflon) coatings made up the majority of products on the market, but their was another material ceramic that had been on the market for about a decade but was not something that most people used or even knew about. While I found a handful of ceramic options in my search, everything was low quality, and nothing was aesthetically something I would want to buy. Not to mention, several of the ceramic options were actually a PTFE and ceramic blend but marketed as safe. After not finding anything in the market that matched what I was looking for, I decided I wanted to create cookware that was safe, easy-to-use, and well-designed.
Who is Caraway designed for?
JN: Caraway Home is designed for individuals who love beautiful design and appreciate easy-to-use, non toxic products. For generations, legacy cookware brands have been marketing cookware to consumers as products made with expertise from professional chefs and used in professional kitchens, which is daunting to the average person who just wants to make something easy and has no aspirations of becoming a Michelin star cook. We feel we really are the first cookware brand that creates products that are so easy-to-use that you actually spend less time in the kitchen.
How did you and Box Clever approach the process of designing this all-inclusive cookware set?
JN & Bret Recor (BR): The design process between Box Clever & Caraway was incredibly collaborative. We took the approach of starting at a very high level, and discussing how to integrate the brand positioning into the product (ease-of-use, safe, and thoughtfully designed), discussing everywhere the product could live in your home, analyzing the current market and competitors through review and trend analysis, etc. While there were many findings in this process, it was evident that 95% of cookware was off the shelf and looked the same, and that there was no KitchenAid Stand Mixer of the cookware category. What I mean by that is no iconic, recognizable cookware set that nearly everyone has in their kitchen and you know what it is out of the corner of your eye.
Following our product strategy, we spent months exploring several design options, eventually landing on a single design language which we felt addressed all the issues we were trying to solve for. Every product detail was created during this processfrom the ergonomic shape of the handles and storage system, all the way down to our plastic-free packagingto make sure it all aligned and fit within the Caraway experience. As you can imagine, we 3D printed hundreds of cookware pieces and spent a ton of time perfecting our storage system in this phase.
We were lucky to bring on an amazing manufacturing partner to help bring the product to life, which was no easy feat given that every single detail on our product was designed from scratch. Since our approach required incredibly high standards when it came to quality, design, and sustainability, the way we produce our product was a very different process than the way our manufacturing partner has been making cookware for traditional retail brands for decades.
Whats one of the challenges youve had so far in designing the products?
JN: The main challenge we wanted to address was, how do we design cookware to be so easy-to-use that you actually spend less time in the kitchen? The cookware set was designed to make cooking easier and efficientgrab a pan out of a pan rack instead of a cookware stack, have your lids neatly stored on your cabinet door, cook your meal on a pan that heats up quickly, and clean it up in a breeze in just a few seconds. Every design detail was made to make cooking, cleaning, and storing an easierand saferexperience for everyone.
What do you think defines good design and how is it reflected in the Caraway products?
BR: Caraway and Box Clever are both firm believers in designing products, and ultimately experiences, that are life appropriate, all elevated by authentic brands. Of course they are going to be beautiful, but they must also balance with how we live today and have staying power. The lid holder, magnetic pan rack storage system, and the simmer slide lid lock details were all off brief. The product and packaging design process led to these discoveries and have become inspiration for many of the future offerings to come.
Where do you hope to take the brand?
JN: As noted in our name (Caraway Home), we are a home brand, and we have high aspirations to extend Caraway outside the kitchen and into your whole home. We want Caraway to make your life easier and safer, and right now our focus is on making the brand and our cookware accessible to as many people as possible. While cookware is what we have chosen to launch with, we feel there are many other items in the kitchen and home that would benefit from a material and aesthetic refresh as well.
Do you have any advice for someone who wants to redesign a common item and disrupt the industry?
BR: Anyone can imagine a new and improved version of a product or service, thats the easy part. The hard part is bringing that product or service to life and figuring out how it offers more value to potential end users than what is currently on the market. It has to be practical, and you cant sacrifice quality for design you need to find the balance. The best components to doing this successfully is trust and empathy-driven design thinking.
The Caraway set is priced at $395 and comes in five beautiful colors (navy, sage, peracotta (Caraways playful naming of pink + terra-cotta), cream, and gray. To learn more or purchase a set, visit carawayhome.com.