These 10 Ground Beef Meal Prep Lunch Ideas are going to change up your typical chicken and rice meal prep!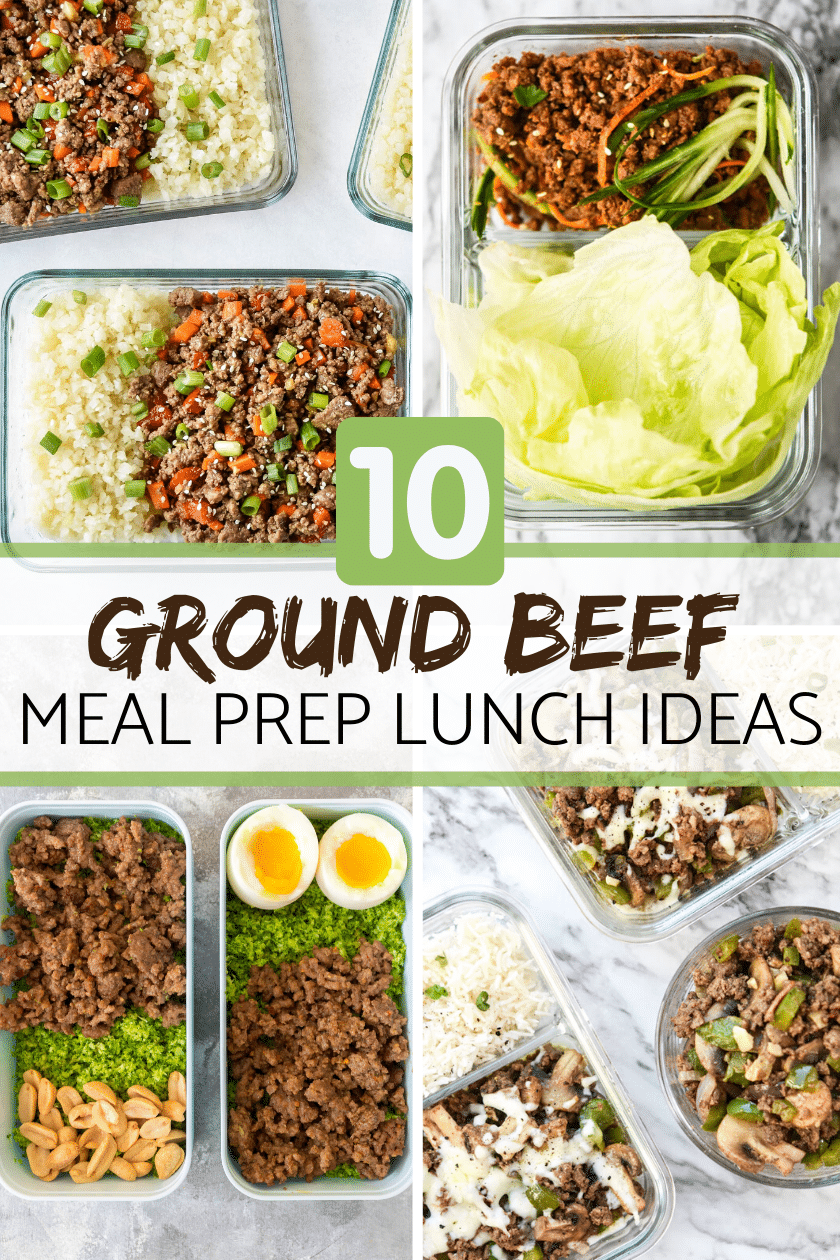 Ground beef is underrated in the meal prep world.
Ground beef is so flavorful, and so versatile.
Fry it up and mix up a stirfry, turn it into meatballs, cook it down into a hearty sauce, make soups, and best of all, make it a meal prep lunch this week!
How long can ground beef lunch meal preps last?
In the fridge, dont let them go past 4 days. I know on Instagram you see all these beautiful meal preps for 5 days. No. Dont do it. 4 days max.
If you have more than 4 portions, freeze them! Ground beef freezes quite well.
Ensure your meal preps head the the fridge within an hour of cooking them, and they will be safe for 3-4 days.
When you reheat your ground beef meal preps, you want to make sure your beef is reheated to 156F
Source: USDA
How should I store them?
My preference is glass containers. Sometimes divided and sometimes not. That is completely your choice.
While glass is heavy, it doesnt stain, the lids seem to secure better, and they wash and last really well. Again, this is just my preference!
Here are the affiliate links for my 2 compartment glass meal prep containers, my 3 compartment glass meal prep containers, and my 3 cup Pyrex glass containers.
What if I dont want to eat the same thing for lunch all week?
I dont blame you. Neither do I.
There are a few strategies for this:
Team up with a friend on Meal Prep Sunday. Make 2 meal prep recipes, and each take half of each recipe.
Choose freezer friendly recipes, and stock up your freezer. If you prep 4 freezer friendly meal prep recipes, you can freeze them, and then pull a variety from your freezer each week.
If you havent been making lunch meal preps, it is time to start with these delicious ideas!
Are you adding ground beef to your meal prep lunches this week?
If you do, tag me @mealplanaddict on Instagram so I can see !
The post 10 Ground Beef Meal Prep Lunch Ideas appeared first on Meal Plan Addict.