A solid classic Vegetarian Minestrone Soup recipe is the best thing to have in your weekly cooking schedule because it is not only cheap and super nourishing but full of fresh vibrant seasonal veggies. A delicious way to get a big serving of veggies into your diet. And this vegetarian minestrone soup might be the best meal prep recipe ever. You will definitely get 4-6 meals out of it.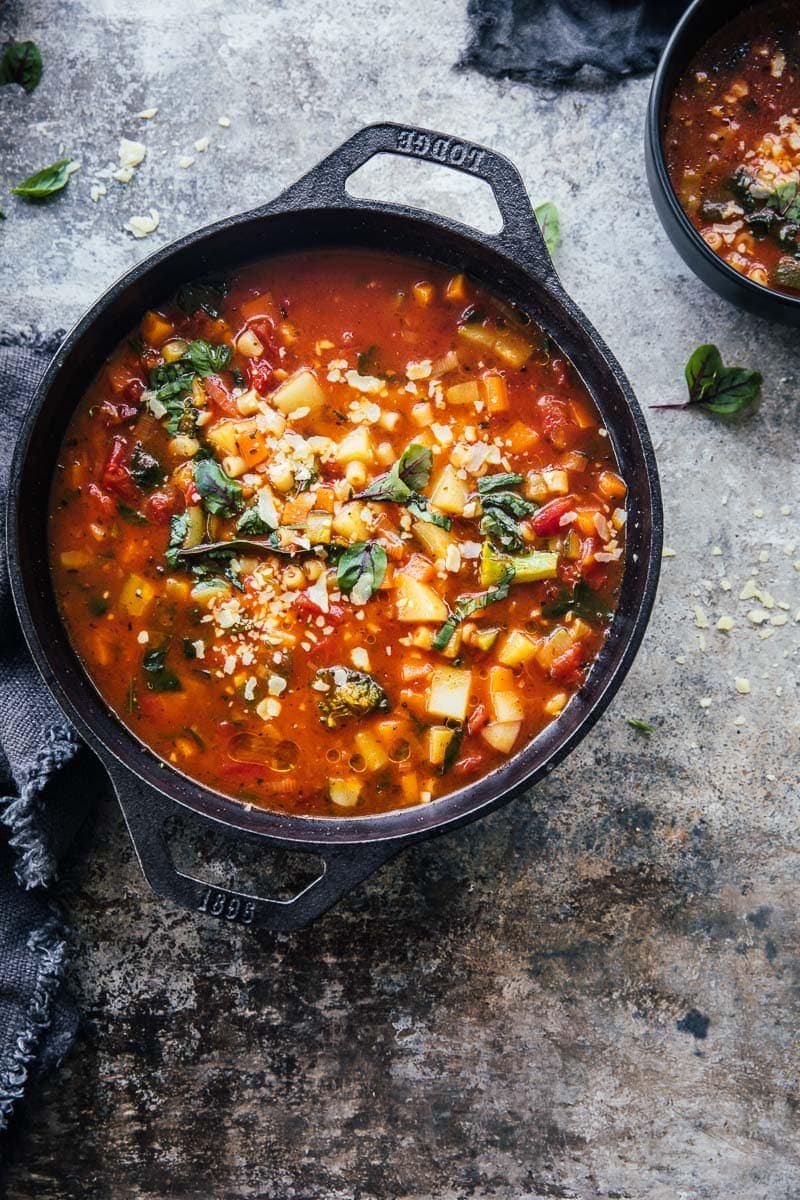 Good vegetarian minestrone soup is defined by the neatly and finely diced vegetables. And therefore, I find cooking a minestrone soup almost therapeutical. You only need one of each vegetable variety that you are using and dice it to the best of your ability. Dicing the veggies into small pieces ensures a shorter cooking time and a really lovely eating experience. 
Everything else that you will need for this rich tomato-based rustic soup is already in your pantry. This recipe that I am sharing with you today is a classic base minestrone soup recipe that can be used as a starting point for more elaborate bowls of minestrone. It is also bean-free and celery-free which makes it easier to digest and gentler on your stomach. So if you have gut issues or are living with an ostomy/stoma, this is a great soup to eat for all your nutritional needs.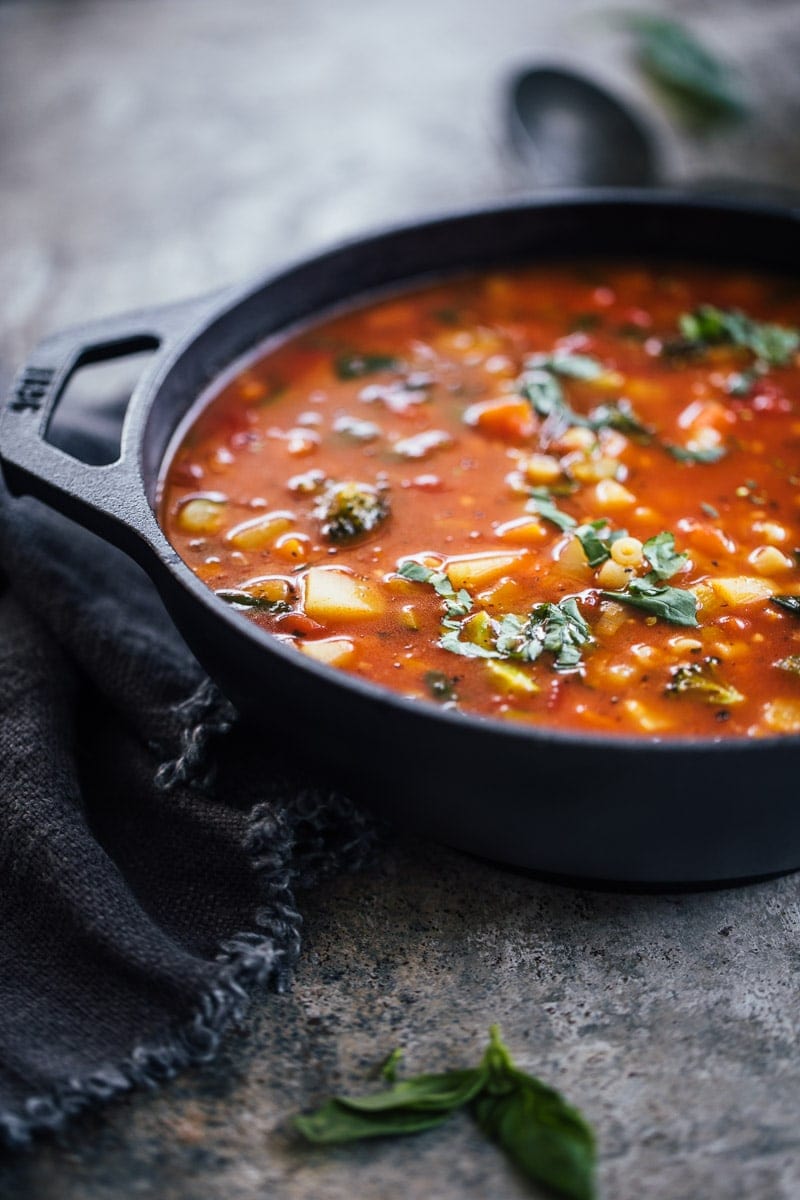 There is definitely a science behind cooking things a certain way to get the best flavour and texture in your finished dish. And a vegetarian minestrone soup is the best example of that. You want to draw all the flavours of the veggies out while making sure you don't overcook them. The soup's base also has to be rich and creamy.
I always start by caramelizing finely chopped leek and minced garlic. Then I add my finely diced veggies in a particular order (hardest to softest with little intervals to allow for perfect cooking so that at the very end, they are all cooked to the same consistency). Hard veggies like potato and carrot go in first and cook for a while before adding veggies like zucchini. Finally, the diced tomatoes and all the herbs go in to create a rich ragu.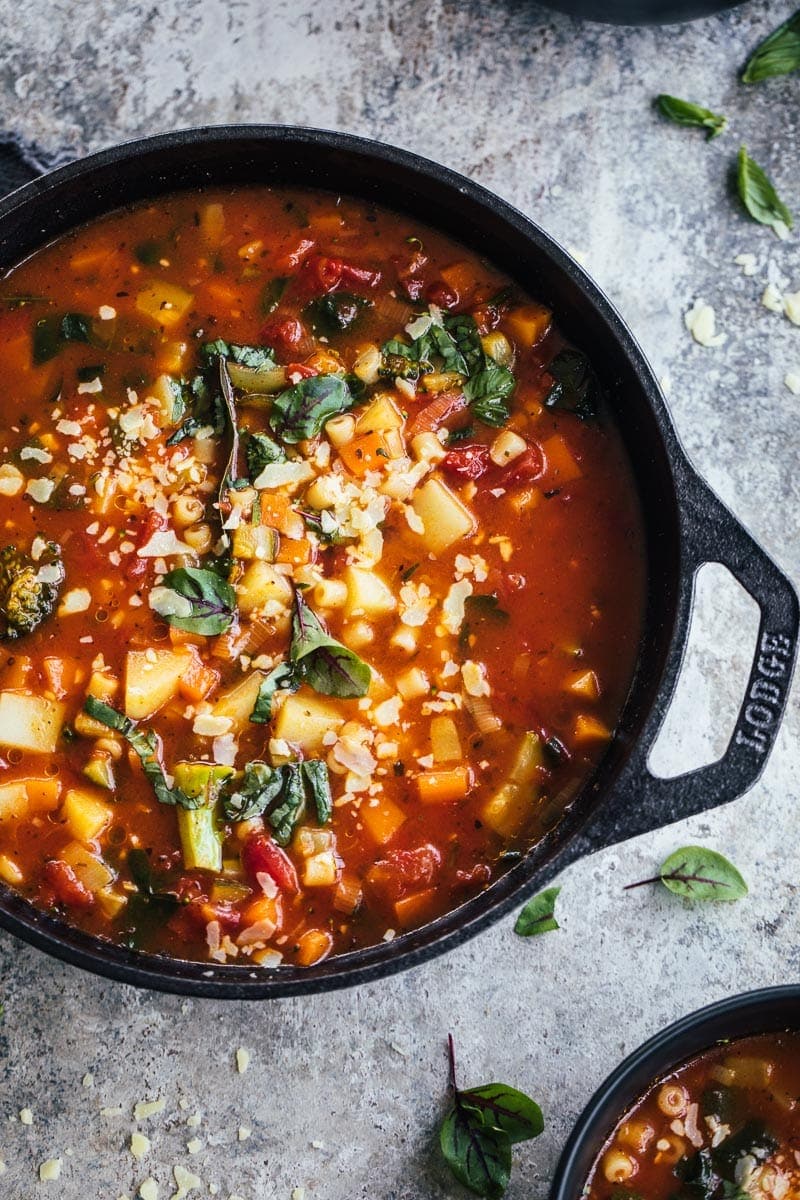 Once the tomatoes and veggies have had a chance to marry and develop in flavour, I then add the stock and pasta to let it all simmer to perfection. A small pasta like ditalini is ideal for this minestrone soup. Visually, it is the same size as the diced veggies and looks super pretty but also great to eat. Macaroni is more widely available and works really well too. I am always on the lookout for tiny pasta shapes at my local deli to make my minestrone soups more exciting every time. At the very end of the cooking cycle when the pasta is al dente, I add my fresh greens. It could be chopped spinach or Tuscan kale or Silverbeet along with finely chopped broccoli and fresh herbs like basil and parsley. These just need a minute or two in the hot soup to blanch and get that lovely deep green colour while all their nutrients are still intact.
Finish your soup with a generous sprinkling of parmesan and a dollop of good homemade pesto. Maybe you have a bottle of that really great cold pressed extra virgin olive oil that you bought on your trip to the wine country? Drizzle that too! Enjoy with or without a good pan-fried slice of crusty sourdough and feel the goodness of the veggies light you up from the inside. Buon Appetito!
Print
BEAN FREE VEGETARIAN MINESTRONE SOUP
---
Author:

Sneh

Prep Time:

10 minutes

Cook Time:

30 minutes

Total Time:

40 minutes

Yield:

4

Category:

Soup, Dinner

Cuisine:

Vegan, Vegetarian, Italian
Print Recipe
Ingredients
1 tablespoon

extra virgin olive oil

1

bay leaf

1/2 teaspoon

dried garlic (or

1

garlic clove, minced)

1

leek, thinly sliced (white only)

1

medium potato, peeled and finely diced

1

large carrot, peeled and finely diced

1

medium zucchini, ends trimmed and finely diced

1

X 400g canned diced tomato

1 teaspoon

balsamic vinegar

1 teaspoon

dried oregano

1 teaspoon

dried parsley

1

litre vegetable stock

1/2 cup

small pasta (ditalini, tubetti or macaroni)

1 cup

baby spinach leaves, chopped

1

–

2

florets broccoli, chopped
few sprigs of fresh parsley and basil leaves, finely chopped
salt to taste
freshly ground black pepper
parmesan, to sprinkle
---
Instructions
Heat oil in a 4-litre cooking pot on medium. Add bay leaf, garlic and leek. Sauté for a couple of minutes until leek starts to caramelize.
Add potato and carrot. Mix well and cook for a few minutes until vegetables are glazed. Add zucchini and sauté for a couple of minutes.
Add tomato, balsamic vinegar, oregano and parsley. Mix well and cook for a couple of minutes.
Add the vegetable stock and pasta. Mix well and simmer (uncovered) for 15-20 minutes, stirring occasionally until the vegetables are tender and pasta is al dente.
Add spinach, broccoli and chopped herbs. Season with salt and pepper to taste. Cook for 5 minutes until broccoli is tender.
Remove from heat. Serve with a sprinkling of parmesan.
Notes
For A Vegan Version – Skip the Parmesan cheese. Top with Cashew Cheese sprinkles.
For A Gluten-Free Version – Use gluten-free pasta instead of regular pasta.
BUILD YOUR VEGETARIAN MINESTRONE SOUP
---
One Year Ago – HAZELNUT CACAO CAKE
Two Years Ago – SUPER GREEN TURMERIC BLOODY MARY & DATE NIGHTS
Three Years Ago – QUINOA BUTTERMILK FRIED CHICKEN
Four Years Ago – PEANUT BUTTER AND DARK CHOCOLATE SKILLET COOKIE
Five Years Ago – HERB PESTO STUFFED FLATBREAD
Six Years Ago – GOBI MANCHURIAN – CAULIFLOWER FRITTERS IN CHINESE GARLIC SAUCE
Seven Years Ago – BROWN BREAD AND RUM ICE CREAM
Eight Years Ago – CRUNCHY PEANUT BUTTER OAT COOKIES
The post Bean Free Vegetarian Minestrone Soup appeared first on Cook Republic.