These Easy Loaded Tex Mex Sweet Potato Fries with avocado cilantro sauce are a delicious vegetarian dinner idea that comes together in 30 minutes. Prep the toppings while the fries are cooking!Jump to Recipe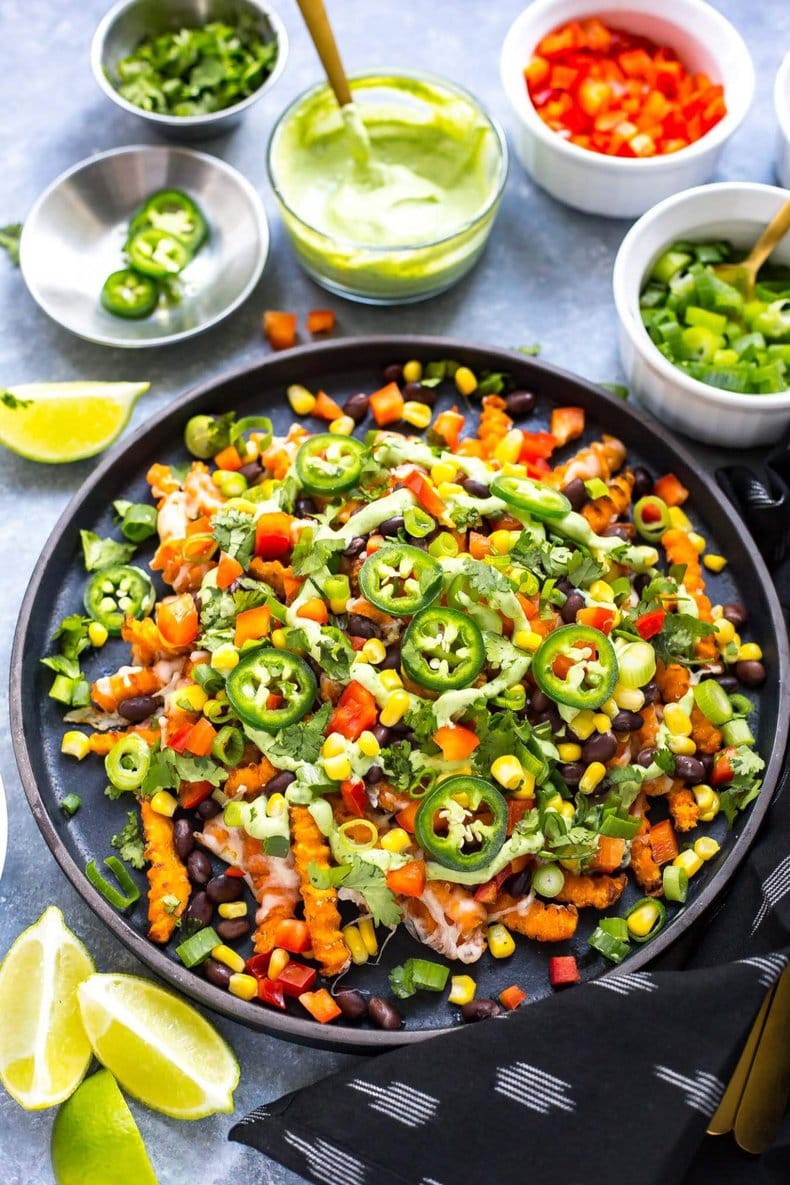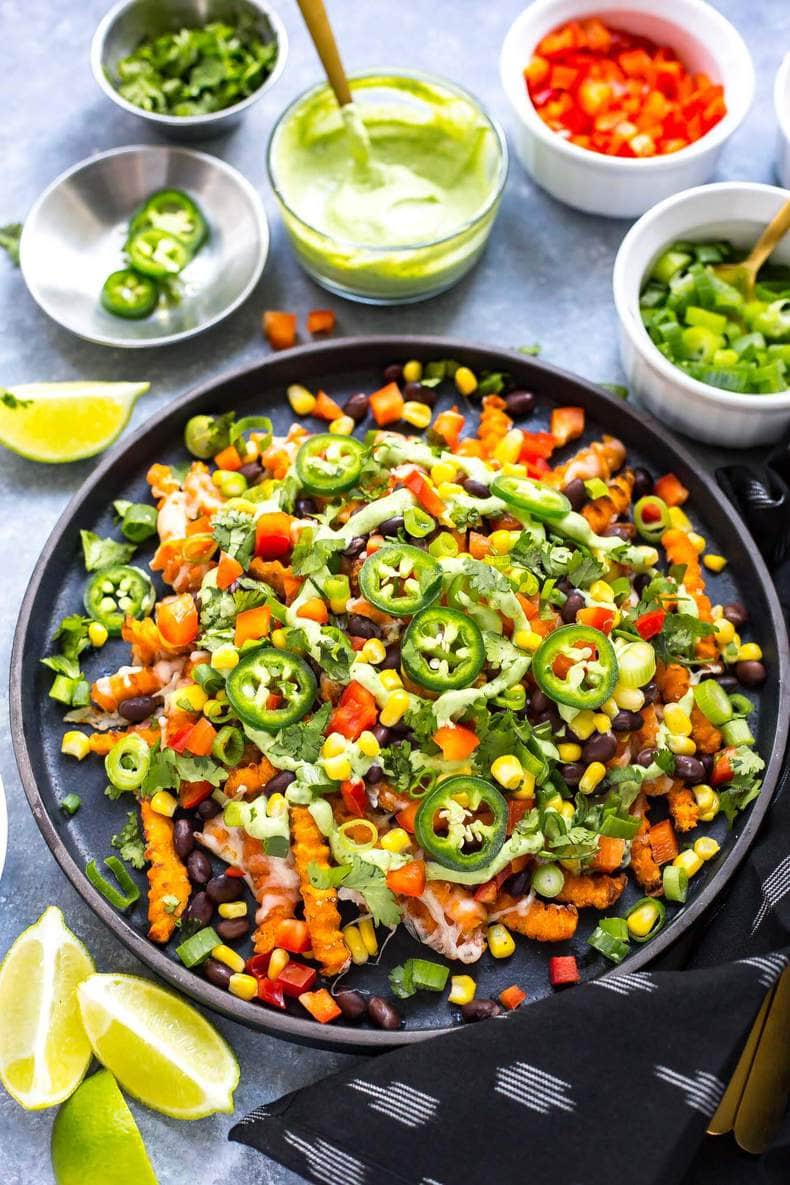 Say hello to the most fun, delicious dinner idea ever! TheseEasy Loaded Tex Mex Sweet Potato Fries remind me of being a kid again: you've got a ton of different toppings at your disposal, and the crinkle cut fries are SO cute! What better way to celebrate the end of the work day than with a tasty 30-minute meal like this?!
And while I think the crinkle cut fries are LIFE, you don't really need to get that particular kind from the store technicallyyou could even ditch the frozen sweet potato fries altogether. You could make your own and bake them in the oven like I've done in this Sweet Poutine Poutine but honestly it would add so much more cooking time and the key with these fries is to make 'em fast.
Because you wanna get started eating ASAP just like me, right?!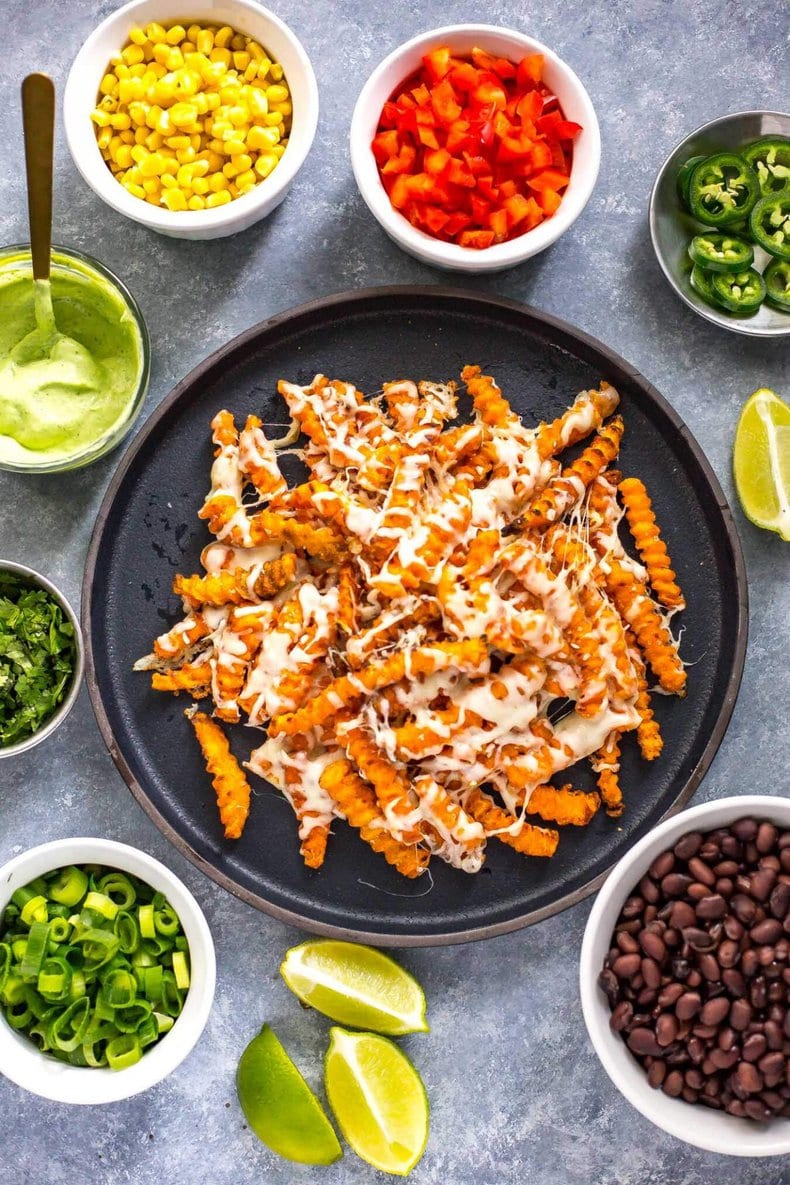 I mean, to me the key to meal prep and eating as much clean real food as possible is definitely taking a few shortcuts here and there. I'll buy pre-spiralized veggies at the grocery store or pre-chopped cauliflower rice, or peeled and diced butternut squash and sweet potato.
The great thing about our foodie nature is that grocery stores and food brands have really started taking our modern tastes into account. The frozen foods aisle isn't necessarily a block of over-processed TV dinners or ice cream you can now get more natural, unprocessed snacks and ingredients like frozen veggie blends for stir fries or fruit medleys to make your smoothies easier to throw together in the morning.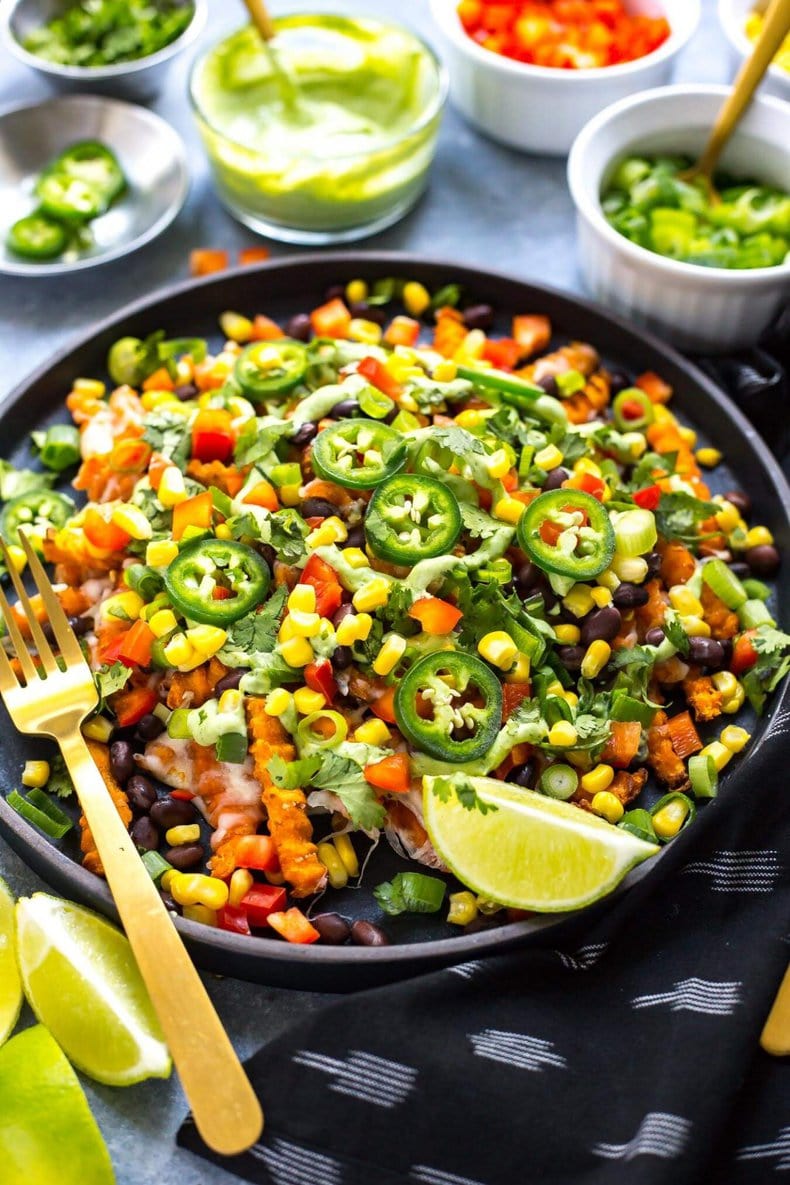 And honestly sweet potato fries are one of those things that have gotten a bad rap. Gone are the days of the deep-fried ones always accompanied by chipotle mayo at your local bar. Frozen sweet potato fries are actually pretty wholesome and good for you! I love the Alexia brand if you're wondering what kind to go with they even have sweet potato tater tots if you'd rather try those in this recipe! I swear, this isn't a sponsored post..just educating on my hunt for the cleanest sweet potato fries
Anyway, the idea here is that while the fries are cooking in the oven (usually 10-12 minutes, then flip and cook another 10 minutes), you'll be chopping and prepping all the toppings. I used black beans as my primary protein source not because I was hell-bent on making these vegetarian but more so because they're cheap, usually on hand in the cupboard and they don't take a lot of prep time, unlike meat. However, there's nothing stopping you from throwing on some ground beef or diced up chicken breast if you've got it on hand especially if you already have leftovers from another meal.
And here we come to the place where I talk about why I love theseEasy Loaded Tex Mex Sweet Potato Fries even more, and that's because they're literally a pantry recipe. If you're around the house hungry and wondering what to make, you'll likely already have most ingredients on hand. The fries from the freezer, the beans from the cupboard, and then just whatever veggies you have in the fridge clear out that vegetable crisper people!
Now the avocado cilantro sauce is another star of the show, but if you're in a pinch you can just use some chipotle mayo from the fridge or some salsa, or sour cream, or plain old guacamole. Really, theseEasy Loaded Tex Mex Sweet Potato Fries are so laid back you can pretty much do whatever to them and they'll still taste good.
But if you have the avocado cilantro sauce ingredients on hand, I highly recommend making it. It doesn't take much: just blend some ripe avocado, cilantro, sour cream, salt and lime juice together in a small personal blender like a Magic Bullet or make a GIANT amount of it for a crowd in your Vitamix or food processor.
Then go to town and DIG IN!!!
Will you be making these Easy Loaded Tex Mex Sweet Potato Fries?
I love when you can make dinner fun, quick and easy, and above all HEALTHY all at once! And the best part of this recipe is that it's a great excuse to just use up all your leftovers.
If you're looking for more delicious loaded fries recipes, then you'll probably also love these Baked Greek Fries too!
If you try any of my recipes be sure to let me know onInstagram,Twitter,Facebookor in the comments Id love to see what you come up with!
Easy Loaded Tex Mex Sweet Potato Fries
These Easy Loaded Tex Mex Sweet Potato Fries with avocado cilantro sauce are a delicious vegetarian dinner idea that comes together in 30 minutes. Prep the toppings while the fries are cooking!
1 (425g) bag frozen sweet potato fries (I used crinkle cut!)
1 cup cheese (mozzarella or cheddar work nicely here)
1 can black beans, rinsed
1 red pepper, diced
1/2 cup Corn
4 green onions, chopped
1 jalapeno, thinly sliced
1/3 cup cilantro, chopped
Avocado cilantro sauce
1 ripe avocado
1/2 cup cilantro, chopped
1/2 cup sour cream
1 tbsp lime juice
1/2 tsp salt
Preheat oven to 450 F. Cook sweet potato fries according to package directions.
Meanwhile, prepare toppings and veggies, and blend ingredients for avocado cilantro sauce in a food processor, blender or Magic Bullet.
Remove fries from the oven and top with cheese. Return to oven and broil for 2-3 minutes until cheese is melted.
Remove from oven and top with toppings, then serve and enjoy!
The post Easy Loaded Tex Mex Sweet Potato Fries appeared first on The Girl on Bloor.