Healthy Creamed Spinach! This vegan creamed spinach is so delicious, youd never believe it was dairy-free!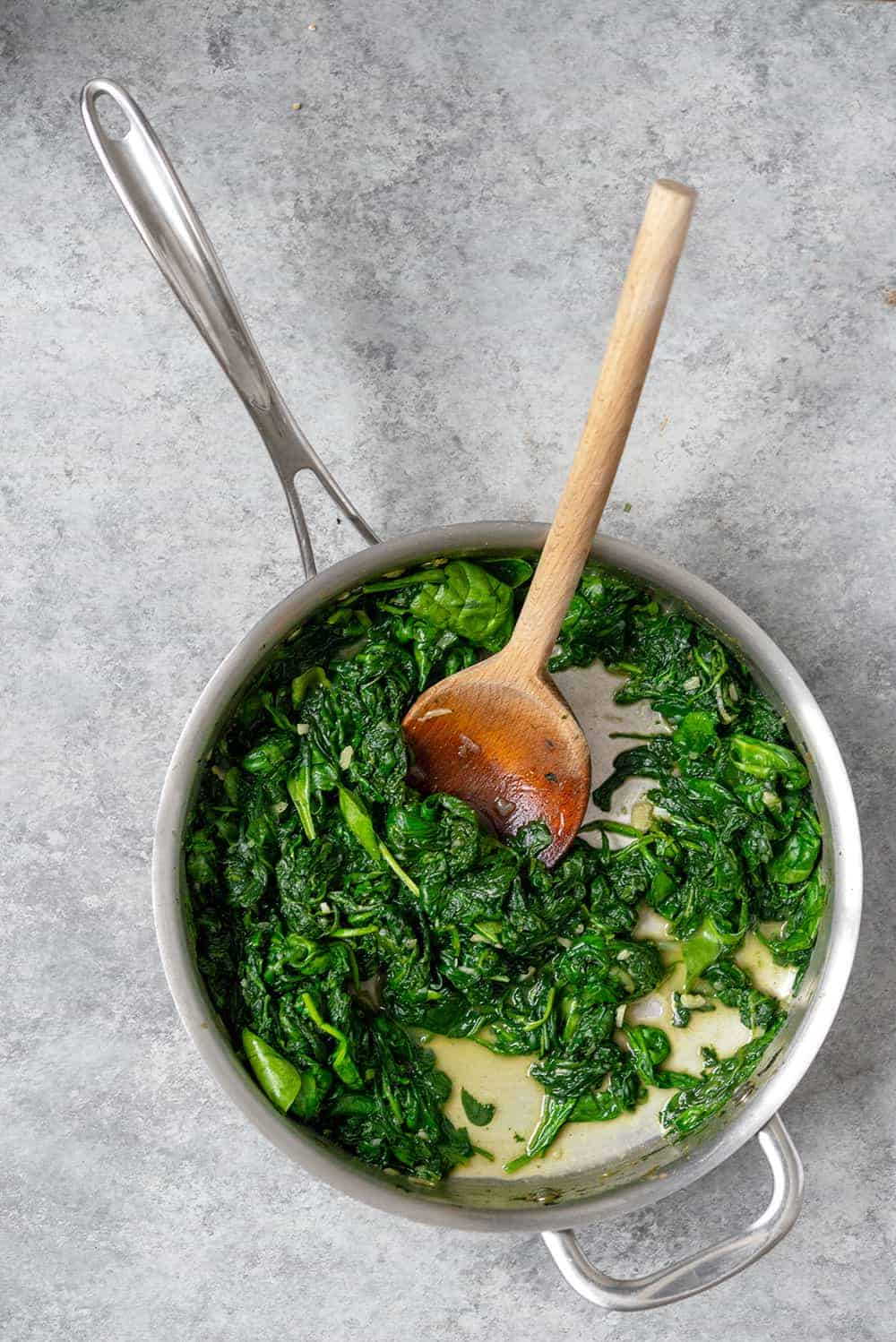 Can you even believe that Thanksgiving is right around the corner? Even though its much later this year, I feel like the entire holiday season has snuck up on me. Im not sure if thats because Im currently 6 months pregnant and trying to cram in as much as I can while Van is still an only child or because this season tends to also be my busiest for work leaving me feeling like Im burning the candle at every end imaginable.
Or all of the above? Dont we all feel like this every single holiday season? And then January and February seem to drag on forever and ever. Im all for moving Thanksgiving to February 1st. I need more time to slow down and savor.
Have you created your Thanksgiving menu yet? We are still without a kitchen (but getting very, very close) so Im out of Thanksgiving duty this year. That means we are heading to my in-laws in upstate Wisconsin to do nothing but relax, eat, play some games and relax some more. I love heading up there to get away from it all. My cell phone doesnt get reception at their house, which always feels like the most beautiful forced break that I need.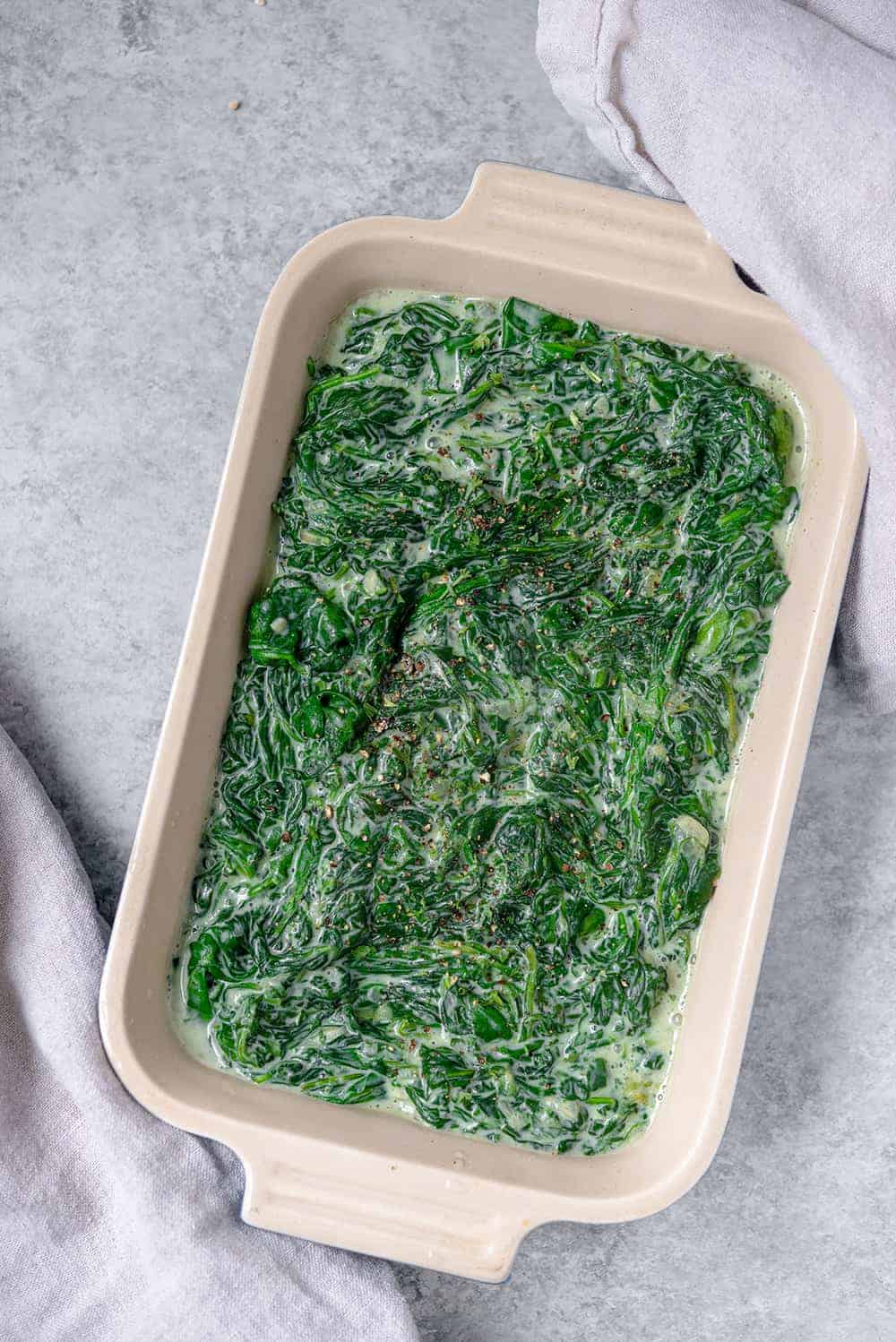 Vegan Creamed Spinach
This creamed spinach is maybe one of the best things to come out of my kitchen in a while. And by kitchen, I mean my sweet friends kitchens who have been so gracious in letting me cook there for the past few months.
Its creamy, its rich and its secretly not packed with heavy cream. Ha! I love my moms spinach souffle so much that I can eat almost an entire pan myself. However, its also loaded with cheese, cream and eggs. Meh. Not exactly something that I want to be enjoying over and over again this holiday season.
So, I took my love for creamed spinach and veganized it! Pureed silken tofu with lots of sauted shallots and a pinch of nutmeg make for the most luscious cream sauce without the cream. Its so fantastic, I ate almost the entire pan while I was testing this one. Since tofu is fairly bland in taste, building lots of flavor with caramelized shallots and garlic is the key.
And isnt that true of almost everything? Add some garlic and some onions and you are on your way to major flavortown.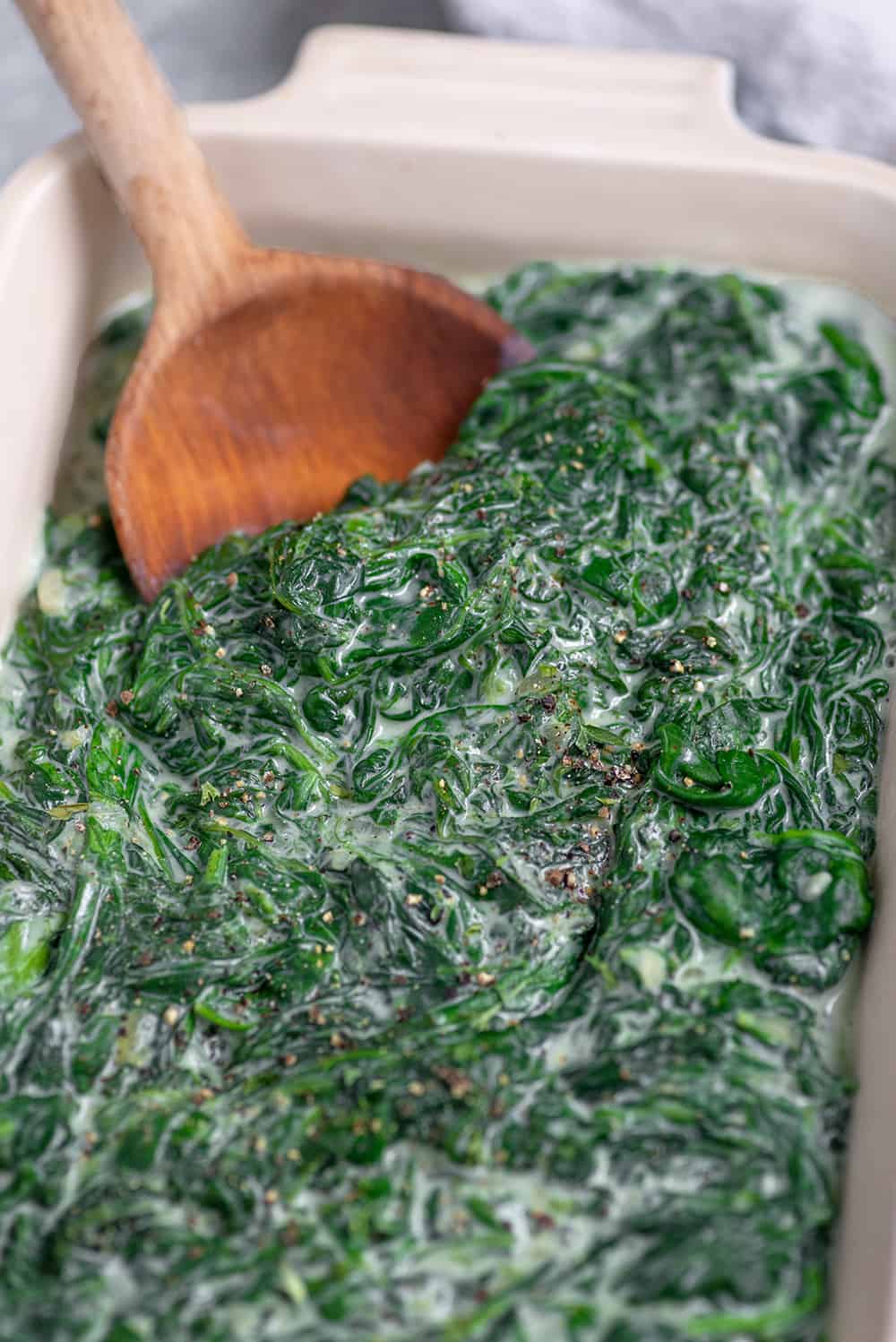 To add more body to this vegan creamed spinach, I threw in some raw cashews to the silken tofu puree. Cashews provide a really nice fatty mouthfeel and a slight nuttiness thats perfect in this creamed spinach.
I also want you to use a dash of nutmeg, to bring in some warmth to the overall dish. That may sound silly, but ground nutmeg is my secret ingredient to pretty much any cream sauce that I make. You dont need much. Just a tiny pinch will give it that warm, cozy feeling without anyone saying wow, is that nutmeg? If you can actually taste the nutmeg, youve put in too much.
Lastly, dont be scared to salt this dish. You are using almost 2 pounds of spinach and zero dairy, so you will need to add salt. Keep tasting the spinach and the sauce together, adding more salt/freshly ground pepper as needed.
While I think this is the most fantastic Thanksgiving side dish out there, its also super yummy piled onto warm cooked grains. I used the leftovers in a type of spinach bowl with farro pilaf, roasted cauliflower and lots of this creamed spinach on top.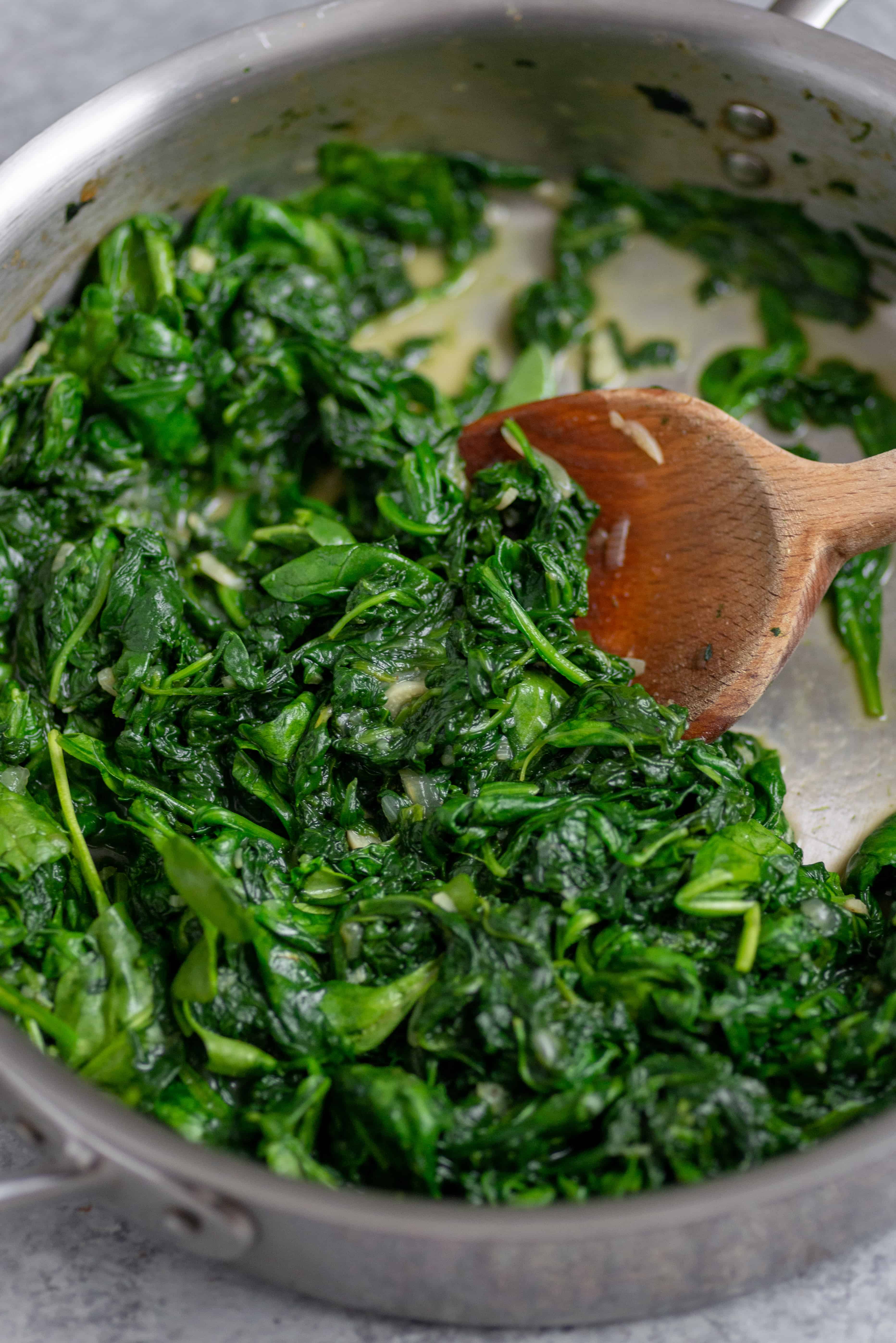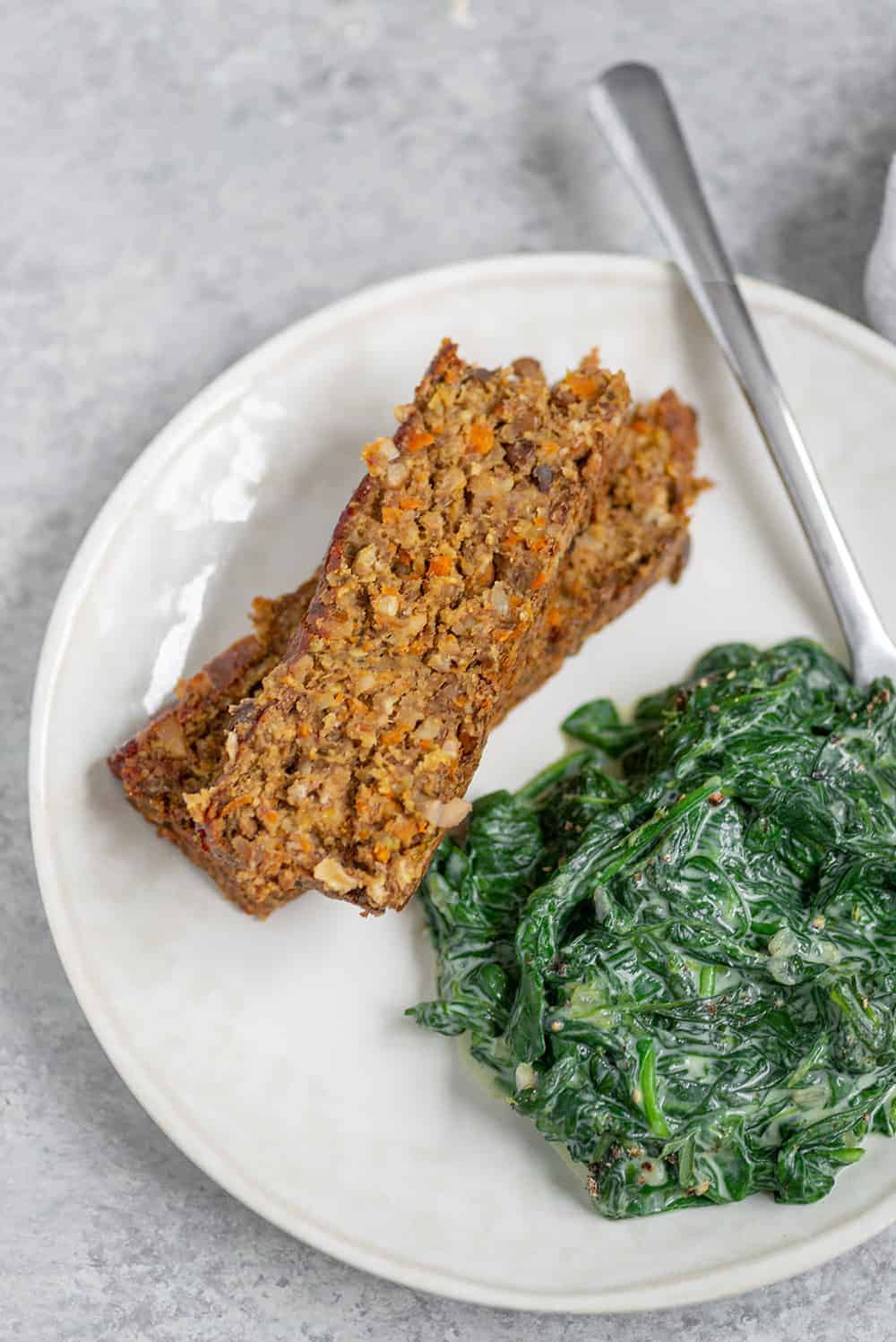 If you love this healthy creamed spinach, then youll love these other holiday side-dishes: the best vegan stuffing, fresh green bean casserole, autumn squash and kale salad, and vegan pumpkin cornbread muffins.
Print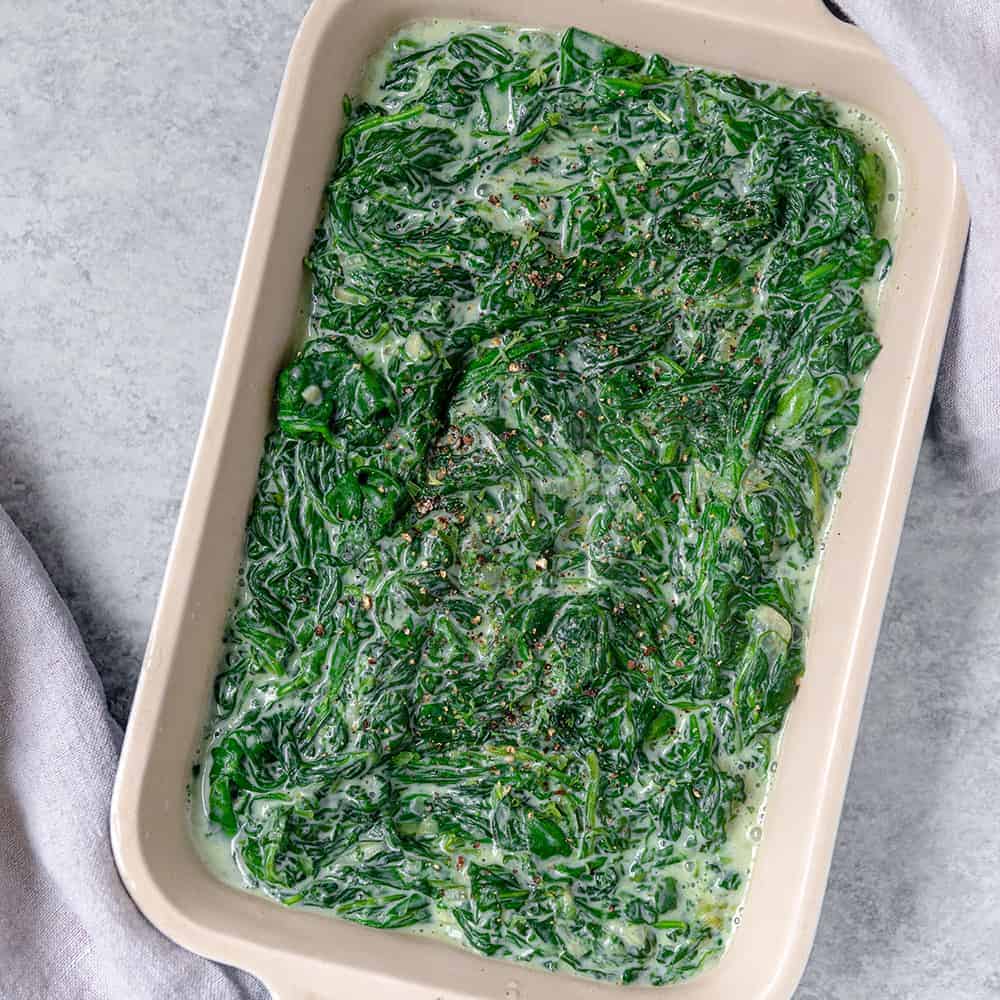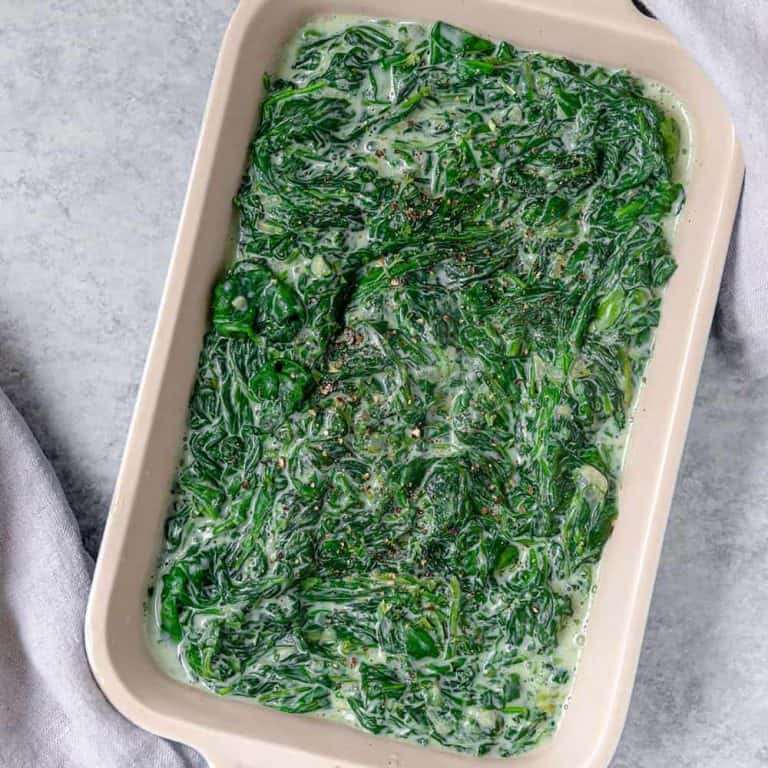 ---
Description
Healthy Creamed Spinach! This vegan creamed spinach is so delicious, youd never believe it was dairy-free!
---
Ingredients
6 ounce

s silken tofu* (see notes)

1/8 cup

raw cashews

1/4 cup

vegetable broth

1 tablespoon

nutritional yeast

1/8 teaspoon

ground nutmeg

3 tablespoon

s olive or vegetable/canola oil

1/2 cup

thinly sliced shallots

5

cloves garlic, thinly sliced

1/2 teaspoon

salt, plus more to taste

24 ounce

s torn spinach leaves
---
Instructions
Place the tofu, cashews, broth, nutritional yeast and nutmeg in a blender and puree until very creamy and smooth, scraping down the sides as needed. Set aside.
Heat the oil in a large skillet over medium heat. Add the shallots and cook until browned, about 10 minutes, stirring often. Add in the thinly sliced garlic and salt and cook another minute or two, taking care not to burn the garlic.
Add in the spinach, a few handfuls at a time, letting it wilt slightly before adding more, until all spinach is in the pan. The spinach should be just wilted and bright green. Stir in the tofu mixture and cook until warmed through, about 2 minutes.
Taste, adding more salt/pepper as needed and serve immediately!
---
Notes
Silken tofu is not the same as firm or extra-firm tofu. You can find silken tofu in either the refrigerator or pantry section of your grocery store.
Keywords: healthy creamed spinach