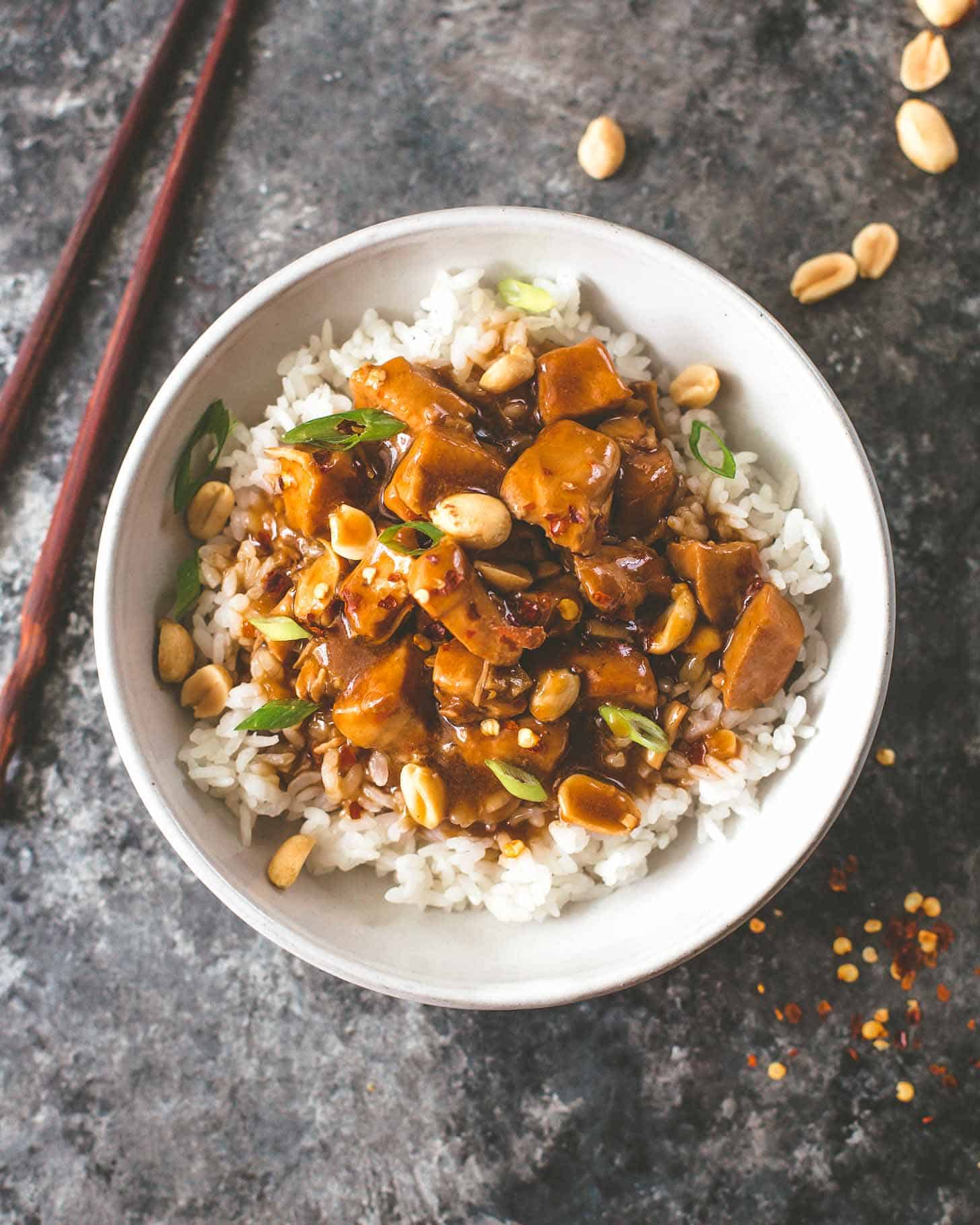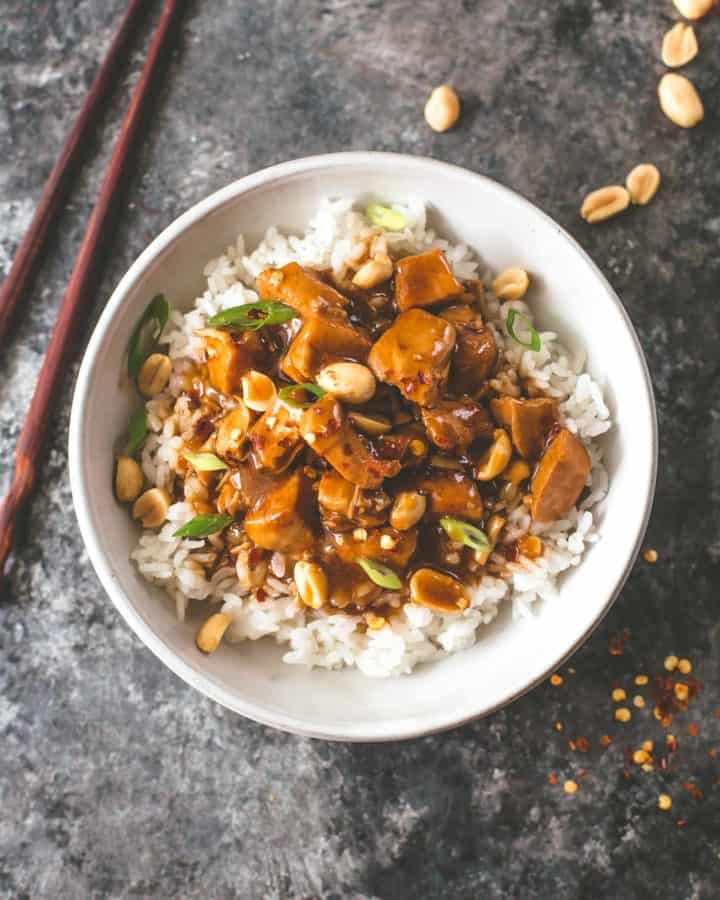 Sweet, savory, saucy, and spicy (or not), Instant Pot Kung Pao Chicken is a fast, easy weeknight meal. Use the pot-in-pot method to cook the rice and it all comes together in the pressure cooker in just a few minutes. Finish this Chinese take-out favorite with peanuts for crunch.
Weve had a busy few weeks. Frank and I were both traveling for work and fun throughout October and then just got back from seven days in Paris (!). It was a dreamy trip that now, three days after our return, almost feels like a dream. We ate all the brie and sipped all the strong coffees and looked at all the beautiful art. We took very few pictures and just settled into a week of enjoying the moment while our three girls were back in Kansas City having so so so so much fun with their grandmas and aunts.
Now that were back in the home routine, the inevitable weeknight dinner scramble has been in full effect. We have a handful of these fake-out take-out Instant Pot recipes (scroll down for others!) that we use on the busiest of nights. Put everything in the Instant Pot and turn it on and 15 minutes later = dinner. Its like magic. Heres how its done.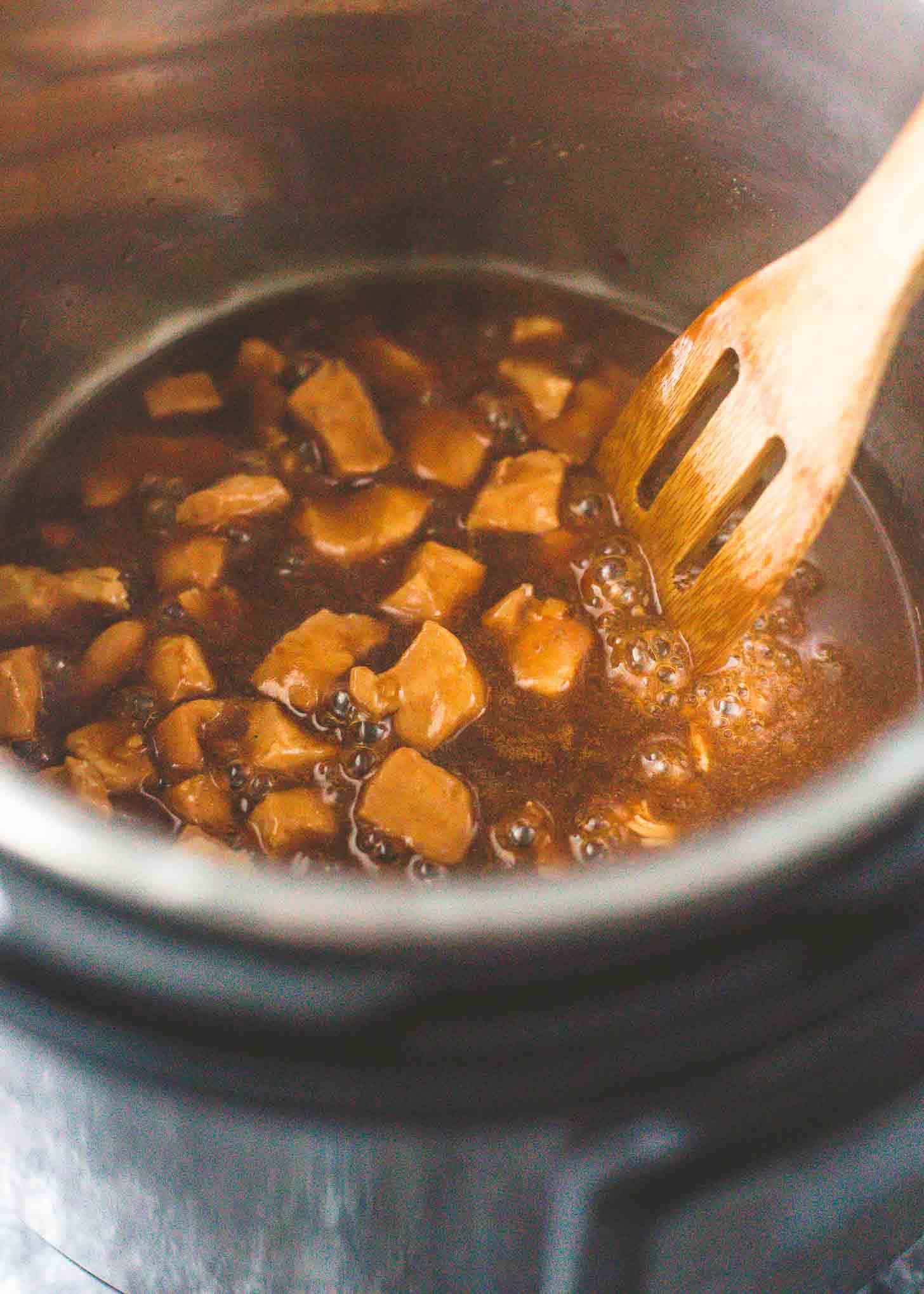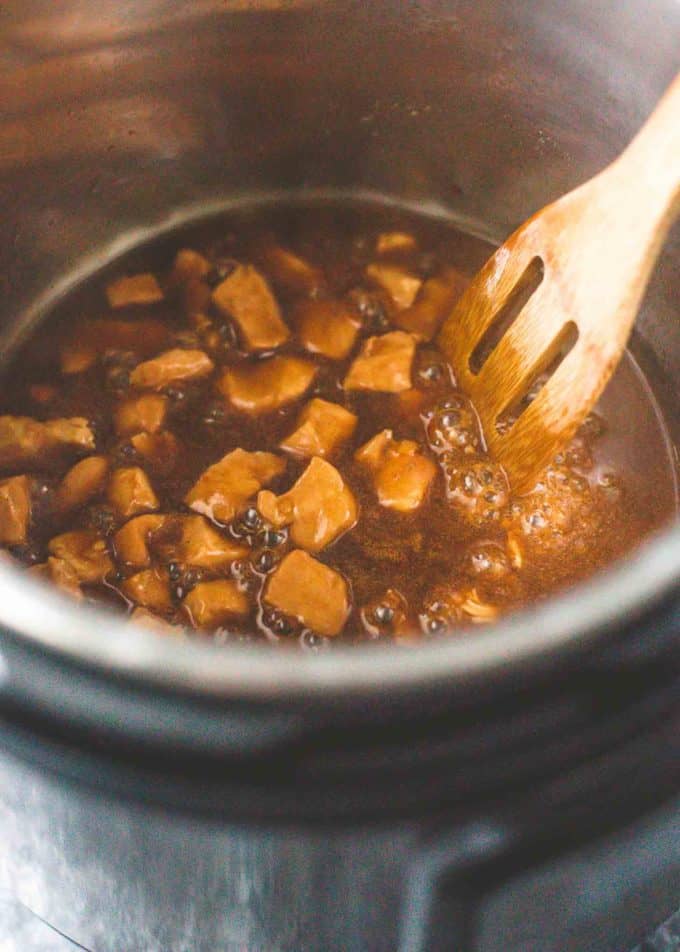 Ingredients for Kung Pao Chicken
Ginger and Garlic

These aromatics add great flavor to the sauce. You can totally skip them if you want to save time, but its worth the extra few minutes to chop them up and include them.

Low-Sodium Soy Sauce

I test all of my recipes with low-sodium soy sauce. It allows me to create a larger quantity of sauce with a less salty flavor. I highly recommend grabbing low-sodium soy sauce for this recipe.

Hoisin Sauce

The sauce in this dish is everything. It gets a lot of its sweet and savory flavor from Hoisin sauce. Hoisin sauce also includes some spices that will make this dish taste like a truly authentic take-out Kung Pao Chicken. Find it in the international aisle at the grocery store.

Brown Sugar

A bit of sugar goes a long way to balance the sweet-savory notes of the sauce. Light or dark brown sugar (or even granulated / white sugar) will work.

Red Pepper Flakes

Kung Pao Chicken usually has a spicy kick. A bit of red pepper flakes do the trick. Feel free to double the amount listed if you like spice. Or skip this if you want a non-spicy version.

Peanuts

Dont skip the peanuts on top of the finished dish! They add great crunch.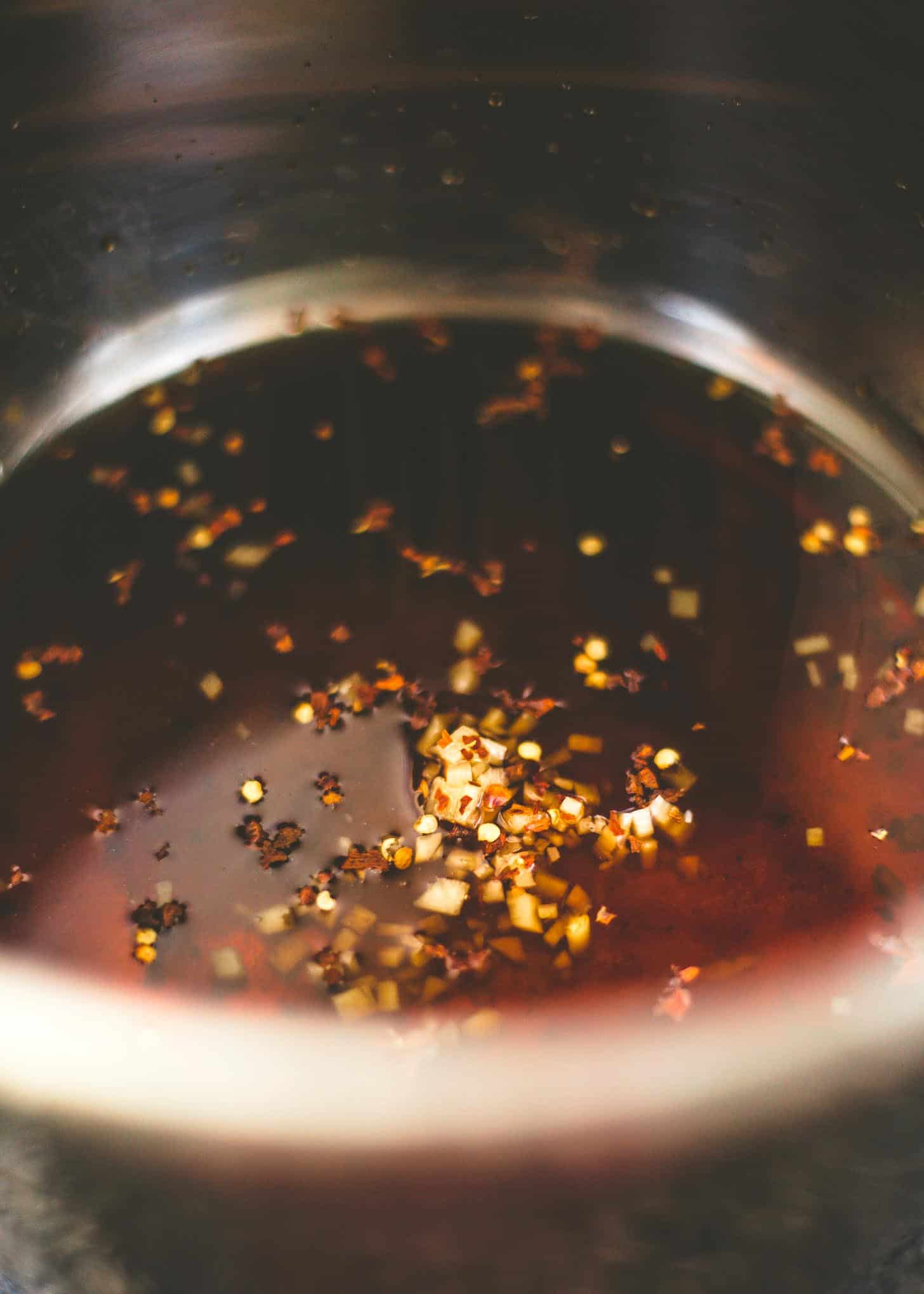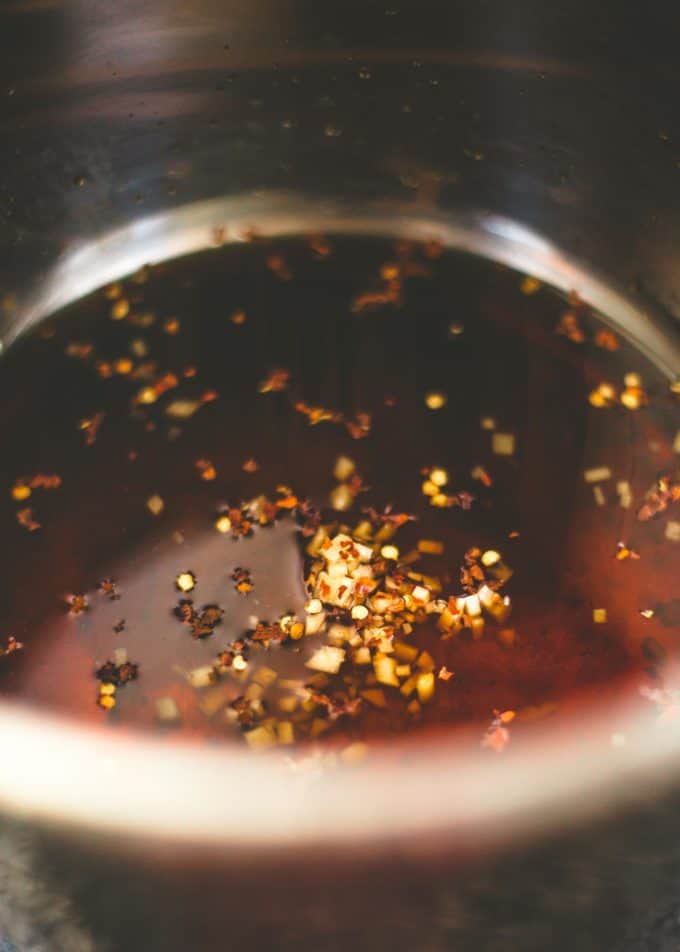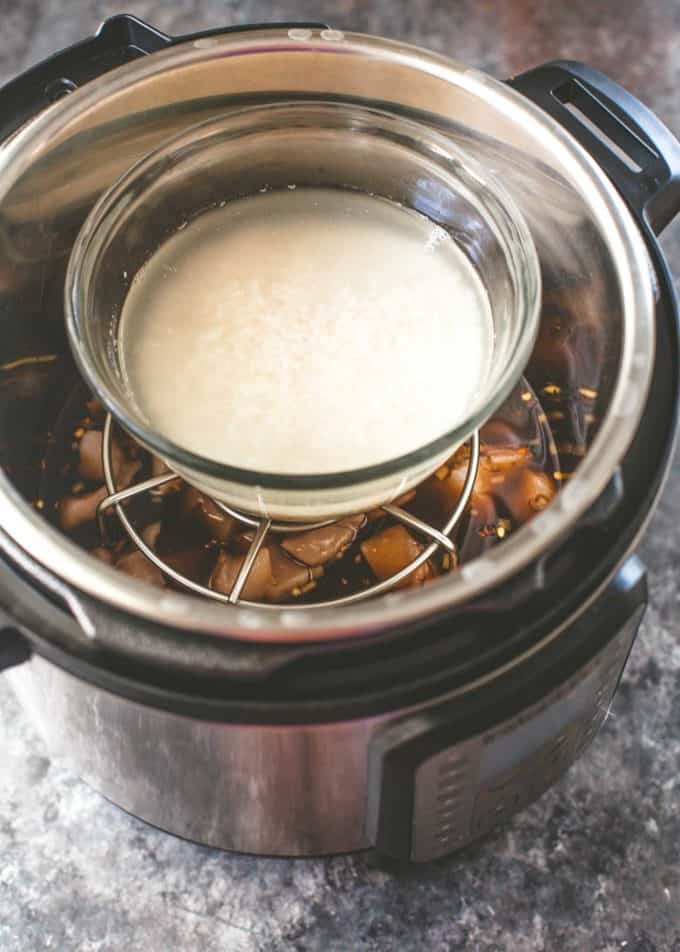 Pot-in-Pot Rice
This recipe uses what is known as the pot-in-pot method for cooking rice alongside the chicken. Assemble the kung pao chicken in the bottom of the pot. Add a bowl with rice and water on top. Let it all cook together. When its done, youll have tender, saucy chicken and perfectly cooked rice all made together in the Instant Pot.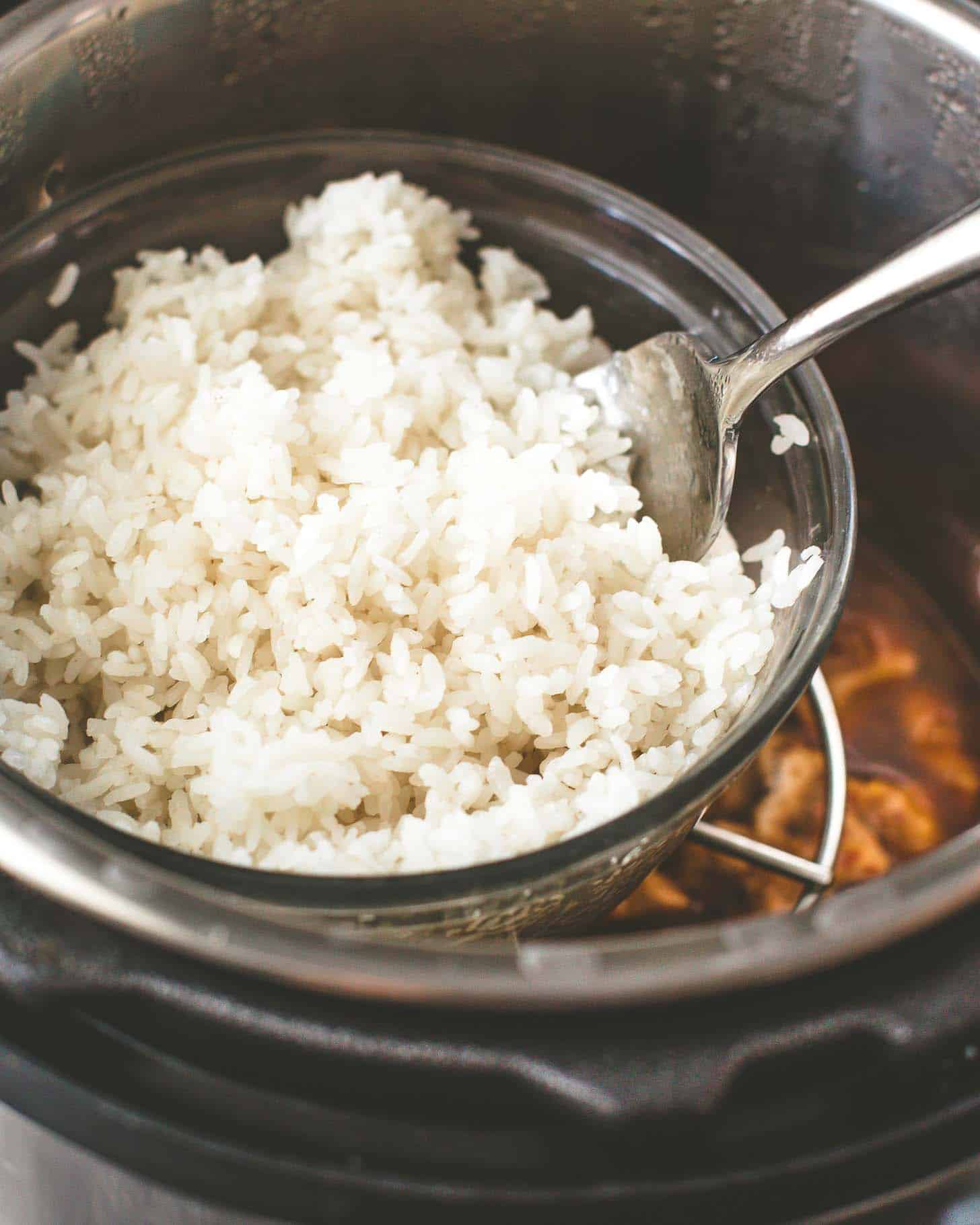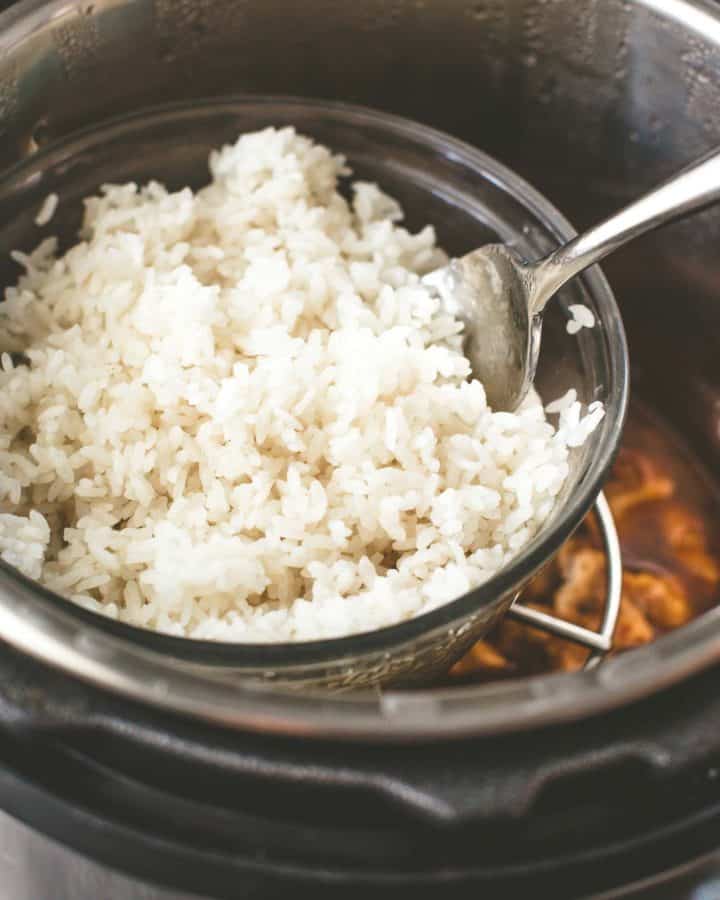 Variations on Instant Pot Kung Pao Chicken
Make it Vegetarian / Vegan Try this recipe with 2 cans of chickpeas instead of chicken. We love it this way. Rinse and drain them before you use them. Just follow the rest of the instructions as written.
Add vegetables Dont hesitate to add some vegetables to the dish if youd like. Broccoli, chopped bell peppers, finely chopped carrots, or cauliflower florets could all be added right alongside the chicken and should cook in the same amount of time as the chicken.
Cook the rice separately If you prefer to make a bigger batch of rice, you can cook it separately. Instructions and cook time for the Kung Pao Chicken remain the same.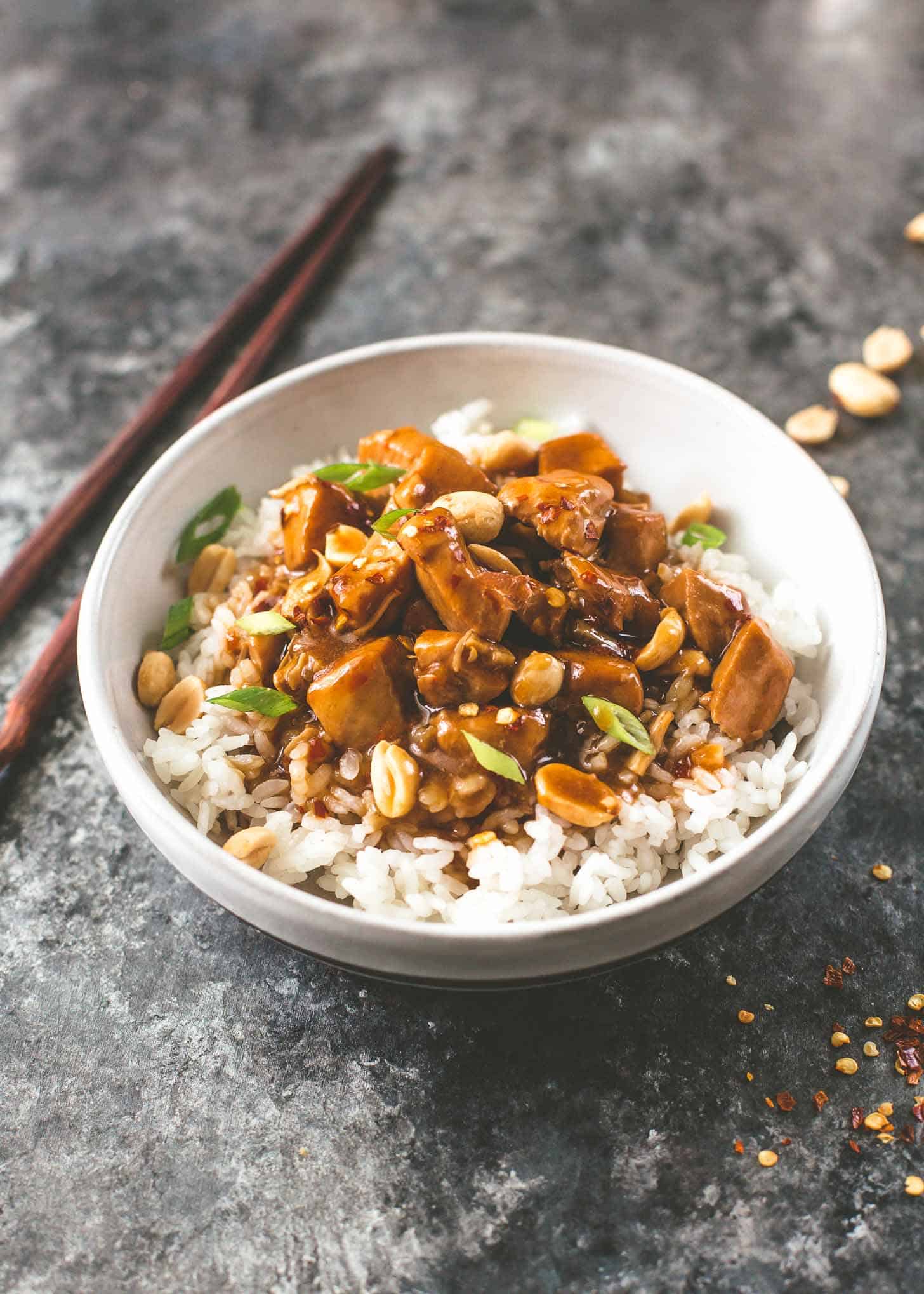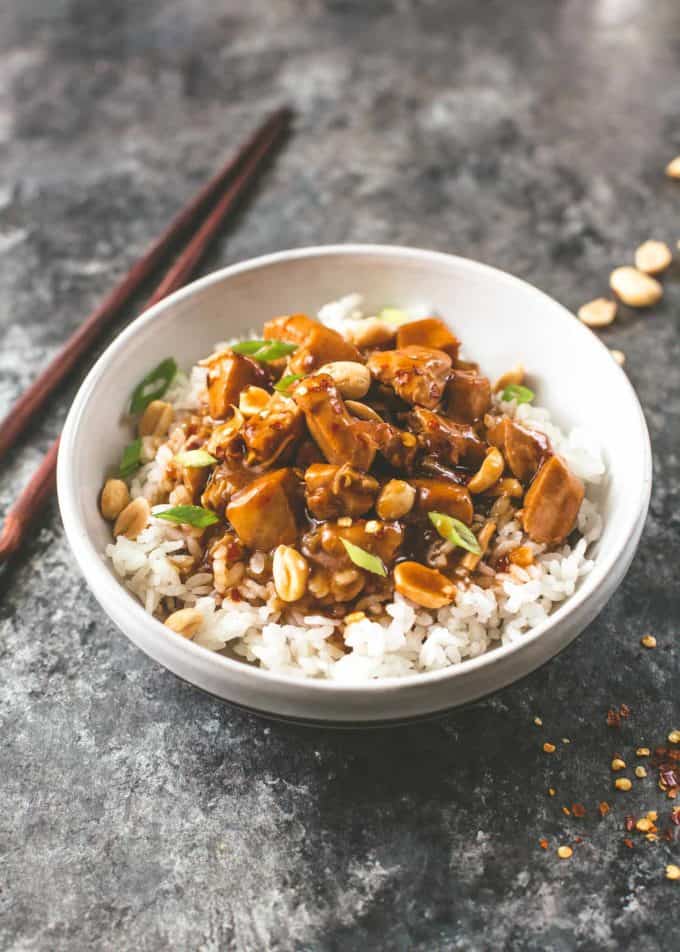 Other Instant Pot Recipes that Use the Pot-in-Pot Method
Instant Pot Chickpea Curry

We make this one a lot lately. It also uses the pot-in-pot method to cook rice and just needs naan and yogurt for serving.

Kung Pao Cauliflower

A veggie version of this Kung Pao recipe. The cauliflower turns super tender and soaks up all the delicious sauce.

Instant Pot Korean Beef and Brown Rice

This Korean-inspired beef recipe has tons of flavor and, because the beef takes longer to cook, you make brown rice using the pot-in-pot method.
Favorite Tools
6 Quart Instant Pot Duo

This is the pressure cooker I have and use a few times a week. It is perfectly sized for most meals for our family of five.

Instant Pot Rack

An elevated rack makes it easy to cook rice in a bowl above the other components of the recipe.

Pressure Cooker-Safe Bowl

In order to cook the rice in the Instant Pot at the same time as the chicken youll need a bowl that is safe to use under pressure. I use these bowls for nearly everything, including cooking rice in the slow cooker.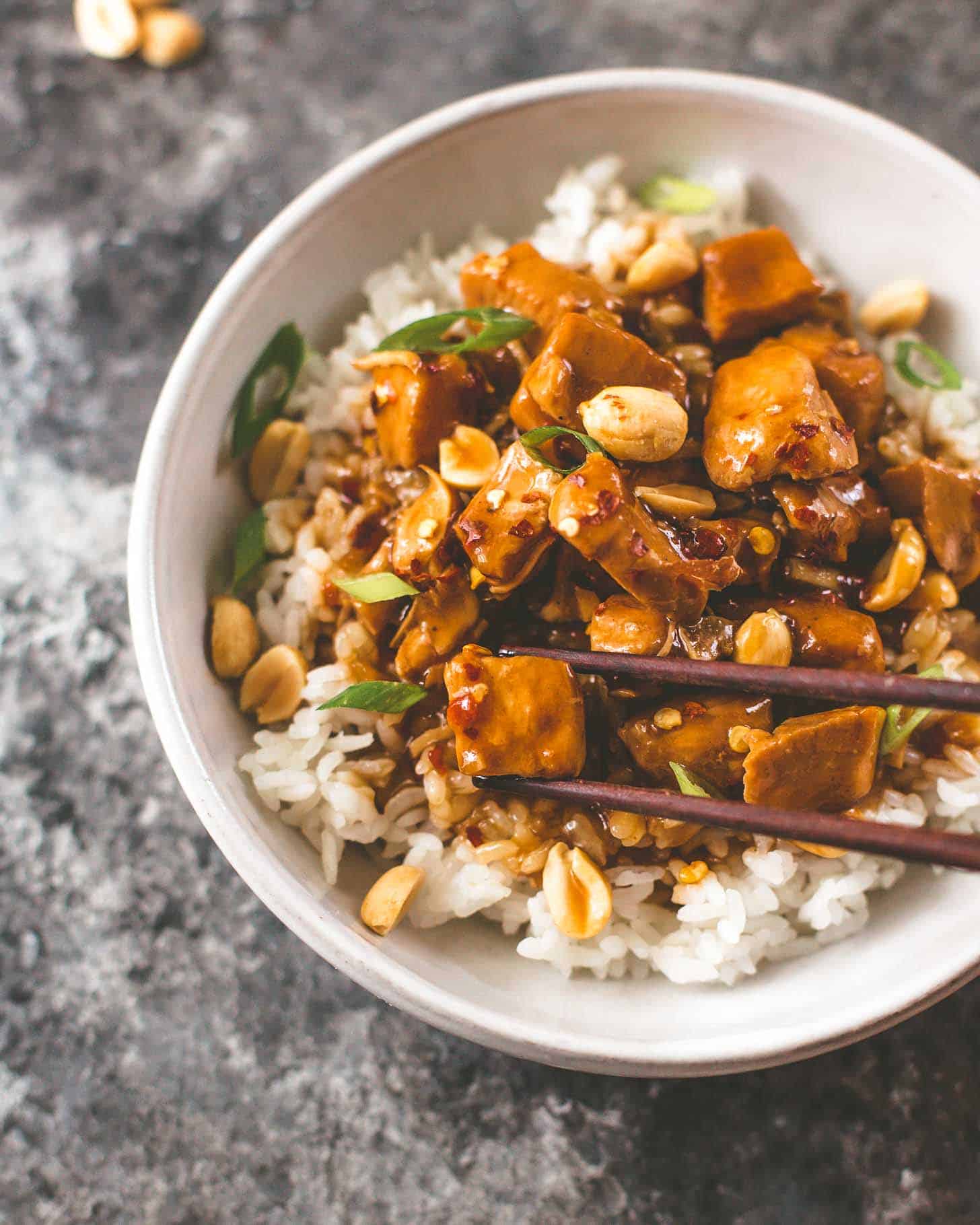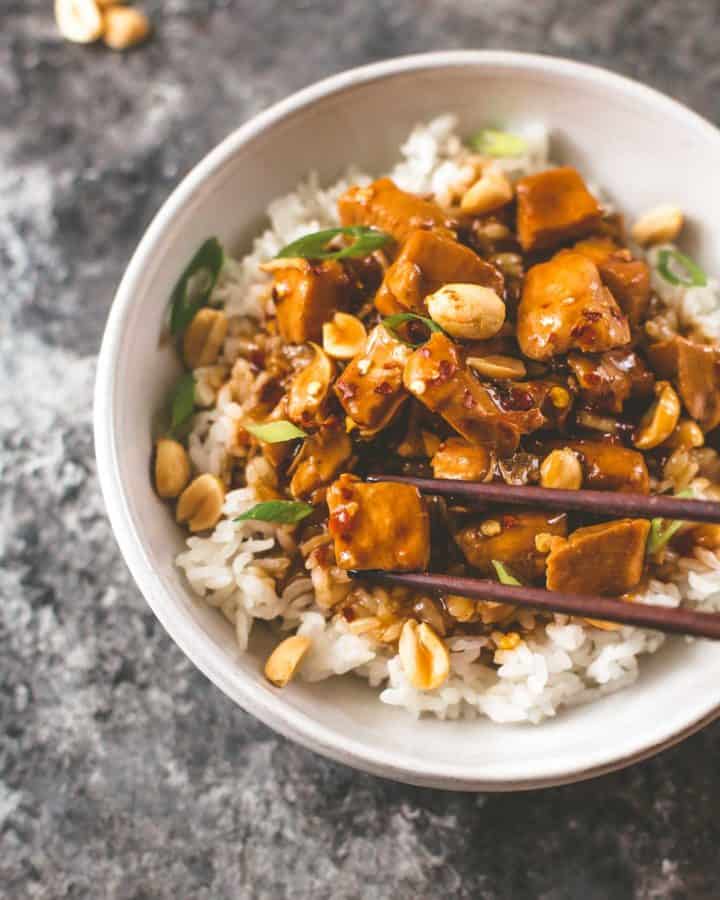 Instant Pot Kung Pao Chicken with Rice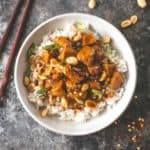 Sweet, savory, saucy, and spicy (or not), Instant Pot Kung Pao Chicken is a fast, easy weeknight meal. Use the pot-in-pot method to cook the rice and it all comes together in the pressure cooker in just a few minutes.
Kung Pao Chicken and Cooking Liquid
1 Tbsp Grated Ginger ((see note))
3 cloves Garlic, chopped ((see note))
1/2 cup Water
3 Tbsp Low-Sodium Soy Sauce
1 Tbsp Brown Sugar
1 Tbsp Rice Vinegar
1/4 tsp Red Pepper Flakes ((optional))
20 oz Boneless, Skinless Chicken Thighs, chopped into large pieces
Pot-in-Pot Rice
1 cup Medium-Grain White Rice
1 cup Water
Kung Pao Finishing Sauce and Toppings
2 Tbsp Cornstarch
2 Tbsp Water
4 Tbsp Hoisin Sauce
2 tsp Toasted Sesame Oil
1/2 cup Peanuts
Chopped Green Onions ((optional))
Make the cooking liquid by combining ginger, garlic, 1/2 cup water, soy sauce, brown sugar, rice vinegar, and red pepper flakes.

Combine cooking liquid and chicken in the bowl of an Instant Pot. Top it with a rack that is approved for use in the Instant Pot.

Combine rice and 1 cup of water in a bowl that is approved for use in the pressure cooker. Place the bowl with rice on top of rack.

Close and lock the lid. Set steam valve to Sealing.

Cook on manual / high pressure for 4 minutes.

When chicken and rice are done cooking, leave pressure on natural release for 10 minutes and then manually release any remaining pressure.

Carefully remove the bowl of rice and rack, leaving chicken in the bowl.

Turn on the pressure cookers saute function to normal / medium.

Meanwhile, whisk cornstarch and 2 Tbsp water together until smooth. Add cornstarch mixture, Hoisin sauce, and toasted sesame oil to chicken.

Simmer for 1 to 2 minutes until the sauce thickens. (Be careful not to cook any longer than a minute or two so that the chicken doesnt overcook.)

Serve chicken and sauce over rice. Top with peanuts and chopped green onions.
Ginger and garlic are not absolutely necessary. If youre looking to save time, you can certainly skip them, but the sauce wont be nearly as flavorful without these aromatics.
We brought a lot of goodies back from our trip to Paris, but these boxes of macarons from Ladure were a clear winner. Half the fun was bargaining over the flavors after dinner.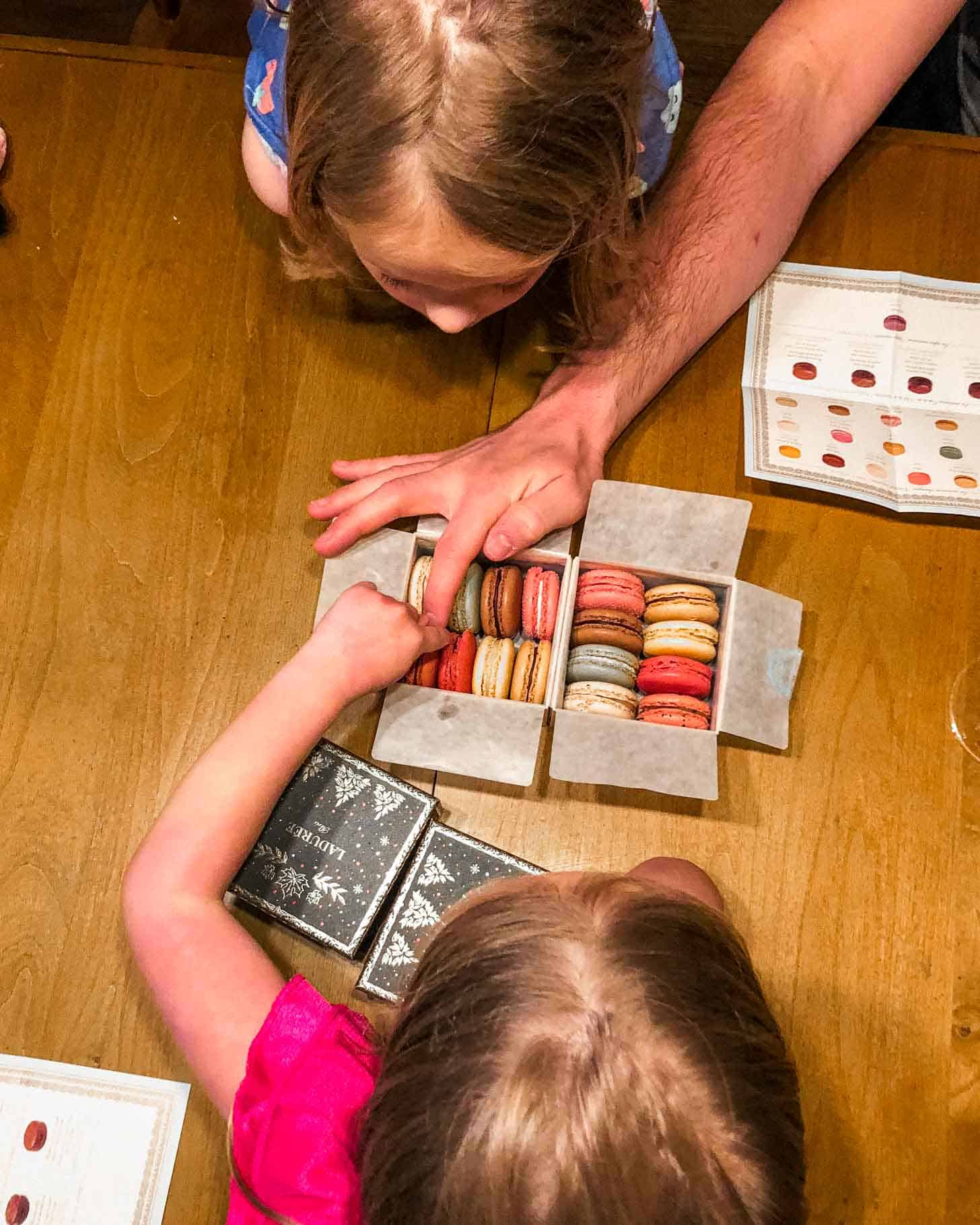 This post is not sponsored, but it does contain affiliate links. There is no extra cost to you, but we may earn a small commission. Thank you for your support!
The post Instant Pot Kung Pao Chicken with Rice appeared first on Inquiring Chef.