Vegetable Pot Pie with Scalloped Potato Crust! This easy vegetarian pot pie is perfect for the holidays. Creamy pot pie filling topped with The Little Potato Company scalloped potatoes.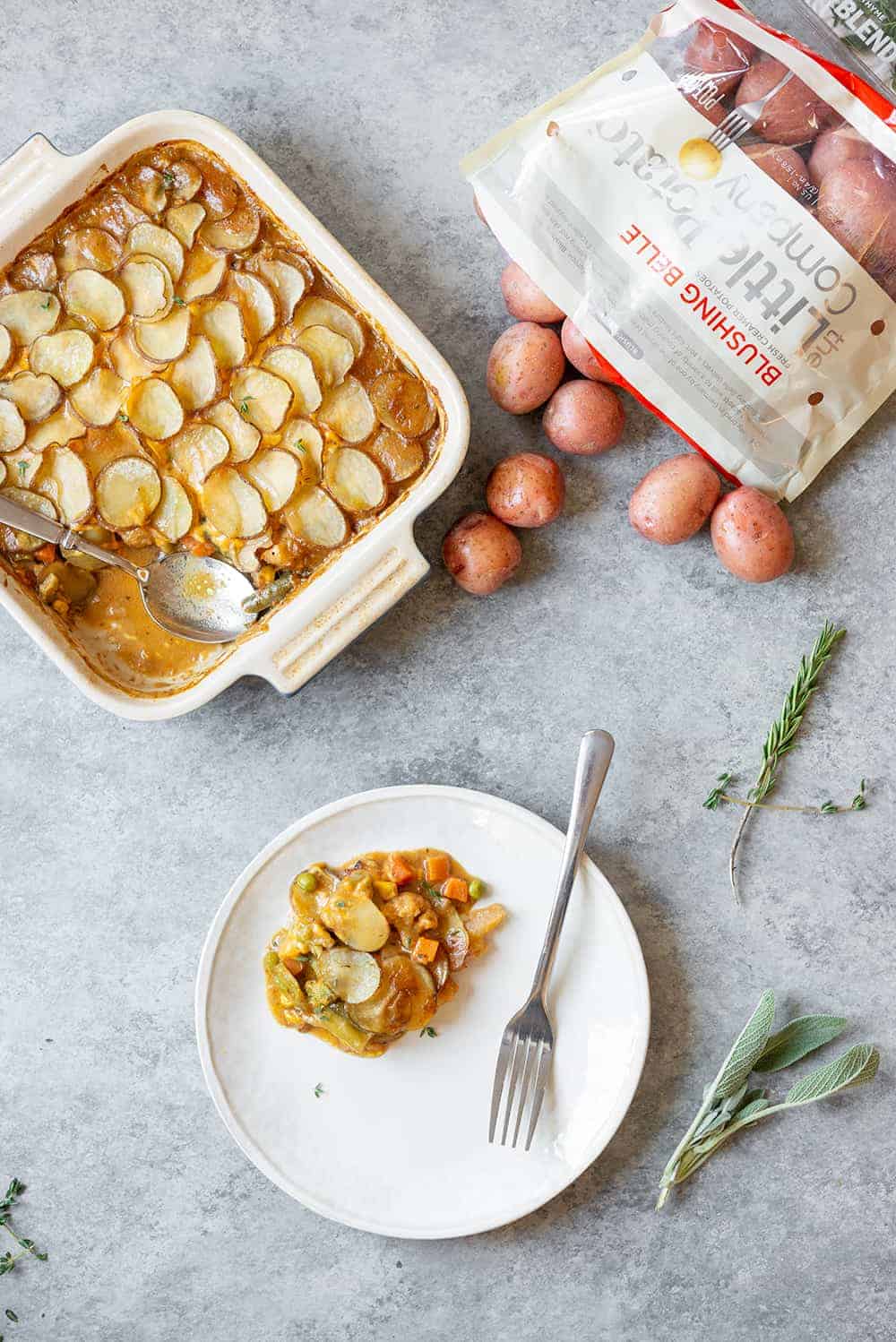 Here we are! Two of my favorite holiday dishes in one: vegetable pot pie and scalloped potatoes. I knew I wanted to create a fun vegetarian main dish for this time of year, and kept coming back to a pot pie. There is something so hearty about vegetables tucked into luscious gravy and baked until bubbly.
Because this is the holidays, I thought a scalloped potato crust would be the perfect addition. A crispy, buttery layer of thinly-sliced potatoes holding decadent, cheesy vegetable pot pie inside. Its perfect!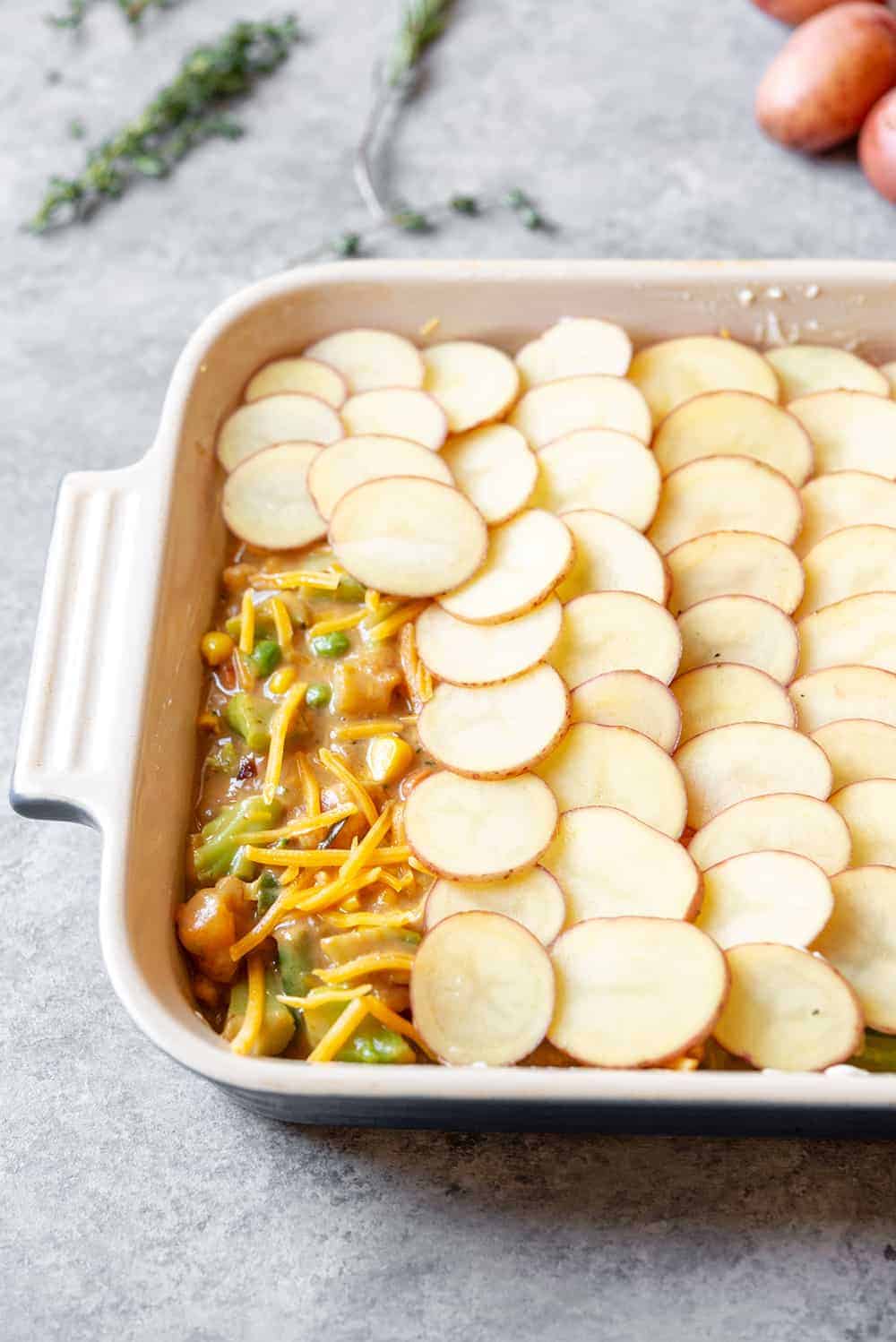 Vegetarian Pot Pie using Frozen Vegetables
To keep things simple, this easy vegetable pot pie is made with frozen vegetables! Trust me, you wont know the difference. Since most of the prep-work is in slicing the potatoes, I wanted to keep the rest of the dish uncomplicated. Make a quick roux, then add in plenty of frozen vegetables, broth and cheese.
Yes, Im adding cheddar cheese to this one. My moms scalloped potatoes always had a thick layer of butter and cheddar cheese on them and to me, its just not the same without it. For my dairy-free friends, you can skip this all together and use a dairy-free milk of choice. It will still taste good, just not quite as rich.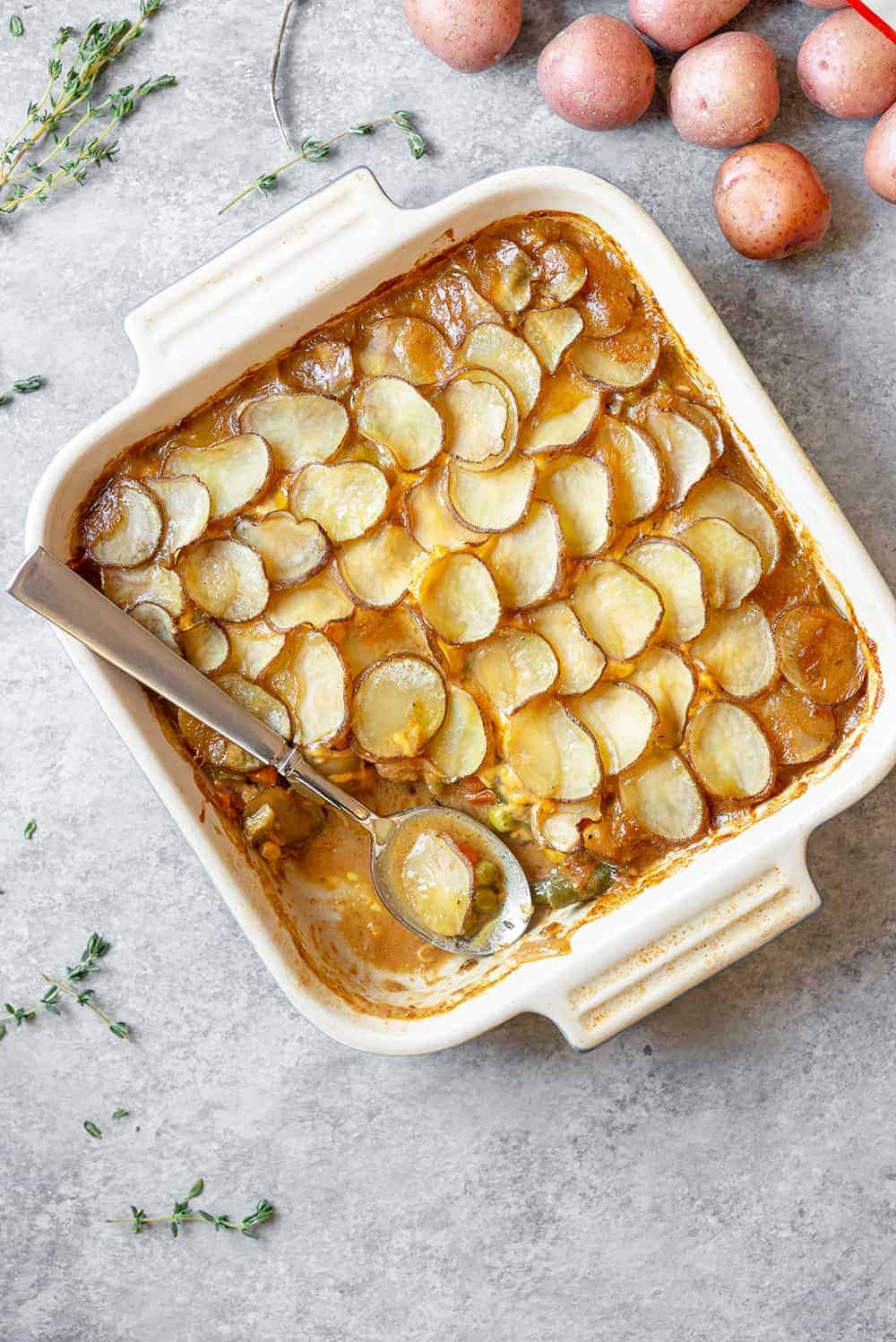 Tips for Perfect Scalloped Potatoes
Are you a fan of scalloped potatoes like I am? I used to think they were so difficult to make, but not when I use The Little Potato Companys Creamer potatoes! These Little potatoes are perfect for scalloped potatoes, just the right shape for a crispy crust and with a delicate enough skin that you dont need any equipment to slice them. Just a sharp knife!
To create thin potato slices, hold the potato with one hand and thinly slice with the other. Thats it! I started pulling out my food processor for this one, but once I realize how simple (and fast) it was to do it by hand, I decided against having another piece of equipment to clean.
Make this holiday-worthy by layering everything into a casserole dish or pretty pie dish. The gravy and cheese will start to bubble up to the potato crust and it not only looks amazing on your table, it also smells incredible. I made this for a friends lunch last week and they were all raving about how great the kitchen smelled while this was cooking. Who needs a scented candle when youve got vegetable pot pie?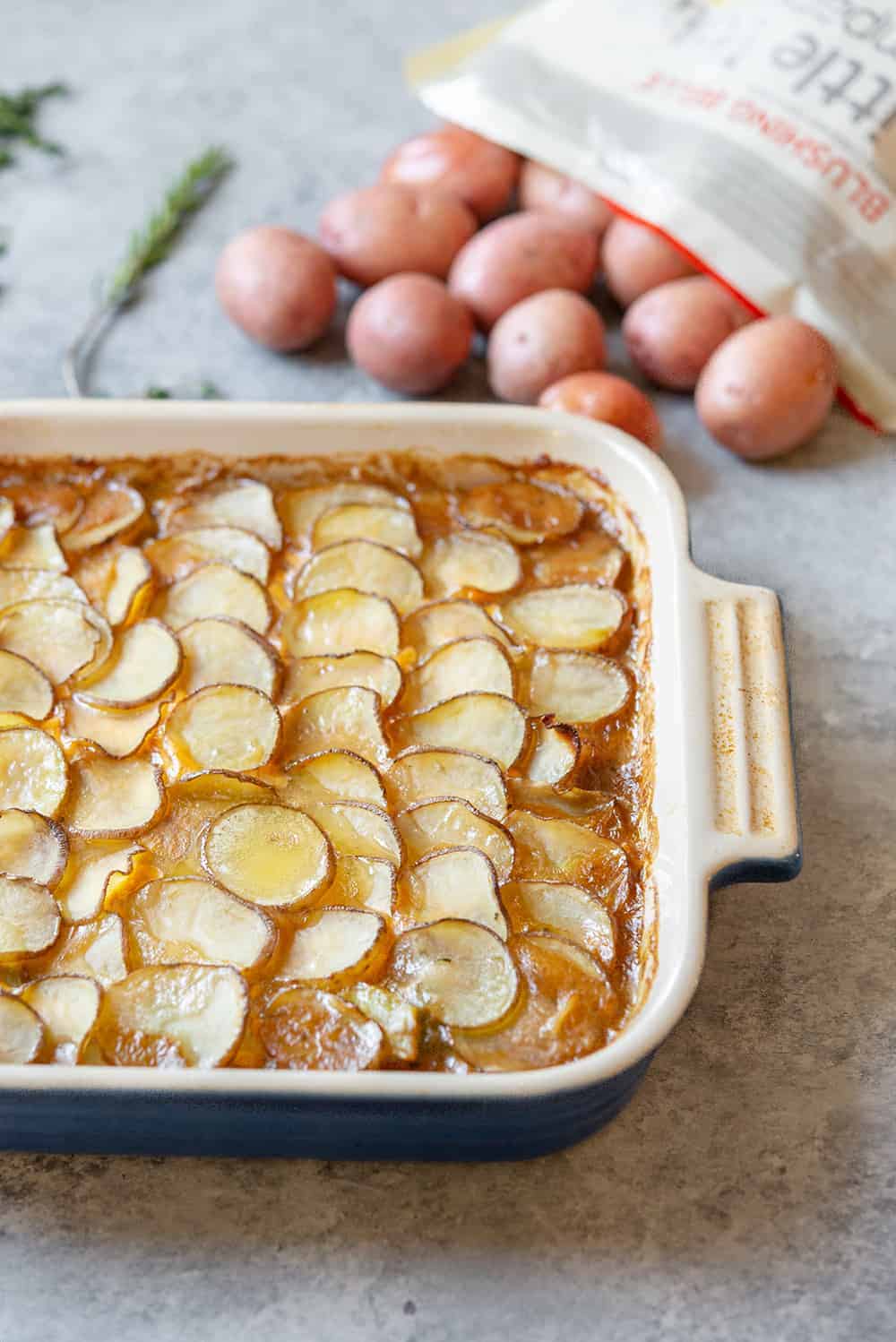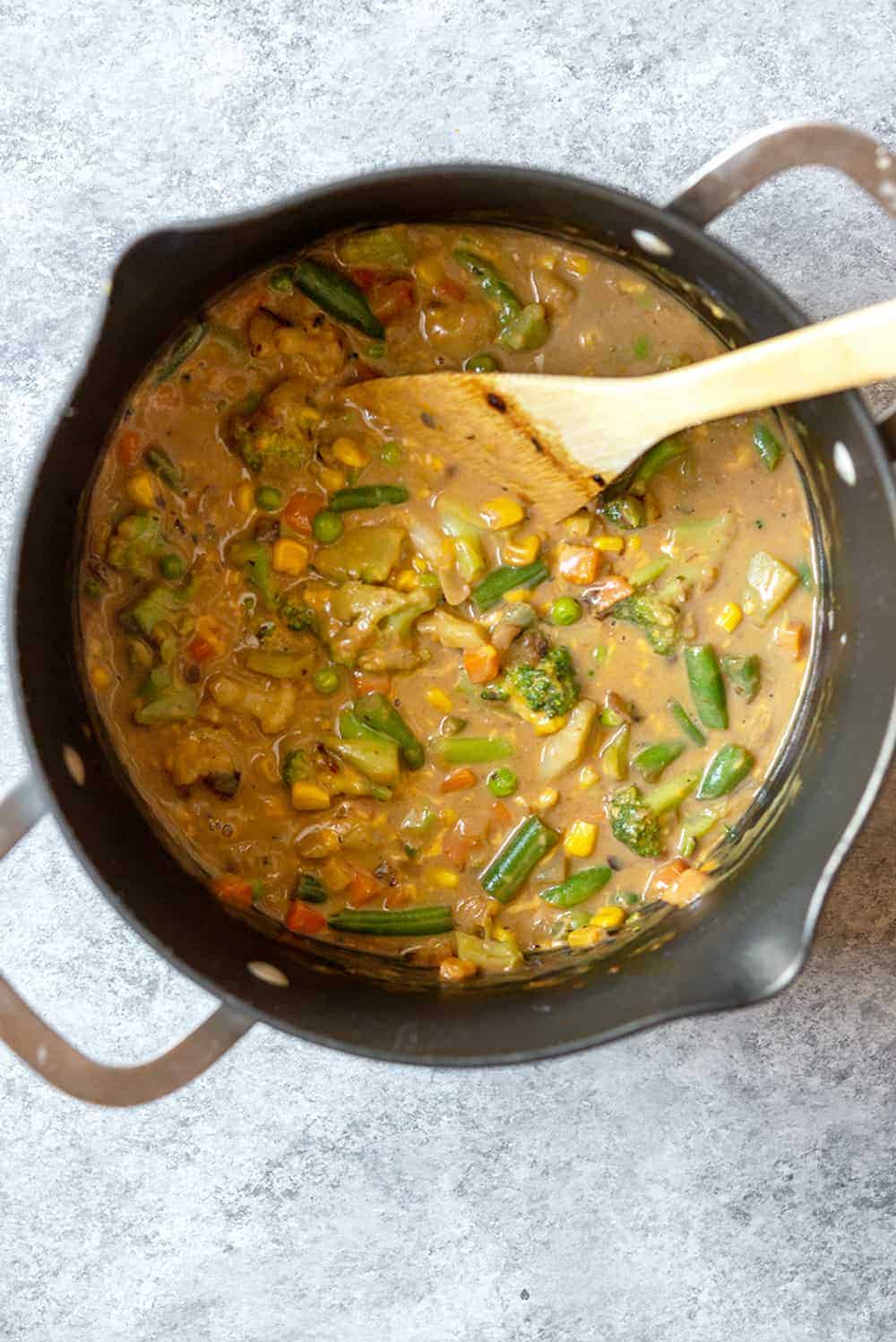 Where to find Little Potato Company Potatoes
You can find Blushing Belle Little Potatoes at your local grocery store, use the store finder here to see where they are located in your area.
Blushing Belle is The Little Potato Companys signature red Creamer potato, originating from one of the oldest breeding farms in Europe. The thin skin is slightly sweet, which provides a yummy contrast to the otherwise earthy taste. When youre not enjoying them in this recipe, they are excellent roasted or mashed!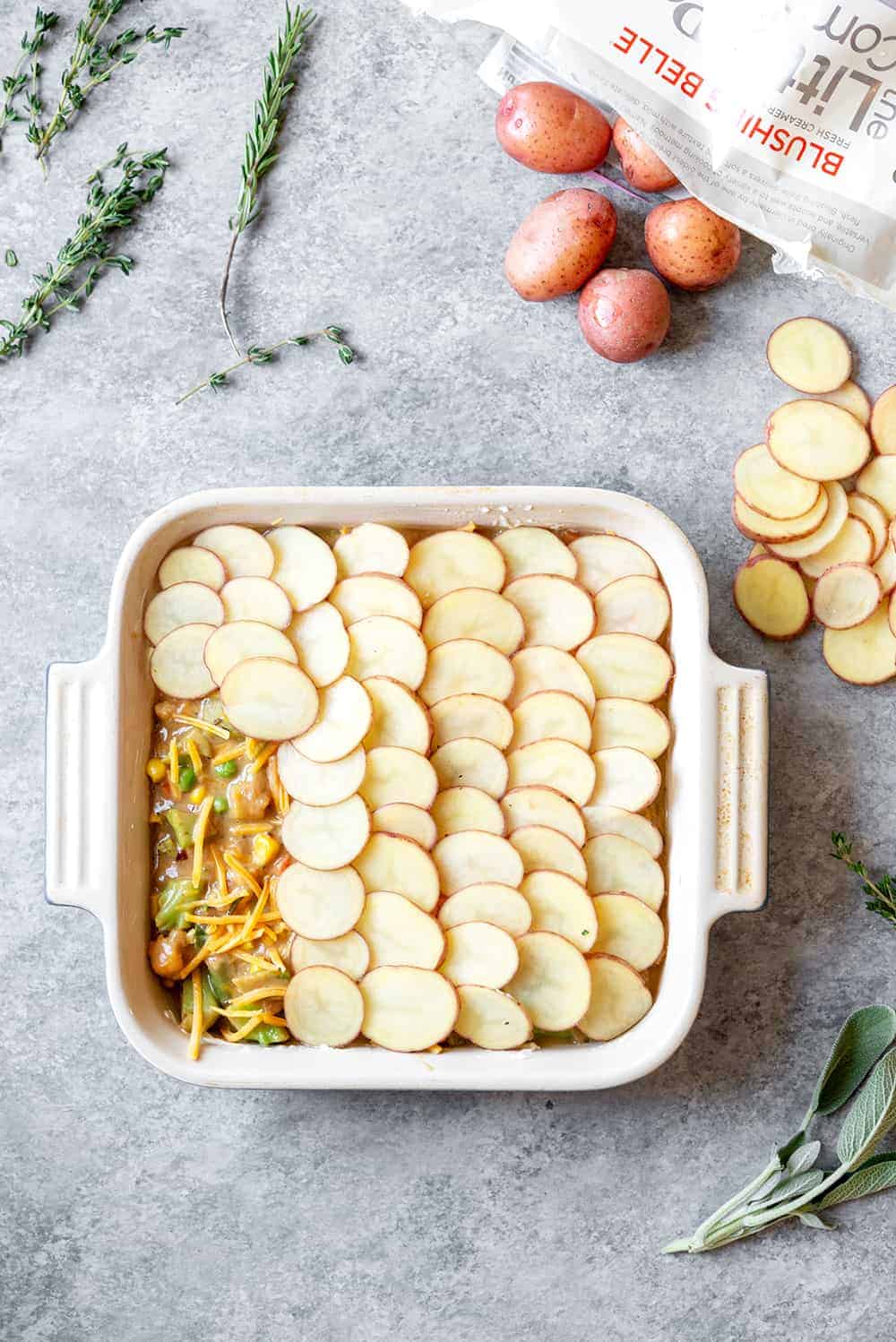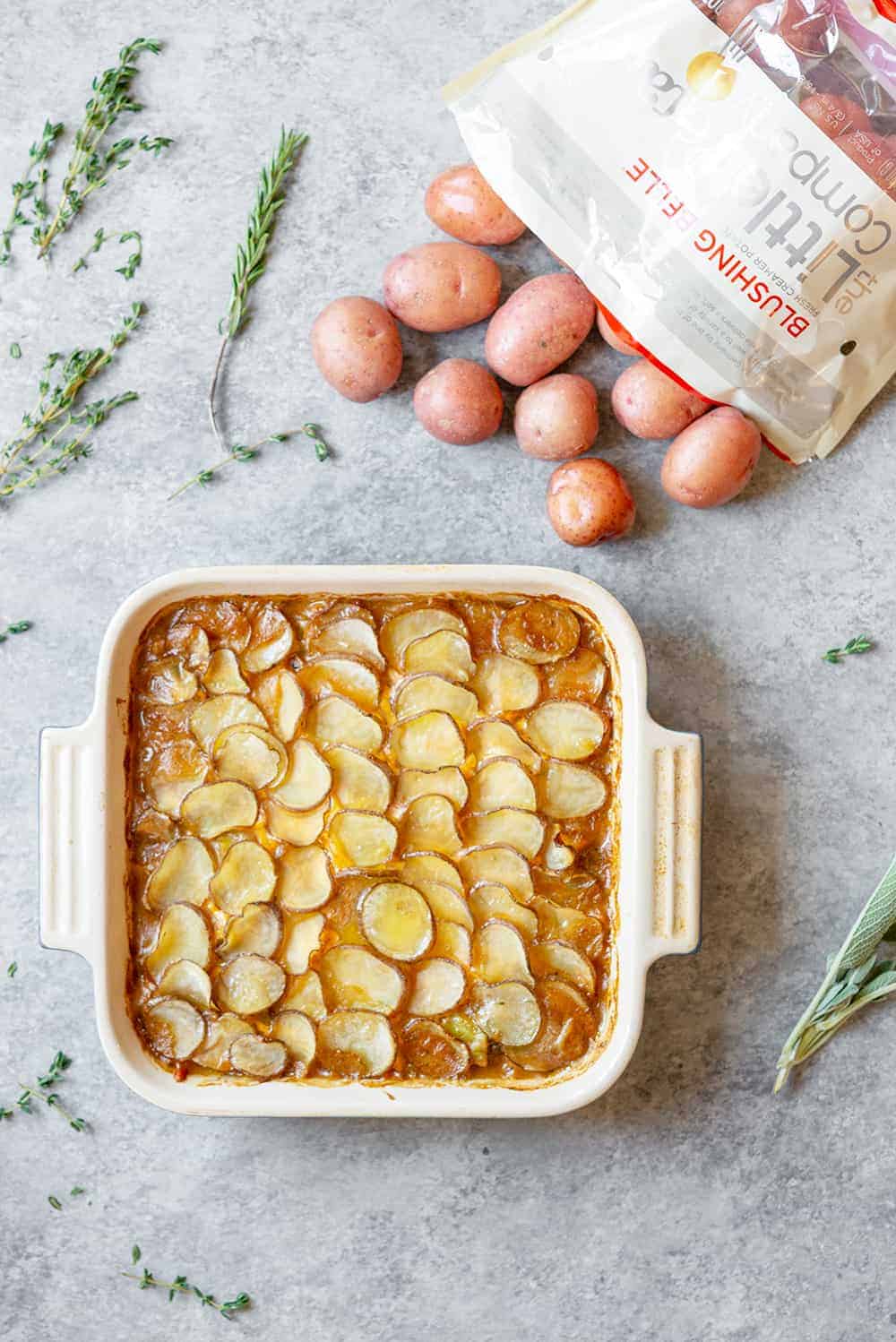 Hope you love this vegetable pot pie as much as we do! Its perfect for both weeknight cooking and fancy holiday spreads. If you try it, make sure to come back and comment and rate it.
If you enjoy this vegetarian pot pie, then youll love these other vegetarian casseroles: Lentil Shepherds Pie, Pasta Bake with No-Cook Noodles, Enchilada Casserole
Print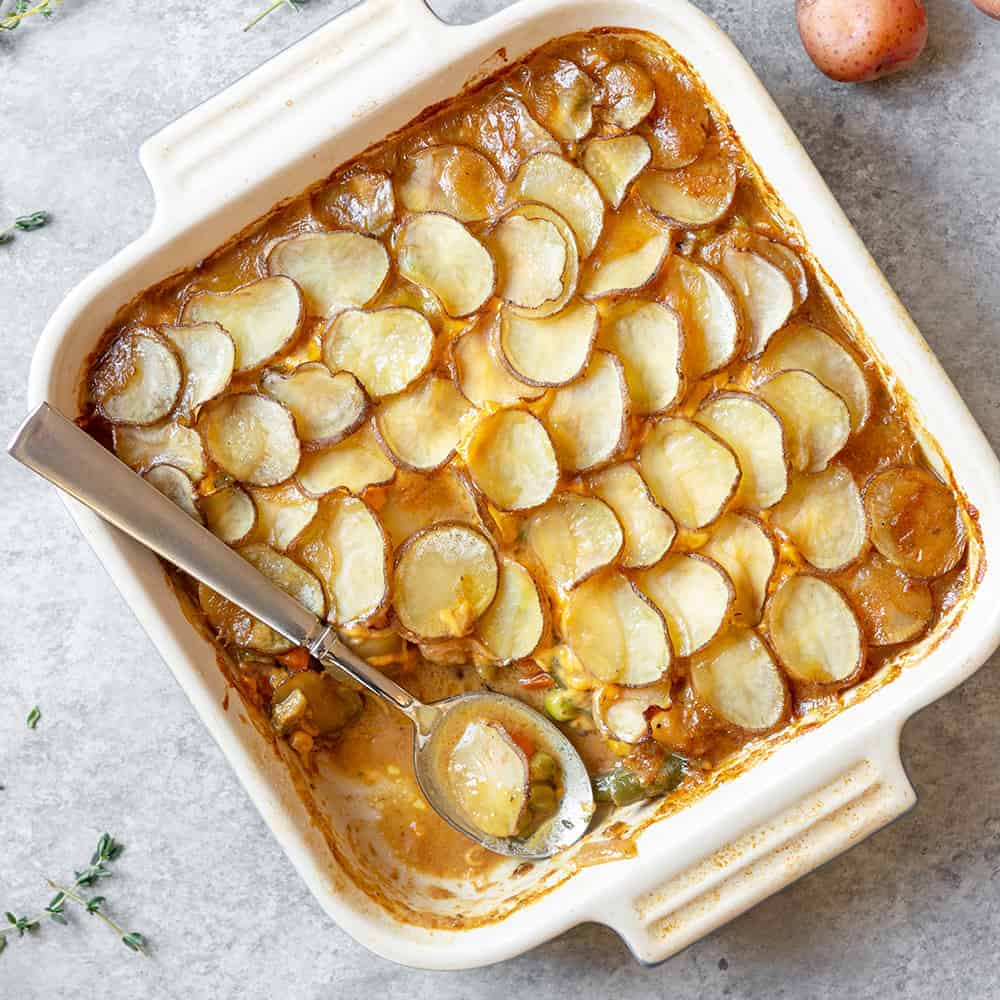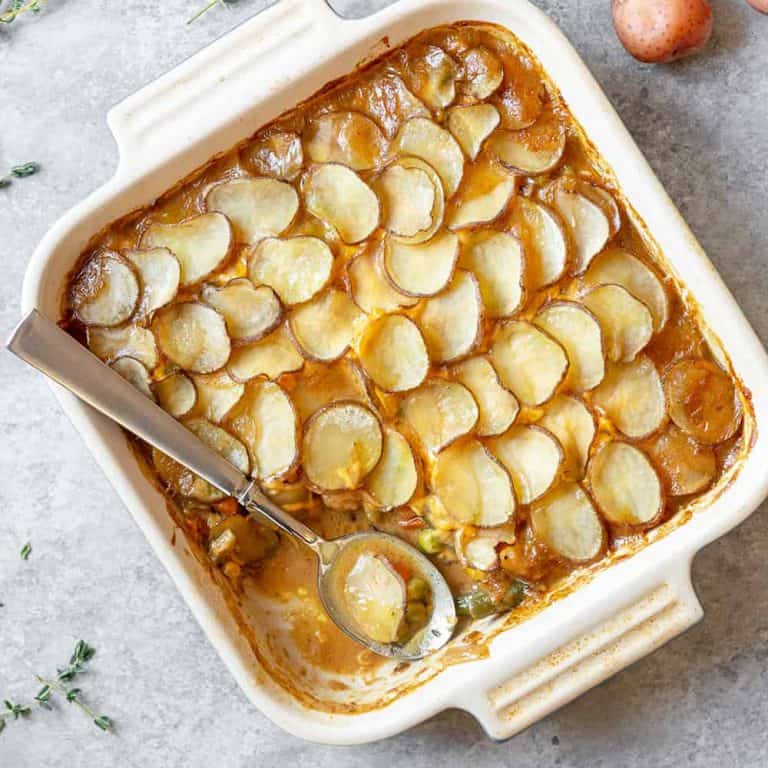 ---
Description
Vegetable Pot Pie with Scalloped Potato Crust! This easy vegetarian pot pie is perfect for the holidays. Creamy pot pie filling topped with The Little Potato Company scalloped potatoes.
---
Ingredients
1

(1.5 pound) bag The Little Potato Company Blushing Belle Red Creamer Potato

3 tablespoon

s butter, plus more to grease pan

1/4 cup

all-purpose flour

1/2 cup

chopped white or yellow onion

3

cloves garlic, minced

1/4 teaspoon

dried thyme

1/8 teaspoon

dried tarragon

1/4 teaspoon

dried sage

2 cup

s frozen mixed vegetables (peas, carrots, green beans, corn)

2 cup

s frozen broccoli + cauliflower blend

1/4 teaspoon

salt/freshly ground pepper

2 tablespoon

s water

1 cup

milk

1 cup

shredded cheddar cheese
Fresh chopped parsley, for serving
---
Instructions
Preheat the oven to 375 degrees and lightly grease an 812 casserole dish. This will also work in a deep dish pie dish.

Slice the potatoes very thinly, about the same thickness of a penny. You can do this with a food processor using the slicing attachment, a mandoline or a sharp knife. I found that a knife was the easiest. Set aside.

In a large saucepan over medium heat, heat the butter over medium heat. Once the butter has melted, add in the flour and stir well until the flour has completely dissolved. Cook, stirring frequently for about 2 minutes until the flour mixture is toasted and golden brown.

Add in the onion and cook another 2 minutes, stirring frequently to prevent burning.

Add in the garlic, dried spices and cook another 30 seconds, then stir in the vegetables, salt and pepper.

Add in the water and use it to deglaze the pan by scraping your spoon along the bottom to remove any flour/onion bits. Cook for 5 minutes, stirring frequently until vegetables are cooked down and have released most of their liquid.

Reduce heat to low and slowly stir in the milk, taking care not to overheat. Cook another 5 minutes until thickened and reduced, stirring often. The consistency should be a loose gravy. Taste, adding more salt/pepper as needed.

Stir in 3/4 cup of the cheddar cheese, then pour the mixture into the prepared baking pan. Sprinkle with the remaining 1/4 cup cheddar cheese.

Starting at the edge, closely layer the potato slices around the pan, working inward, then dot with more butter.

Place in the oven and bake for 40-45 minutes until the mixture is bubbling and the potatoes are golden brown and crisp. Remove from the oven and let stand for 15 minutes, then sprinkle with fresh parsley and serve.
---
Keywords: vegetarian pot pie