So, I saw the idea for this casserole the other day and just knew that I was going to have to make it myself and in my own way. First of all, I didn't need a 13x9'" dish casserole since my family unit is small and, while I force leftovers, there's only so many days in the week. That's why I halved the recipe right off the bat.
I also work really hard to limit the amount of meat we eat, so I thought it would be pretty fun to try and make a meatloaf into a vegetarian dish. I guess you can just call me crazy. But, I'm happy to report back that it totally worked out and it worked out SO well.
A few other minor changes I made to make this casserole a bit more healthy was to use a reduced fat cheese, chickpea noodles. I also use a low sugar ketchup and BBQ sauce, but you can really use whichever one is your favorite because I didn't calculate mine to the nutrition numbers below.
All in all, and even with the few flub-ups I made with cooking this casserole of which I hope no one notices, this casserole turned out really really good and I will absolutely be making it again really soon.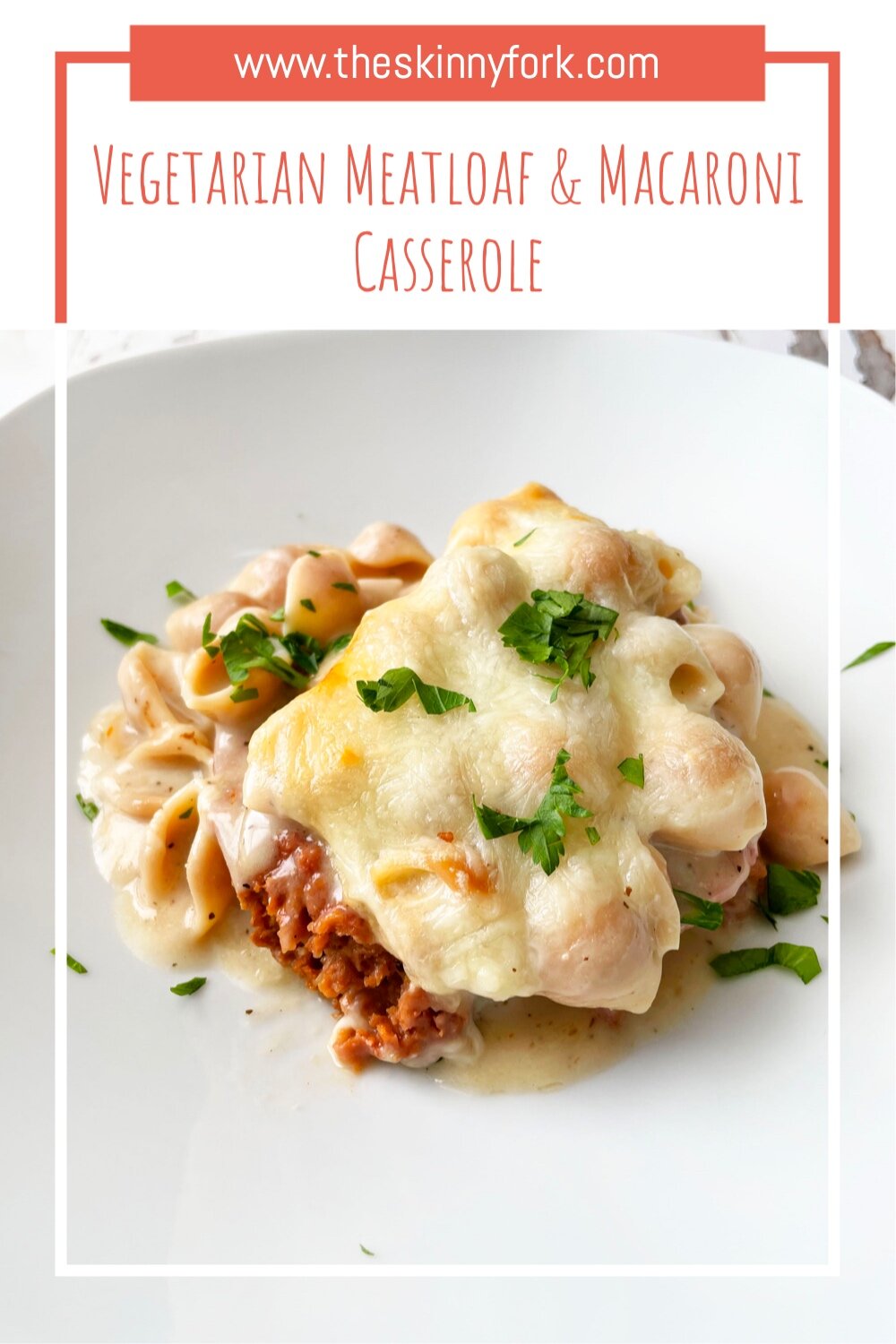 Vegetarian Meatloaf & Macaroni Casserole
Yield:
9
Author:
The Skinny Fork (Amanda Plott)
Prep time: 10 Min
Cook time: 45 Min
Total time: 55 Min
A delicious crowd pleasing weeknight dinner that combines the classics of macaroni and cheese with meatloaf into one tasty casserole!
Ingredients
1/2 C. Ketchup
1/2 C. BBQ Sauce
1 Lb. Vegetarian 'Ground Meat'
15 Crackers Crumbs
1 Oz. Dry Onion Soup Mix
1 Whole Large Egg
1 1/2 C. Garbanzo Shell Noodles
1 C. Unsweetened Almond Milk
1/2 (10.5 Oz.) Can Condensed Cheddar Cheese Soup
1 1/2 Tsp. Garlic Powder
1 1/2 Tsp. Onion Powder
1/2 Tsp. Salt
1/2 Tsp. Pepper
2 C. Shredded Reduced Fat Mozzarella Cheese
Instructions
Preheat the oven to 350 degrees F. and lightly coat the inside of a 8x8" or 9x9" baking dish with non-stick spray; set aside.
In a medium bowl, mix together the 1/2 C. ketchup, 1/2 C. BBQ sauce and stir until well combined.
Reserved 1/2 C. of the sauce and set aside.
Add the 1 Lb. vegetarian 'ground meat' to the remaining 1/2 C. sauce.
Stir in the 15 cracker crumbs, 1 Oz. onion soup mix and 1 egg.
Transfer the 'meat' mixture to the bottom of the prepared pan and top with the 1/2 C. reserved BBQ sauce.
Place the pan into the oven to bake for 30 minutes.
While the 'meatloaf' is cooking, cook the noodles according to package directions; drain and rinse.
Place the noodles into a medium bowl along with the 1 C. milk, 1/2 can of cheese soup, 1 1/2 Tsp. onion powder, 1 1/2 Tsp. garlic powder, 1/2 Tsp. salt, and 1/2 Tsp. pepper.
Fold in 1 C. of the mozzarella cheese.
Once the 'meatloaf' is done, remove it from the oven and top with the macaroni.
Top it all off with the remaining 1 C. cheese.
Return the dish to the oven and bake for about another 15-20 minutes.
Once done, remove from the oven and enjoy right away!
Nutrition Facts
Calories
347.16
Fat (grams)
16.15
Sat. Fat (grams)
7.28
Carbs (grams)
25.89
Fiber (grams)
1.24
Net carbs
24.65
Sugar (grams)
9.29
Protein (grams)
24.00
Sodium (milligrams)
1039.87
Cholesterol (grams)
90.48
Nutritional Claims: Peanut Free • Soy Free • Fish Free • Shellfish Free •Pork Free • Crustacean Free • Celery Free • Mustard Free • Sesame Free • Lupine Free • Mollusk Free •Alcohol Free • Sulphite Free
Similar Recipes
Skinny Classic Meatloaf
Skinny Meatloaf & Mash (Instant Pot Dinner)
Healthified Meatloaf Cupcakes & Cauliflower Mash
Did you make this recipe?
Tag
@theskinnyfork
on instagram and hashtag it #theskinnyfork
Step-by-Step Photos: