It's no secret we love to make a Stir Fry. Since we have not been going out much these days we wanted to make something with the supplies we had in the pantry and refrigerator. One great thing about making a Stir Fry is that they have a lot of the same "base" ingredients, then you get to have fun adding different veggies or meats. For example, most have a soy sauce, oyster sauce, garlic and ginger. Oh and don't forget the cornstarch for thinking the sauce. Since we have everything for the "base" sauce, we got to have some fun with the other ingredients we already had in the house….Shrimp and broccoli. We decided to add some red peppers for some spice and before you know it……you've got this spicy garlic shrimp and broccoli stir fry on the plate. 😀
Spicy Garlic Shrimp and Broccoli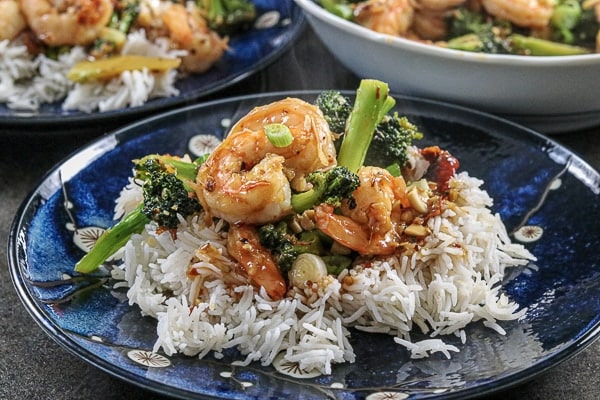 Cooking Fun
As I mentioned, one thing we've discovered about making a stir fry is that you can substitute ingredients. For example, we happen to have Shrimp in the freezer, but we could have used chicken instead. Or, we had Oyster Sauce but Hoisin sauce could have been used. Fresh garlic can be replaced with garlic powder. We find that a lot of the fun of cooking and coming up with new recipes is not to stress about something that might not be on hand. Just find a substitute of a similar flavor that you LOVE.. For example, if you're one of those people that hates the flavor of Cilantro it can be replaced with Parsley or spring onions in most recipes.
Check out some of our other recipes using Shrimp:
We love cooking and grilling with Shrimp. A few of our favorite recipes are Pad Thai, Stir fried garlic and shrimp, Pesto Fettuccine with Shrimp, Chili Cheese Grits and shrimp, Air Fryer Shrimp, and Grilled Shrimp tacos. Other Shrimp recipes can be found through the search on our blog.
TIPS:
Get all the ingredients out and measured before starting the Stir Fry. The is a very quick stir fry. It really is easier if all ingredients are measured and ready to go before starting the cooking. Actual cook time is less than 10 minutes.
Measure all the oils to keep the calories down.
If you don't want the spice do not add the crushed red pepper flakes and the dried peppers.
Use Peanut oil, vegetable or Hot Chili Oil for the stir fry. Peanut oil gets hotter and has a more neutral taste so it's really good for stir frying.
If Shrimp smells try this tip. Shrimp – remove smell
Spicy Garlic Shrimp and Broccoli Stir Fry
Spicy Garlic Shrimp and Broccoli is full of flavor making your taste buds dance. This No Take out Take out is ready in less than 20 minutes from start to finish!
Print
Pin
Course:
Dinner, Lunch, Main Course, Main Dish
Author:
Belly Laugh Living
Ingredients
Marinade
1

Pound

Shrimp

or chicken thighs

2

Teaspoon

Cornstarch

1

Tablespoon

Light Soy Sauce
Sauce
2

Tablespoons

Rice Wine Vinegar

2

Tablespoons

Oyster Sauce

2

Teaspoons

Sesame Oil

2

Teaspoons

Sugar

can add 2 teaspoon if you want it sweeter

1/2

Teaspoon

Crushed Red pepper flakes or sichuan pepper

add 1 teaspoon for a little additional spice
Stir Fry
1/2

Tablespoon

Ginger

(Minced, grated or chopped)

2

Garlic Cloves

(Minced, grated or chopped)

1/4

Cup

Peanuts

Dry Roasted or unsalted peanuts

3

Scallions

8

Dried red Chilies

Optional – use if you want it spicy

2

Tablespoon

Peanut Oil

or Hot Chilli Oil
Instructions
Marinade
Peel and Devein the Shrimp and place in a medium size bowl

Toss the shrimp in the cornstarch

Add the Soy Sauce. Gently stir to coat the shrimp

Let stand at room temperature for at least 10 minutes. (no more than 20 minutes)
Sauce
While the shrimp marinates, mix together the sauce . In a bowl combine the vinegar, soy sauce, oyster sauce, sesame oil, sugar and pepper flakes. Stir until the sugar dissolves.
Prepare scallions, garlic, ginger and peanuts
Measure and chop the peanuts

Chop the garlic and ginger
Start the Stir Fry
Heat a wok or large pan over high heat until a bead of water sizzles and evaporates on contact. Add the Peanut oil (or Chili Oil) and swirl to coat the pan.

Add the chilies (if using) and stir-fry for about 30 seconds. Stir-Fry the chilies until they begin to soften and the oil is slightly fragrant.

Add the Broccoli and stir fry for about 30 seconds

Stir in the Garlic and Ginger with the Broccoli. Cook for one minute

Add the Sauce to the Broccoli mixture.

Add 1/2 cup of water. Cook for a couple of minutes until the broccoli starts to cook and turn bright green.

Stir in the shrimp mixture to the broccoli.

Continue to Stir Fry until shrimp turns pink and is done. About 4 minutes

Transfer the Shrimp and Broccoli to a serving plate.

Sprinkle the peanuts on top

Add the scallion on top of the Shrimp and Broccoli

Serve over rice or cauliflower rice and Enjoy!!!!
Nutrition
Calories:
275
kcal
|
Carbohydrates:
8
g
|
Protein:
27
g
|
Fat:
15
g
|
Saturated Fat:
2
g
|
Cholesterol:
286
mg
|
Sodium:
1388
mg
|
Potassium:
212
mg
|
Fiber:
1
g
|
Sugar:
3
g
|
Vitamin A:
429
IU
|
Vitamin C:
7
mg
|
Calcium:
186
mg
|
Iron:
3
mg
Pin Recipe
The post Spicy Garlic Shrimp and Broccoli Stir Fry appeared first on Belly Laugh Living.